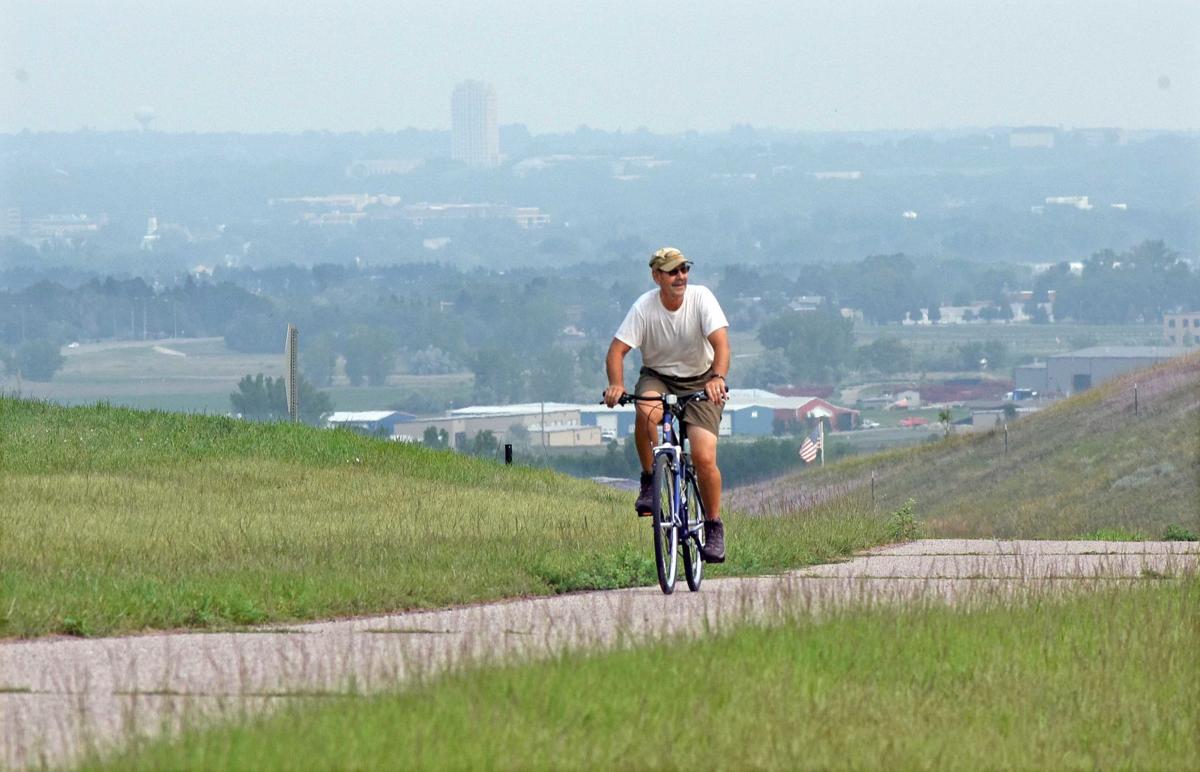 Smoky skies over Bismarck have become the status quo this July as air drifts in from wildfires burning across the western United States and Canada, and no clear end is in sight.
"The firefighters are saying we're in it for the long term," said Jim Semerad, director of the Division of Air Quality for the North Dakota Department of Environmental Quality. "If Mother Nature would bless us and give us some cooler temperatures out that way and some rain, it might be shorter."
Storms or temporary shifts in weather could offer a little respite here and there, but Meteorologist Alex Edwards with the National Weather Service in Bismarck said the smoke is likely to linger well into August.
"I'm not seeing much relief in the foreseeable future," he said. "Unfortunately, what we're seeing is a persistent high pressure over the western United States, and it generally leads to hot and dry conditions."
Temperatures in Bismarck and southwestern North Dakota on Tuesday could exceed 100 degrees.
"If the wildfire smoke gets thick enough, it could actually dampen those high temperatures a bit," Edwards said. "Sometimes it will knock a few degrees off the high."
The smoke over North Dakota is primarily from wildfires to the west and northwest in Montana, Wyoming and southern Alberta, he said. Earlier this month, wildfires to the north in Manitoba were sending smoke southward, which caused air quality to deteriorate in the eastern Red River Valley.
A variety of resources are available for people to monitor air quality where they live, and Semerad suggested using the Environmental Protection Administration's AirNow app, which is available for smartphones. Air monitors scattered throughout North Dakota feed data in real time to the EPA, and the information is reflected in the app.
Environmental Quality's website also has a map and other resources.
"The best advice I think is to be cautious," Semerad said.
Unlike residents of larger cities that experience significant pollution, North Dakotans tend not to be accustomed to checking their area's air quality on a regular basis, he said. Conditions from wildfire smoke can change within a matter of hours and can differ significantly across North Dakota.
People with respiratory issues such as asthma or chronic obstructive pulmonary disease are among the first who may feel the impacts of poor air quality as small particles from the smoke enter their lungs. Those at risk should consider avoiding prolonged outdoor exposure, according to Environmental Quality.
"Be aware of this, and make good decisions for your own body," Semerad said.
Edwards anticipates North Dakota could see more widespread relief from smoky skies by late August or early September, the time of year when high pressure systems tend to break down. More rain or even snow at higher elevations as fall nears could help bring an end to the fire season, too, he said.
Meanwhile, North Dakota is on track to tie or potentially break its longest streak of days that reach 90 degrees. Monday marked the 16th straight day when temperatures reached or exceeded that mark, Edwards said. The record is 18 consecutive days set in 1936.
Southern North Dakota should hit the 90s Wednesday before a cold front moves in, Edwards said. By the end of the week, highs may climb only into the mid-80s, which is more typical for this time of year, he said.
This week looks as though it will be mostly dry, though there is a chance of storms Tuesday night into Wednesday and Thursday into Friday, Edwards said.