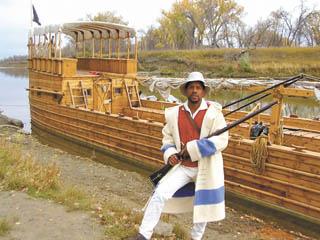 His mother had hopes of her little boy growing up to be a doctor or lawyer or such - but a dog got in the way.
That would be Lassie, the television dog - the dog with the one-after-another adventure.
Chip Cartwright, now a grandfather, remembers he was 6 when he, a huge fan of the Lassie television show, got an idea to become a forest ranger.
That happened, he said, during the television season when Lassie's family went camping and the dog got lost during a forest fire and ended up for a whole season in the trusty hands of Corey Stuart, a forest ranger.
Cartwright said he loved everything about Stuart's life - living in the mountains, working outside, the big trees, nature, rescuing people. It just so happens that Cartwright's son's middle name is Corey, but in a recent Tribune interview Cartwright said he'd have to think about whether there was a connection between the TV ranger and naming his son that. He really wasn't sure, but was considering the possibility.
Cartwright, who would grow up to be the United States' first black forest ranger, is now retired. He's giving nature and black history programs at Cross Ranch State Park. Cartwright said that, while growing up, he kept his forest-ranger dream pretty much to himself because it concerned his parents.
He was growing up black in Petersburg, Va., in a world where there were "white only"signs on water fountains and he had to sit in the balcony of the movie theater because whites got the ground-floor seats. He said he remembers one day being in the balcony when his name was picked as the winner of a prize, a Davy Crockett outfit. To get it, he would have to go downstairs and walk to the front of the theater. His friends didn't think he should go. But he wanted the outfit.
"It was the longest walk of my life," he said.
He said there was support in the crowd, but also jeering, and he heard the "n-word" used.
He assumed a white kid would win, and by winning he said he felt a sense of being worthy and realizing that "good things can happen … even if you're not white."
But the word good didn't come to mind when his mom thought about her son becoming a forest ranger. There were no black forest rangers at the time. Cartwright said his mother was really concerned. "That's nice,"he remembered his parents saying to him when he told them his career goal. "But who do you know who's in there (that field)?"
He said in those days the black community was its own support system and kids were expected to go to the local all-black colleges, where parents thought they would be relatively safe and nurtured.
Also, his dad, who had jobs as a mortician and a worker in a chemical plant, was raising seven children with his wife in an 800-square-foot home. College might be affordable, if he worked, and they could save money by having him live at home.
But Cartwright, who was known for his academic abilities, winning first place in a statewide physics competition as a senior in high school and other honors, persevered and ended up with scholarships at Virginia Polytechnic Institute and State University. He was the only black in the forestry program at the university.
He realized he truly loved the ranger lifestyle when he got asummer job during college manning a fire lookout tower on Idaho's Marble Mountain. His living quarters, about 100 square feet, had a bunk bed and a cook stove. His water supply was a spring one mile away. He was on his own.
"I don't mind being alone,"he said. "There's a difference between getting lonely and being alone."
After college and three years as a military officer, he returned to the U.S. Forest Service, working his way up to overseeing ranger districts in Oregon, Washington and Virginia. And then on to Washington, D.C., to direct the forest service's eco-system management programs and to oversee national parks in Arizona, New Mexico and Oklahoma.
"He's very caring … of the general public and the needs of the land,"said Val Hirst, 60, of Fillmore, Utah, who worked with Cartwright in the Bake Ranger District out of Baker City, Ore. "He's a true friend. He's just there when you need someone to talk to, or need help."
A couple of years ago, Cartwright, retired and traveling in a recreational vehicle, ended up in North Dakota because he and his wife, who was raised in North Dakota, had always wanted to buy land here. It was when they were at Fort Mandan in Washburn for a history program that something began bothering him.
He said York, a black slave who was a member of the Lewis and Clark expedition, was mentioned. But just mentioned.
"They never really talked about him,"Cartwright said.
York was from Cartwright's home state of Virginia, as were Lewis and Clark. Cartwright decided to do some research and develop a program about York and started giving it at Fort Mandan.
Don Winter, Cross Ranch's full-time interpreter, saw Cartwright's program. When Cross Ranch had an opening for a seasonal interpreter, Winter asked Cartwright to take the job.
"He's just a fountain of knowledge,"Winter said. "He's one of those people who's dedicated to learning."
Cartwright also has developed programs about black cowboys, and a program about the nation's buffalo soldiers, black military soldiers in the 1800s, some of whom were stationed for a time at Fort Buford.
"North Dakota has a black history,"Cartwright said.
Back at the RV, he's known for his food, Winter said. He's the grill master for staff meal get-togethers. He can put a hand over his bed of charcoal and know whether the temperature is 350 degrees or 225 degrees.
Winter said he's also a passionate golfer. Cartwright has been seen practicing his swing near his RV, his temporary home in Cross Ranch. Soon, he will hit the road again for the winter.
But before he hits it, he has some work to do.
His final programs for the season:
3 1:30 p.m. Tuesday. "York,"at Cross Ranch State Park's amphitheater.
3 8:30 p.m. Friday. "Storytelling, How-tos and Examples."
3 11 a.m. Saturday. "Furry Animals of Cross Ranch." Meet at the visitors center.
3 8:30 p.m. Saturday. "Heroes of the American West, the Buffalo Soldiers."
(Reach reporter Virginia Grantier at 250-8254 or at virginia.grantier@;bismarcktribune.com.)
Get local news delivered to your inbox!
Subscribe to our Daily Headlines newsletter.