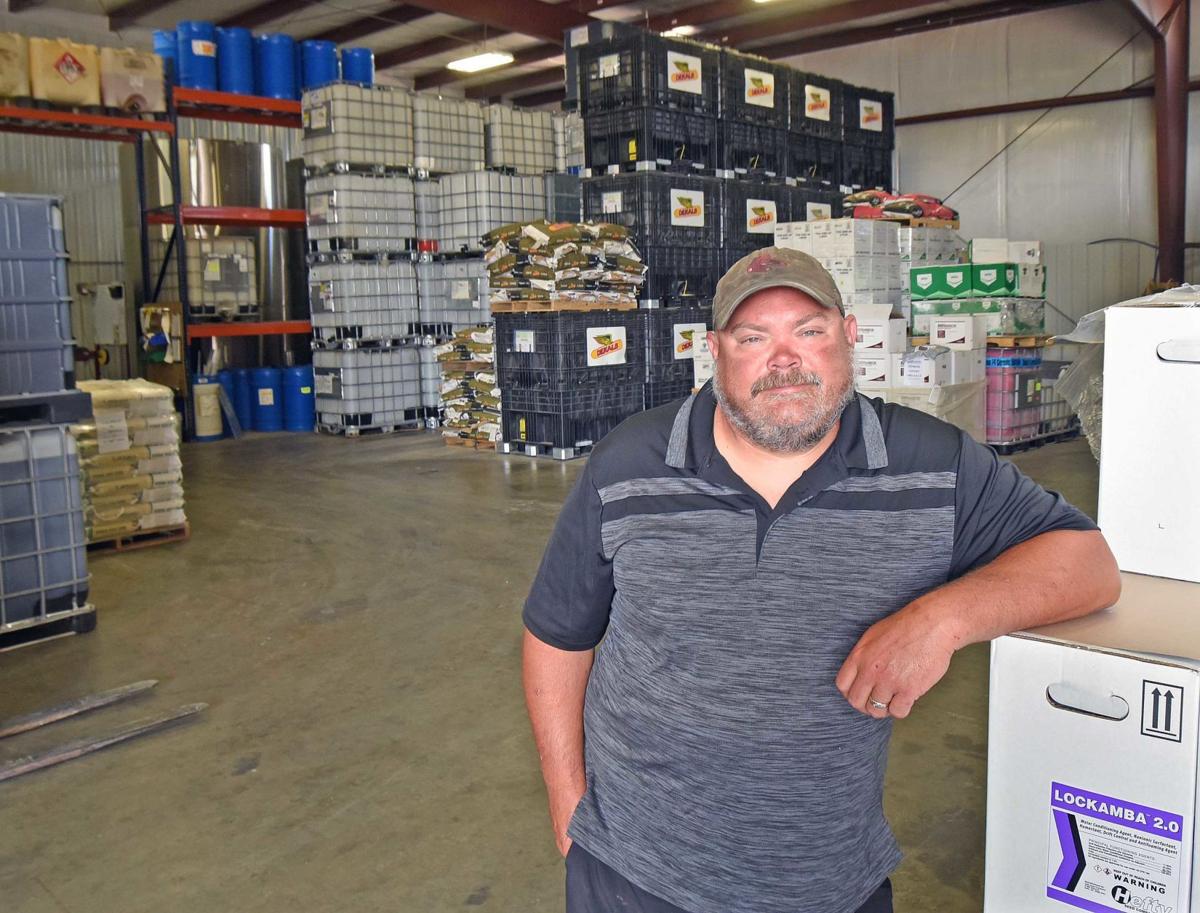 The drought in North Dakota has dominated the discussions Jamie Schurhamer has had with farmers this year.
He's the lead agronomist with Hefty Seed in Wilton and Hurdsfield. The company sells seeds, fertilizer and chemicals to farmers, working with them to improve their crop.
"I'm supposed to be more of a cheerleader in this position, but I've also spent a while now trying to figure out where the yield comes in these crops," Schurhamer said. "A lot of my conversations have been, realistically, what are our potentials and what should be spent to reach those potentials."
Farmers bought a lot of seed to plant this year, but fertilizer and chemical sales have been way down. The locations in Wilton and Hurdsfield combined have sold just over half the fertilizer and about two-thirds of chemicals such as insecticides they would in a typical year.
"With the moisture situation, we're not seeing those dollars spent," Schurhamer said.
A number of other businesses throughout the state are in a similar position as the drought persists. All of North Dakota is in some form of drought. Exceptional drought, the worst of four categories, covers about 8% of the state -- roughly the north central region, according to the latest U.S. Drought Monitor map. Extreme drought, the second-worst category, impacts another 40%.
"I have seen more and more people who aren't directly related to production agriculture at more town hall meetings," state Agriculture Commissioner Doug Goehring said. "Bankers, insurance companies, I'll get calls from car dealerships, from implement dealers and hardware stores. They're wondering what's going on because their business is being impacted."
There's no single tally of the economic impact of the drought in North Dakota, but many people say this year's is the worst since 1988. That year, the state's farmers alone lost an estimated $1.1 billion due to the drought, according to a North Dakota State University Extension study.
The extension service estimated the total impact would have tallied $3.4 billion, including money that lost farm income would have generated in other sectors of the economy. Federal aid cut those losses some, to $2.2 billion.
Government relief and crop insurance payments are likely to make a dent this year, too.
"No programs are made to make you whole," Goehring said. "It might put a Band-Aid on it, and it might just get you a little bit further down the road until you can do some proper healing and make some adjustments to your operation."
Weathering the drought
Recent iterations Congress has passed of the Farm Bill have streamlined disaster-related payments to farmers and ranchers, said Tim Petry, a livestock marketing specialist with the extension service.
Payments through some of the programs are based on the state of the drought in the county where a farmer lives. It's a better system than in decades past when each program was ad hoc and counties encountered "all kinds of red tape" as they applied to facilitate aid distribution, Petry said.
A number of programs exist, but one popular one now is the livestock forage program meant for ranchers experiencing grazing losses.
"They are all being used widespread," Petry said.
He added that it's difficult to make general statements about the drought because the weather is varied across the state and hard to predict much in advance.
Eventually, people will have a better feel for the true cost, said Bryon Parman, a state agricultural finance specialist with NDSU.
"We're not really going to know the full impact on cattle or crop producers until this fall when we can get into the fields and see what we have," he said. "It's going to be a less-than-favorable, negative impact even with farm program payments and insurance."
Neither Petry nor Parman anticipate this year's drought will cause many in North Dakota to give up farming or ranching.
"Maybe some people who were planning on retiring next year or the year after might exit early, but somebody who had the plan to continue to farm is not exiting because of a drought," Parman said.
Petry added that the situation could be particularly tough on young ranchers who have taken on a lot of debt.
Historically, though, the data doesn't show an exodus from the industry following bad years. The state had more cows one year after the droughts of 2006 and 2017 than at the start of those seasons, Petry said.
"Livestock producers are very resilient and tend to bounce back," he said.
Data from the past few years shows a similar trend following the 2017 drought. North Dakota wheat production dropped from 333 million bushels in 2016 to 237 million in 2017, then rose the next year following the drought to 364 million, according to National Agricultural Statistics Service data.
The challenging year doesn't mean money is at a standstill. Some ranchers are spending on necessities such as fencing or water, Petry said. But they aren't purchasing new equipment the way they might in a better year.
Communities dependent on farming and ranching are likely feeling ripple effects, Parman said.
"How deep those issues run is going to depend on the weather," he said.
Practices such as no-till farming have become more widespread in recent years, helping soil retain moisture, he said. The industry has come a long way since the 1930s, when years of drought plagued the plains and farmers didn't know what to do in response.
"We've become better at managing things," Parman said.
Agronomists like Schurhamer are busy offering advice this dry year, although Hefty Seed is down several workers in Wilton and Hurdsfield who typically come from overseas on temporary visas.
A smaller workforce means the company has been able to retain its existing employees, even as sales have dropped.
"We'll be able to keep the place afloat," Schurhamer said.