A bell rang 64 times near the North Dakota Peace Officers Memorial on the state Capitol grounds on Wednesday, each time proceeding the reading of the name of a law enforcement officer killed in the line of duty since 1882.
A rifle volley, taps and the playing of "Amazing Grace" on bagpipes by Cpt. Mickey Harmon, of the Cass County Sheriff's Department, were also part of the 25th annual Law Enforcement Memorial Service.
"Their lives and deaths may only be memories now, but they must never be forgotten. Ceremonies like this remind us that we will never forget the price they paid for our safety and our freedom," said North Dakota Attorney General Wayne Stenehjem. "As we honor these fallen officers, we also pay our respects to those officers who are today serving their state and their community."
North Dakota's list did not grow last year. However, 144 law enforcement officers died in the line of duty in the United States in 2018, according to the National Law Enforcement Officers Memorial Fund. Fifty of those officers' deaths were traffic related, with 14 struck and killed while outside of their vehicle.
The Bismarck-Mandan area has lost several officers in its history, including two in 2011. Burleigh County Deputy Sheriff Bryan Sleeper died of a heart attack after an altercation with a subject, and Bismarck Police Sgt. Steven Kenner was fatally shot while responding to a domestic disturbance.
Lt. Governor Brent Sanford also spoke at the memorial service, which was attended by hundreds, including law enforcement officers from across the state, calling North Dakota's 64 fallen officers "brave souls."
"We owe them our everlasting thanks for their selfless devotion and sacrifice, and for the unwavering bravery and dedication demonstrated on a daily basis by all of our men and women in law enforcement," he said.
"We hear officers speak often about the law enforcement family but it's hard for those of us outside the circle to fully comprehend what that means," he added. "It's a camaraderie shared only by those who wholly dedicate their lives to keeping others safe. Who kiss their spouses and hug their children before leaving the house to go to work, knowing it might be for the last time."
Chief Justice Gerald VandeWalle, who also spoke, said he feels the best way to prevent officers from being killed in the line of duty is to provide them with the equipment and training they need.
North Dakota Highway Patrol Sgt. Luke Hendrickson, president of the North Dakota Peace Officers Association, served as the master of ceremonies, and chaplains from the Crisis Care Chaplaincy officiated and read the roll call of fallen officers.
The Capitol building windows on two floors were lit to display a "Thin Blue Line" in a show of support and respect for all law enforcement, past and present, both Tuesday and Wednesday nights.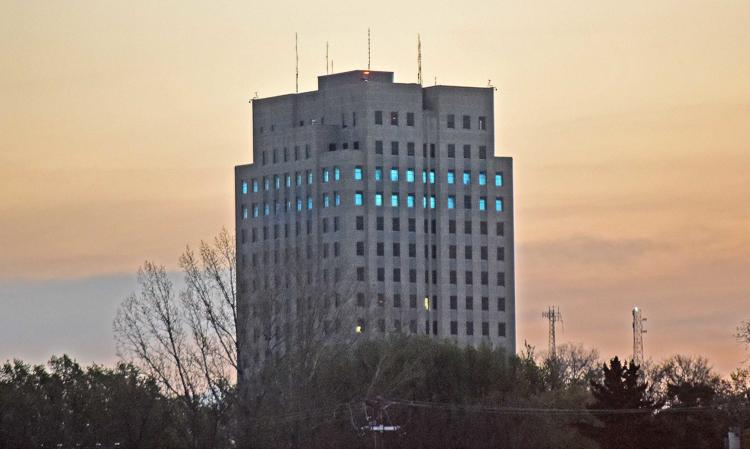 Gov. Doug Burgum also ordered flags at half-staff Wednesday in observance of Peace Officers Memorial Day.
"No peace officer serving in North Dakota was killed in the line of duty last year," Stenehjem said. "Let us pray that we can say that same thing again next year."