For the next month, some deputies with the Morton County Sheriff's Department will be testing body cameras through a pilot program with Motorola.
Four deputies — typically two on each shift, including a K-9 officer — have been given Motorola Si500 body cameras, which will be used in all situations in which they're dealing with the public, except for investigations involving juveniles or medical situations.
The use of body cameras in law enforcement agencies has been increasing nationwide. Sheriff Kyle Kirchmeier said he was previously considering body cameras, but after the monthslong Dakota Access Pipeline protests, he further evaluated their benefits.
Video footage of "protest activities" would have been useful as evidence in court, he said. In addition, Kirchmeier said he considered how the cameras could protect officers and citizens.
"Really, we want to see how seamlessly we can incorporate the body cam to work with the radios, and the process of uploading the video and the cost," he said.
Some law enforcement agencies in North Dakota already have begun using body cameras, including the Grand Forks County Sheriff's Department and the Devils Lake Police Department.
Morton County uses Motorola radios, so Kirchmeier wanted to incorporate the same brand of body cameras. Jon Burger, sales manager for the Bismarck company Electronic Communications Inc., said Motorola offers pilot programs with police when requested.
The cameras are not "hardware-based," Burger said, meaning an officer can't go into the camera and delete pictures or a video. The videos are uploaded automatically to a software system once an officer places the camera in its charging dock and is connected to the sheriff's department's Wi-Fi.
The cameras are affixed to the front of an officer's uniform and look similar to a radio. The officer has to slide a switch to start recording; it doesn't record automatically. 
The cost for the camera is $600, according to estimates from Motorola. Also, there is a $625 annual subscription fee for data storage.
Kirchmeier said, over the next 30 days, deputies will test the cameras and provide feedback on what they like or don't like about them. Also, they'll analyze the cost to purchase cameras for the entire sheriff's department. Currently, there are 36 officers.
Policies would need to be established on when the body cameras will be used, record retention and whether the footage is an open record, according to Kirchmeier.
Under North Dakota law, body camera footage "taken in a private place" is exempt from open records requests. The Legislature passed a bill in 2015. According to the National Conference of State Legislatures, North Dakota is one of 34 states that have created laws for body cameras.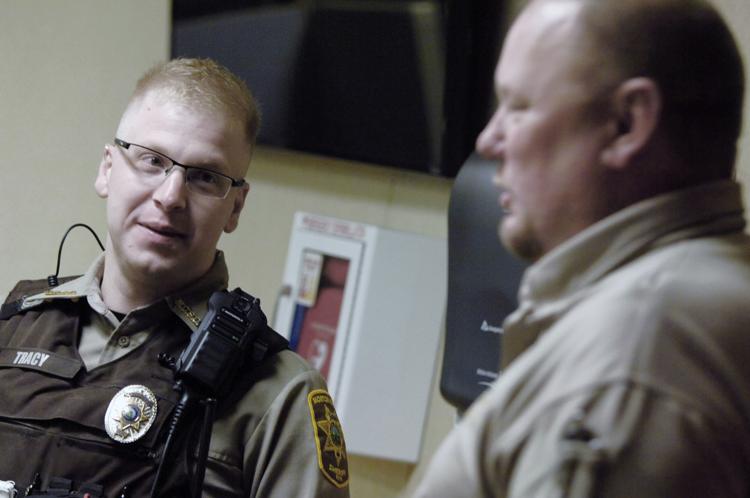 Kirchmeier said funds for the body cameras would have to come from the department's budget, which would be scrutinized by the Morton County Commission. He expects that not all cameras would be purchased at once and, instead, would be "phased in" as the department's in-vehicle cameras age out.
Deputy Chris Tracy said late last month that he believes the body cameras can be useful.
"They're a great tool that can be utilized in many ways. I can think of a couple times already where it would be beneficial to me," he said, adding that the footage is helpful in identifying suspects and in use-of-force situations.
Kirchmeier said the department will take 30 days to weigh the pros and the cons.
"Some people are against them, and some people are for them," he said. "I guess we don't know until we get out there and try them for ourselves. It's definitely another tool in the toolbox."