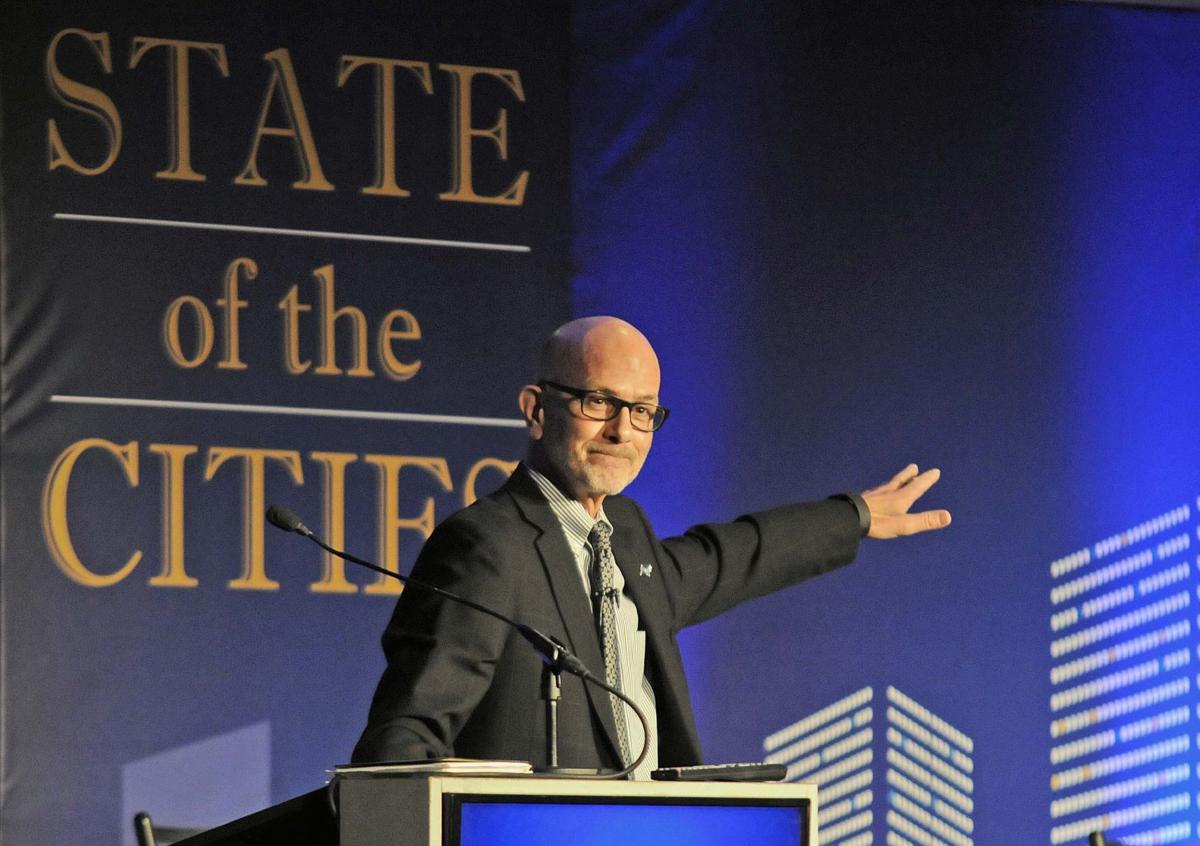 Bismarck Mayor Mike Seminary took a crack Friday against critics who have accused him of welcoming pipeline protesters to Bismarck.
Bismarck's mayor clarified his position about opponents to the Dakota Access Pipeline Friday morning at a Coffee with the Mayor session. He said his welcome of attendees of the United Tribes Technical College Powwow in September included a thanks for not boycotting the event because of DAPL protests. He noted the weekend sees an infusion of $4.1 million into the local economy.
Seminary made his remarks following the circulation of a petition calling for a recall election. The petition, which began circulating last week, alleged Seminary was allied with DAPL protesters, which he denied.
When attendees of the powwow went to the Capitol grounds, Seminary said he went there with Scott Davis, executive director of the state Indian Affairs Committee, welcomed them and said he stood in solidarity to their right to a peaceful protest.
Following the powwow in September, less peaceful protests began taking place.
"I was the first and only leader to ask them to leave — the uninvited guests. I asked," he said once some of the protests began to take a turn for the worse.
As to petitioners' references that he turned his back on law enforcement, Seminary said, "Don't go there." He suggested residents could ask Police Chief Dan Donlin about his support.
Seminary denied claims by members of the recall effort that the city commission has ignored public infrastructure needs "to the point of creating a public financing crisis."
Seminary insisted the city commission has made the financing of infrastructure a priority since 2008, and he warned the existing sales tax source for road funding "will be cannonbalized" within 10 years because of property tax buydowns.
He said incentives criticized by petitioners for the recall are "legislatively approved economic development tools."
Seminary also contested allegations that the Bismarck-Burleigh Health building, which has been offered to the University of Mary in a purchase agreement, has been sold below value. He also defended renovations and expansions made to the Bismarck Event Center.
"Those improvements were made without one new penny of public funds," he said.
Davis credited Seminary with opening the doors for himself and the tribal community.
"There are 4,000 Native Americans that live here for opportunity, education and better way of life," said Davis, adding he was thankful to the mayor for holding a city commission meeting at United Tribes Technical College.
"When protest comes to the city, there were big concerns. There was a big movement to boycott Bismarck/Mandan," said Davis, who wanted to find a way to make sure everyone was welcome.
He said he asked for Seminary's help in voicing that and he thanked Seminary for that leadership.
Many attending the coffee were city officials or supporters of the mayor, but others questioned the mayor on special assessments of property owners and on the status of the lane reduction on Main Avenue. Seminary said no final decision has been made on a permanent lane conversion. Seminary said development triggers special assessments.