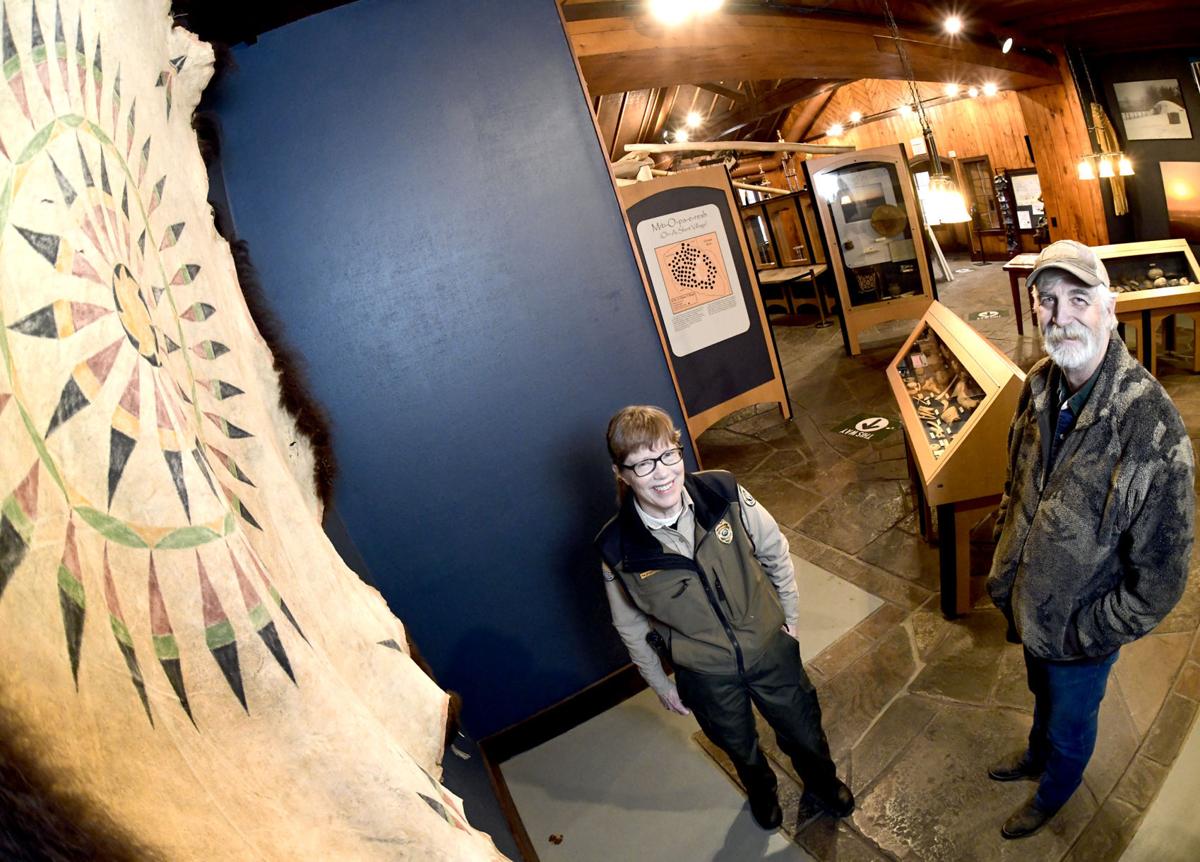 Two Fort Abraham Lincoln State Park workers are retiring after a combined 50 years at the park and more than 80 years with North Dakota Parks and Recreation.
Manager Dan Schelske's last day at the park south of Mandan was March 15. Assistant Park Manager Maureen Trnka will call it a career April 19.
Schelske started out as a seasonal worker at Fort Stevenson State Park in 1980. His path to Fort Lincoln included stops at Lake Metigoshe, Fort Ransom, Lake Sakakawea and Grahams Island state parks. He became manager at Fort Lincoln in 2004. Trnka's career started at Lake Metigoshe in 1980. She's been an assistant at Fort Lincoln since 1988.
"It's a field that's incredibly challenging and incredibly rewarding," Schelske said.
The challenges come from a work schedule that can be hectic and at times unpredictable. Workers at the park get a bit of a break in winter and spend that time organizing equipment and catching up on repairs. By the end of February they're "planning for the chaos that's to come," Schelske said.
About 120,000 people will visit the park in an average year. Schelske as park manager -- a job he likened to being mayor of the campground -- at times acted as the greeter at the entrance gate. The stress level there can be high as weary travelers start to fill the campground.
"They just want to get to their site so they can get set up and they can unwind," he said. "We meet 'em and greet 'em, hopefully calm them down, get them where they need to go."
He's fielded his share of odd phone calls, too. People sometimes call ahead to see if camping is allowed in the park's campground. One man used his cellphone to call for help after getting lost on the walking trail.
"He could see the main road and Cavalry Square, but he still felt lost," Schelske said.
Another camper forgot his towel and decided to walk nude from the comfort station to his camper. He told Schelske he thought it was OK.
"It's not," Schelske said.
On a typical morning at the park, Trnka usually spends some time forming a plan for the day, but "something always tends to pop up," she said.
"We get to do so many things," she said. "We're firefighters, law enforcement, plumbers, painters, first responders."
The two agreed they've been fortunate to work and form relationships with staff at the park and throughout the Parks and Recreation system. And they've enjoyed working with the public, which at the park might mean locals who are regular visitors or people from overseas on a long-awaited vacation.
"That's why we're here," Schelske said.
On his first day of retirement, he completed a few tasks and at the end of the day realized he hadn't been rushed all day.
"It was all foreign to me," he said.
Schelske plans to tend to his home west of Mandan and spend time with family. Trnka's plans are much the same, with her second grandchild due about the time she turns in her uniform. She's enjoyed watching people have fun, she said, and added "now I get to be on the other side."
Erik Dietrich took over as park manager at Fort Lincoln on March 22. He'd been a ranger at Cross Ranch State Park for 1 ½ years, and prior to that was motorized recreation coordinator in the department's Bismarck office.