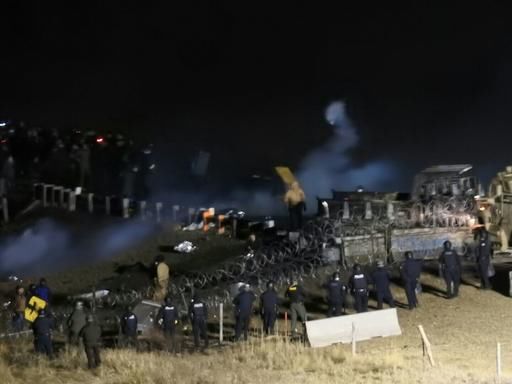 A 21-year-old Dakota Access Pipeline protester is undergoing surgery for injuries sustained during protest activities early Monday morning.
Sophia Wilansky, of New York, is in serious condition, according to staff at Hennepin County Medical Center in Minneapolis.
Wilansky's left radial and ulnar artery were "completely destroyed." Her radius was "shattered," her medial nerve is "missing a large section" and the muscle and soft tissue between her elbow and wrist were "blown away," her father Wayne Wilansky said in a statement released by the Standing Rock Medic & Healer Council.
Wilansky will have surgery again Wednesday to "try to rebuild a somewhat functioning arm and hand."
"There are no words to describe the pain of watching my daughter cry and say she was sorry for the pain she caused me and my wife," Wayne Wilansky said. "I am left without the right words to describe the anguish of watching her look at her now alien arm and hand."
Wayne Wilansky and several involved with the protest are alleging Sophia Wilansky's injuries were caused by a concussion grenade thrown by police that exploded as it hit her arm while she was delivering water to protesters at 4:30 a.m. The medic council is pointing to a lack of charring of flesh at the wound site and grenade pieces that have been removed from her arm in surgery as evidence.
Wayne Wilansky said at a press conference on Tuesday in Minneapolis that his daughter saw law enforcement throw a grenade "right at her."
Law enforcement did not use or have any concussion grenades or flashbangs with them during the incident, North Dakota Highway Patrol Lt. Tom Iverson said.
"We are aware of the information about the woman on social media who has claimed she sustained injuries to her arm due to law enforcement tactics. The injuries sustained are inconsistent with any resources utilized by law enforcement and are not a direct result of any tools or weapons used by law enforcement," he said in a statement.
Iverson said the CS gas canisters thrown by law enforcement officers do make an audible boom but they do not fragment, making them inconsistent with the shrapnel found in the woman's arm. He also said the canisters were not being used at the same time the woman reported her injury.
Stinger balls used by law enforcement, which throw out rubber pellets, were also no longer being used at the time of the injury.
Iverson said officers must file detailed reports accounting each use of non-lethals that they have with them. 
The incident remains under investigation by the North Dakota Bureau of Criminal Investigation and the Federal Bureau of Alcohol, Tobacco and Firearms.
"We will exhaust all efforts to make sure whoever is responsible for (the woman's injuries) is held accountable," Iverson said.