The owners of Lonesome Dove have filed a federal lawsuit against the city of Mandan over a mural city officials ordered removed.
The lawsuit was filed in the U.S. District of North Dakota on Monday. The suit seeks a temporary restraining order and preliminary injunction to allow Lonesome Dove to keep artwork on the bar's front wind block.
The business at 3929 Memorial Highway received a citation in October from Mandan's code enforcement office for placing the unpermitted mural depicting a Western scene and the name of the bar.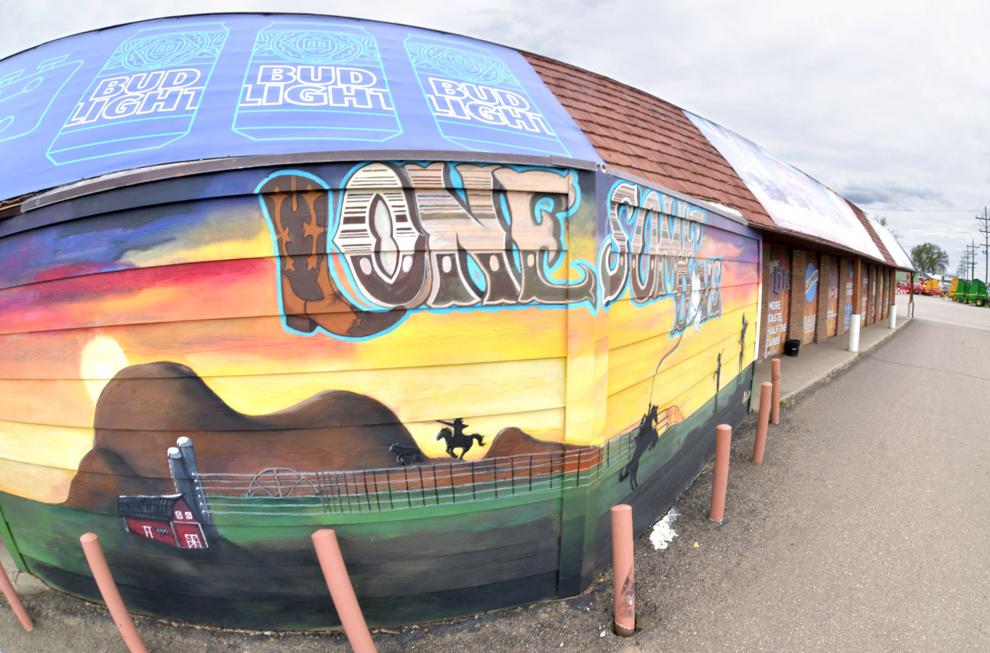 The bar owners, Brian Berube and August Kersten, previously said they didn't apply for a permit because they weren't aware of the requirements.
The Mandan Architectural Review Commission later denied their application, because city guidelines state "no mural may be placed on the front of the building" and "no mural shall convey a commercial message."
The City Commission voted 4-1 on March 19 to order the mural be removed.
Berube and Kersten then started to work with the Institute for Justice, which describes itself as a national law firm for liberty that litigates to limit the size and scope of government power.
Erica Smith, an attorney with the Institute for Justice, said she sent two letters to the city, one on March 29 that said that the city's enforcement against Lonesome Dove is "unconstitutional," and asked that the city allow the mural to remain.
Smith said she sent a second letter a couple weeks ago, asking for an extension on the deadline to remove the mural while Mandan Planning and Zoning continues to review possible changes to the city's mural ordinance.
The city denied the request, and instead told them they had to remove it by Thursday or they could be fined up to $1,000, according to Smith.
"We gave the city ample opportunity to stop trampling on our clients' free speech rights and they refused," Smith said.
Berube said he doesn't plan to remove the mural by Thursday, despite the threat of fines and fees.
"I don't believe in what they're doing to not only myself, but anybody else in Mandan," he said. "It's asinine."
Smith said she learned about Lonesome Dove's struggle to keep its mural in a newspaper article, and said her firm has repeatedly taken cases involving "abuse" of sign codes and mural regulations.
"Unfortunately, sign codes are something that municipalities tend to abuse, and we see it over and over again. So we're hoping this lawsuit will stop Mandan and also serve as an educational tool to other cities," she said.
Smith was also involved in a 2017 case regarding a 9-foot Mario outside a video game store in north Florida. The city eventually backed down and allowed the owner to keep the inflatable.
Though the lawsuit doesn't involve any other Mandan business owners with murals, Smith said it also aims to protect them. This includes Many Visions Apparel at 1000 Second Ave N.W., which was ordered to remove a mural from its storefront in February.
"What we have here is just local businesses trying to use murals to beautify their buildings and attract customers. It's adding to the city, not taking away from it," she said.
The lawsuit is seeking "nominal damages" of a dollar, which Smith said is symbolic in constitutional law. Nominal damages are issued when a wrongdoing occurs, but there wasn't actual financial loss. The lawsuit does seek attorneys' fees.
City attorney Malcolm Brown said the city will file "an appropriate response" to the lawsuit, and did not respond to a request for further comment.