Circle of life continues at rural St. Vincent's Catholic church near Mandan
Ralph Fried entered St. Vincent's Catholic Church accompanied by a blast of wind.
"That's one thing we're noted for, wind on top of the hill," said parishioner Jim Boehm, smiling.
Fried has attended the rural church west of Mandan for all his 73 and a half years. As caretaker, he maintains the nearby cemetery, which dates to 1896 and contains a number of wrought iron crosses.
"They were here long before I was," Fried said. This summer, he's been priming and painting the crosses to help preserve them for years to come.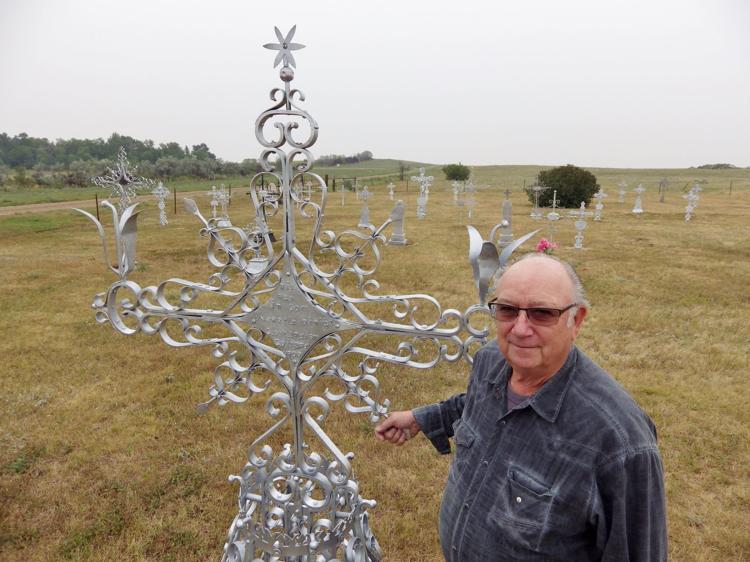 Life in death
Standing weathered and erect in the elements, the iron crosses of St. Vincent's are over a century old. Many are taller than 5 feet and each is distinct in its design — angels with trumpets, flowing scrollwork, sunbursts and stands of wheat.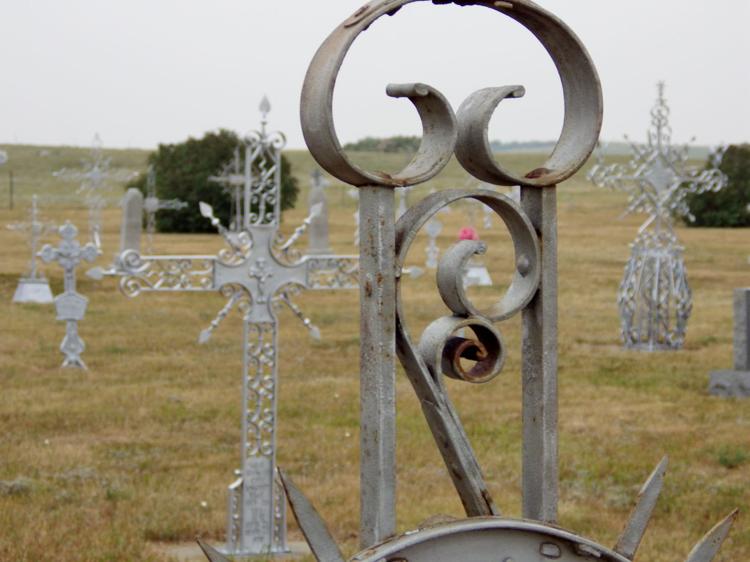 North Dakota state folklorist Troyd Geist said the iron crosses are the most public and distinctive folk art associated with Germans from Russia, who settled across western and south central North Dakota. They can be found in many cemeteries across the state — near Balta, Orrin, Hague, Zeeland, Richardton, Strasburg, Belfield, Killdeer, Rugby, Selz and Harvey.
Local blacksmiths created the crosses to commemorate, in a highly personal way, the person who had died. Geist said the crosses are "multilayered in their impact and meaning" with motifs and designs that speak to the deceased and their family.
"You'll find in this art form that the crosses were made as much for the living as they were for the dead," Geist said. "They're to help in the grieving process of the family, sometimes more so than to mark the grave of the person who has passed."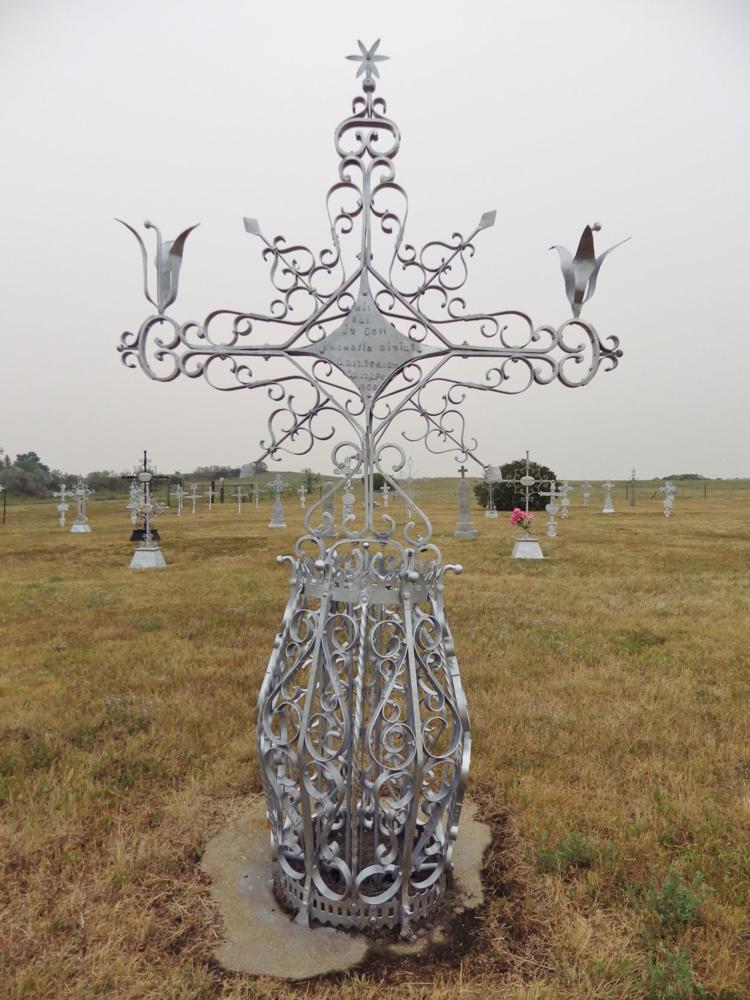 One St. Vincent's cross that dates to 1908 is to resemble a flower growing from a pot or barrel. Lily blossoms stand on each of its arms, with a star or flower on top.
Tim Kloberdanz, who Geist called the "world's leading expert" on wrought iron crosses, said the cross is a testament to the artistry of its maker, Mandan blacksmith Thomas Stebner. He considers the Stebner cross at St. Vincent's to be "among the very, very best" he's seen in his decades-long studies of iron crosses.
"With this particular cross, it's just, to me, a statement that some things are not going to die," Kloberdanz said. "Lilies will continue to bloom, no matter how cold it gets. They just seem to bloom right out of the arms of that cross."
'God's country'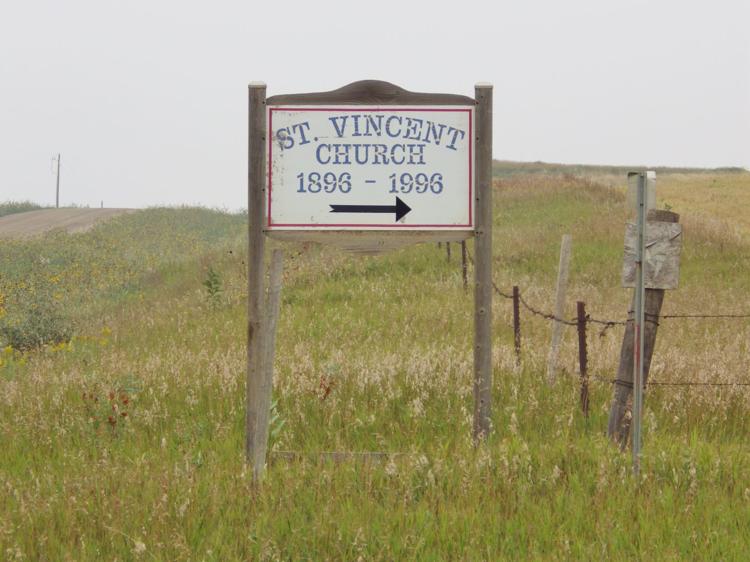 Steve Brannan has been deacon at St. Vincent's for 16 years. He called the cemetery "a special place." He often receives requests for information relating to people's ancestors interred there and sends images of the church's burial log, which dates to at least 1903. He said it's "just amazing" for a church to be affiliated with a burial site dating back 120 years.
"This is God's country out here. These are great rural folks," Brannan said. "It's amazing that this little farm and ranch community around here wants to keep it a simple country parish."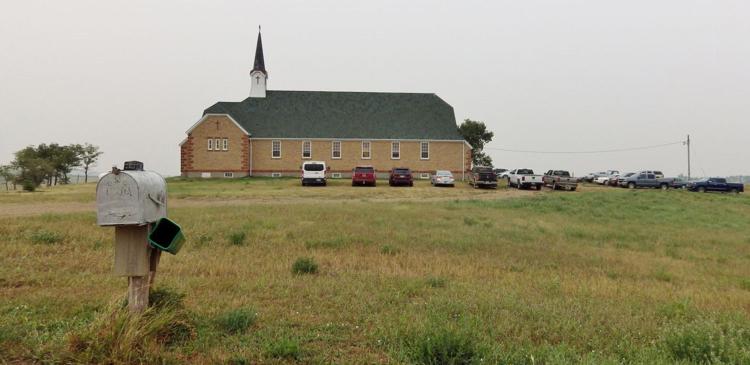 Boehm and his wife, Joyce, were married at St. Vincent's in 2017. They, like Fried, live a few miles away. Jim Boehm attended a nearby country school where one teacher taught 25 children in eight grades. Some students traveled by horse to get to school, he said.
"It was quite an experience. Everything I know, I learned there," he said. "Time flies, don't it?"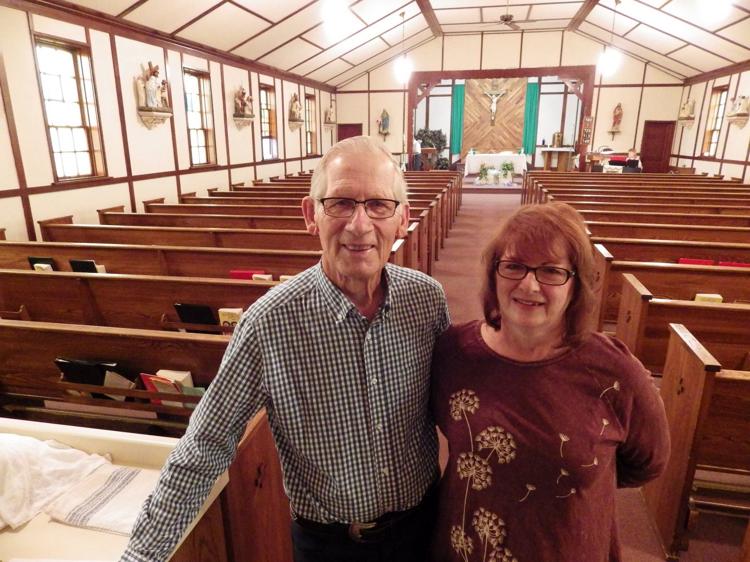 Fried said about 40 families are registered members of the church. The current brick building was raised in 1934 after two previous structures burned. Boehm, Fried and other parishioners all have family in the cemetery, some buried under iron crosses.
"They last long, for sure. They're there," Fried said.
"I thought that was quite a deal when they made those, the blacksmiths in those days. What they did was just with a forge and hammer," Jim Boehm said. "They made some unique stuff."
Crosses continue
Kloberdanz said the iron cross tradition has "peaks and valleys" of interest. He has regularly received inquiries for blacksmiths or metal workers who manufacture crosses to mark graves.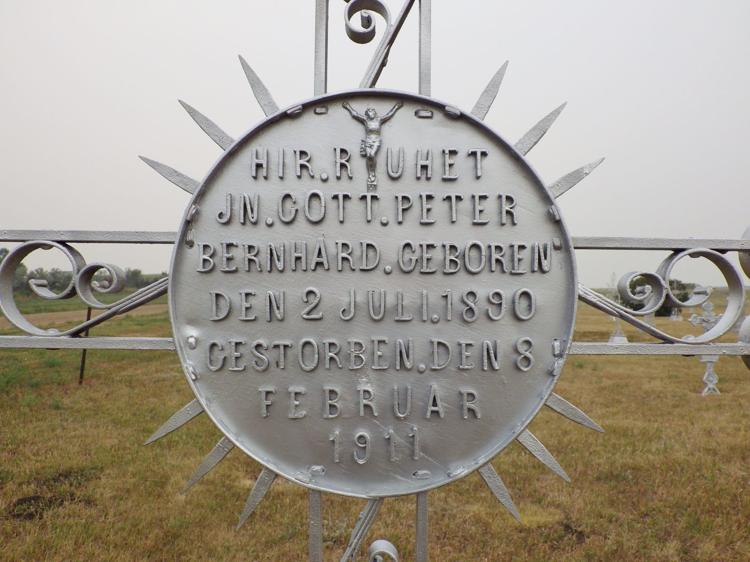 "They just feel that when they've seen iron crosses, especially on the prairie, when you see a cross against that big, open sky and seemingly endless horizon, that cross seems to fit," he said.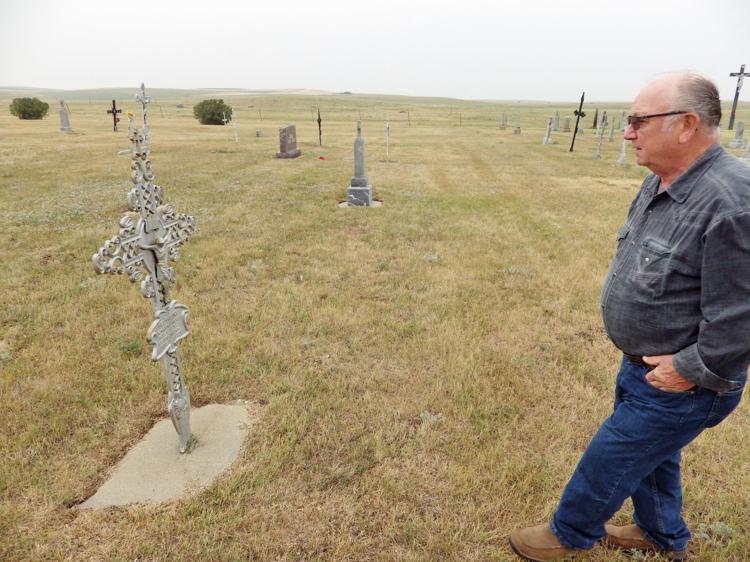 St. Vincent's was one of the first cemeteries he viewed when exploring iron crosses in North Dakota, and it still ranks highly for him, he added.
"I was most impressed because it has such exquisite examples of iron cross workmanship, and there's just in my mind no doubt that you find artistic works in that cemetery," Kloberdanz said.