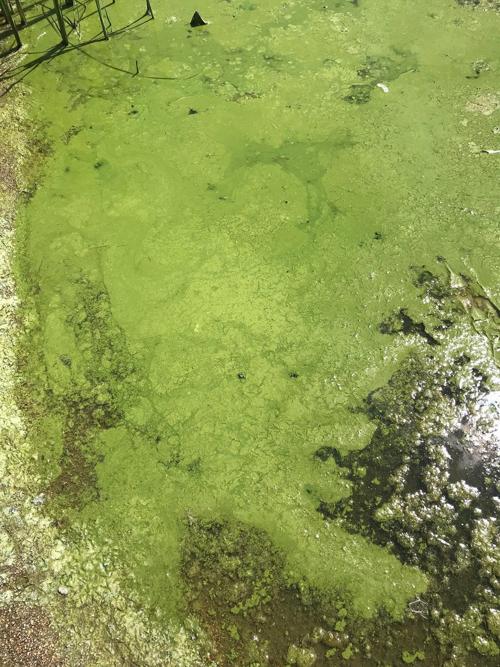 A toxic algae bloom is causing problems at rural Mandan's Harmon Lake for the first time.
Health officials issued the warning for blue-green algae last month — effectively closing off the lake to boaters and recreational water users. The warning — previously an advisory, meaning people were told just to look out for the algae — resulted in the relocation of an annual triathlon and a local paddle board, kayak and canoe company.
"We never had problems (on Harmon Lake)," said Brian Jackson, co-race director of the Bismarck-Mandan Fellowship of Christian Athletes Triathlon, which had been held on the lake the past five years. 
Jackson said his organization made a "split-minute decision" in July to move the triathlon from Harmon Lake to McDowell Dam after reading about the blue-green algae advisory on Harmon Lake. The decision a week before the July 13 race came despite athletes having already trained at Harmon Lake.
"We were really clear that it's athletes' safety first," Jackson said, adding that he received no complaints from participants and he thinks they understood the dangers.
The company Paddle On is a yearly fixture at the beach on Harmon Lake, but this year the business' owner, Jeff Defoe, said he moved to General Sibley Park as a result of the algae.
Though health officials issued a warning for blue-green algae at Harmon Lake for the first time, the algae isn't new to North Dakota.
"But I think our awareness in trying to educate the public (about it) has increased," said Aaron Larsen, manager of the North Dakota Department of Environmental Quality's Watershed Management Program.
Blue-green algae is caused by excess nutrients in the lake which come from a variety of sources, including farm fertilizers, stormwater in urban areas, leaking septic systems, as well as natural sources, according to Larsen.
You have free articles remaining.
Warmer water helps the algae thrive — allowing it to reproduce quickly, he said.
As of Aug. 23, 15 lakes were posted with blue-green algae advisories and three lakes, including Harmon Lake, were under warnings.
Larsen said last week he believes cooler weather "has helped the blue-green algae situation." Still, the algae can persist into the early fall and pose a risk to hunters and their dogs.
The number of blue-green algae blooms, which, when severe, can have the appearance of spilled green paint, has been "pretty consistent from year-to-year," according to Larsen.
In 2016, health officials created a blue-green algae surveillance program in response to increased public reports of the algae in the state. In 2016, there were 15 advisories, in 2017 there were 15 and in 2018 there were 17.
Through the surveillance program, health officials created an online reporting system people can use to report any algae blooms they encounter.
When a report is made, officials will visit the lake, collect a water sample and, if there's a high level of toxins, known as cyanotoxins, post an advisory or warning. The lakes continue to be monitored for the rest of the summer.
Larsen said officials aren't tracking reports of illness associated with the consumption of cyanotoxins, which can cause people and animals to become sick with vomiting and diarrhea. But, Larsen said, they've "periodically" received reports of swimmers getting rashes after swimming in an affected lake.
He said they also "anecdotally" hear about ranchers whose cattle have died after drinking out of a lake or pond that has blue-green algae. No human or animal deaths have been reported.
Larsen said health officials will continue to monitor blue-green algae in North Dakota but have no plans to fund any mitigation efforts. For more information on blue-green algae, visit www.deq.nd.gov.