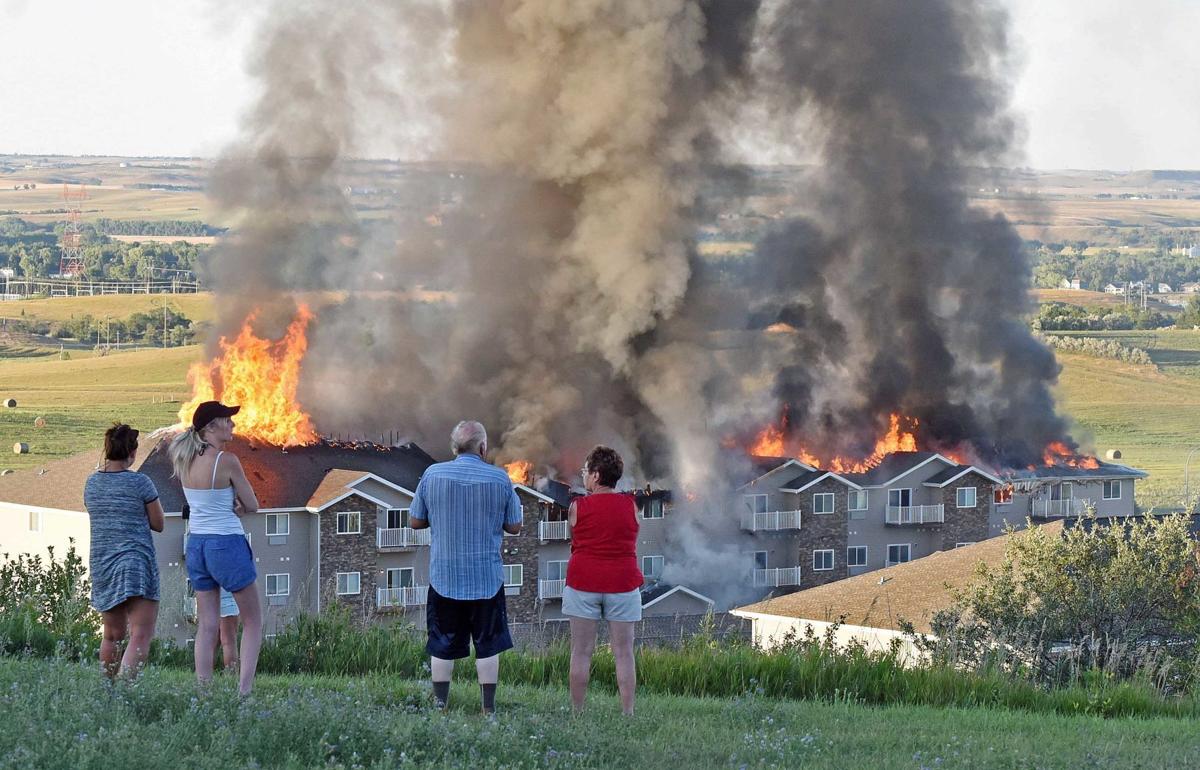 Mandan is considering updates to its building code following an apartment fire last summer, Mandan Mayor Tim Helbling announced at the recent Bismarck Mandan Chamber EDC State of the Cities event.
A Sunset Bluffs apartment building burned in July after a fire started on a third-floor balcony. Improperly discarded smoking materials were ruled the cause. The fire spread through the attic and consumed the roof. A neighboring Sunset Bluffs apartment building was destroyed in a similar fire in July 2019.
Mandan's fire code was changed earlier this year to include sprinklers on patios, decks and balconies with an overhang of 6 inches or more.
Mandan Fire Chief Steve Nardello said any plans for building code changes are in the information-gathering stage, which includes looking at building codes in other cities such as Fargo, but there is "nothing gaining any speed." Building Official Shawn Ouradnik said staff are looking to see if any changes to the code are warranted.
Changes could include noncombustible exterior coverings and the addition of sprinklers in attic spaces. Nardello said Helbling asked about limiting the kind of exterior materials used in construction. Exterior coverings such as vinyl can melt when they heat up and expose the combustible plywood underneath, Ouradnik said, whereas noncombustible materials such as brick can prevent that from happening.
Mandan is working with Bismarck to ensure codes are consistent in both cities, and fire chiefs and building inspectors from both cities are involved in the discussion, Ouradnik said. The potential building code update was prompted by fires in the community and in the state.
"We want to prevent building loss and catastrophic fires," Ouradnik said.
Bismarck is always going to be reviewing how effective its codes are, though there haven't been any in-depth discussions about changing the building code, according to Bismarck Fire Marshal Owen Fitzsimmons. He said officials are researching different building materials and looking at the effectiveness of fire suppression designs.
Bismarck last updated its building code in 2019.