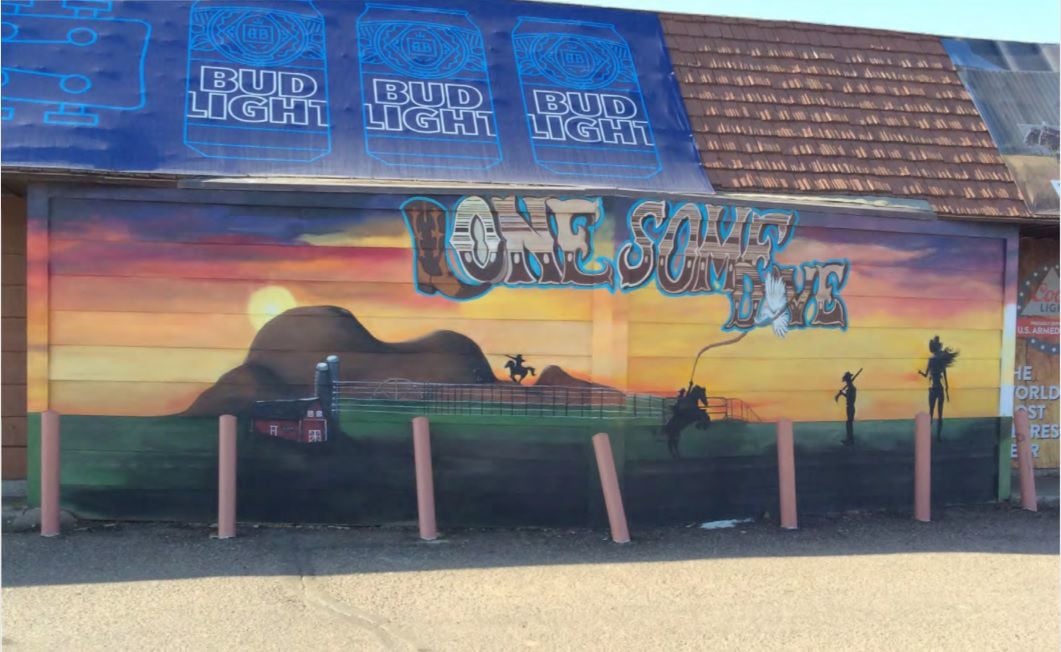 Another Mandan business is being ordered to remove artwork from its facade after failing to apply for a permit prior to having it applied.
The Lonesome Dove, 3929 Memorial Highway, was cited in October by code enforcement for placing an unpermitted Western-themed mural on its front wind block.
Shortly after being cited, bar owners Brian Berube and August Kersten applied for a permit for the large mural, which was completed by local artist Adrienne Phillips and is valued at $2,600. According to Kersten, the work of art took about two and a half months to apply.
The Mandan Architectural Review Commission, on Nov. 13, denied the application based on the following: The city's mural guidelines state "no mural may be placed on the front of a building" and "no mural shall convey a commercial message." City code states "no sign or wall mural shall be painted on any building without prior approval from the MARC."
Berube and Kersten were then directed to apply for a sign permit, as the artwork wouldn't be considered a mural due its inclusion of the words "Lonesome Dove," which advertises the business.
Their application, dated Dec. 13, was reviewed by the MARC in January and was denied based on the following: City code states "no combination of wall signs and supports shall exceed 20 percent of the signable wall surface area up to a maximum of 200 square feet unless other limits are approved by the MARC" and "no sign or wall mural shall be painted on any building without prior approval from the MARC."
In a letter of appeal to the city, dated Feb. 13, Berube wrote: "At the time we did this sign, we had never heard of MARC, had we, we would have contacted them and confronted them on our plan, before moving ahead with it.
"Lonesome Dove has been part of Mandan for 28 years and worked with the people to see Mandan grow over the years. We have supported events and donated monies over the years for this to happen, it is not our practice to not follow the rules," he added.
Kersten, accompanied by Berube, spoke at Tuesday night's meeting of the city commission, which denied the appeal by a vote of 4-1. He said he felt the city should've approached them long before the artistic sign was finished.
"Someone should've come while we were doing it. Because I would've never thought we needed a permit to do that," he said. "If you're paying for a license, you should be able to promote your product if it's done right. I could see if it was tacky or someone was complaining on it."
Julie Haibeck, owner of Mandan's Golden Comb Day Spa & Salon, also spoke at the public hearing. She alleges the city covered up her business' mural, years ago, by placing a wall within 1 inch of it. According to Mandan Business Development Director Ellen Huber, the city did not construct the wall; the owner of the property adjacent to the Golden Comb put up a landscaping wall that covered Haibeck's mural.
"You guys are taking away all of our rights anymore. I mean, we can't pick out a color, we can't pick out a decoration, we can't pick out an overhang, we can't pick out windows. We just have so many can'ts anymore," Haibeck said. "I just think you guys are ruling us to death."
Commissioner Dennis Rohr, who cast the lone dissenting vote, said he felt the Lonesome Dove's sign looks "nice."
"I do have a problem with the requirement to take that one down because I think it fits in quite well and fits the business and it's not distracting," he said.
Commissioner Amber Larson, who also serves on MARC, said this was a "difficult" decision.
"The challenge becomes, how does the person down the street know that you got an exception? They just look at it and they say, 'Oh, that worked, OK, I'm going to go do the same thing,' and then we have this over and over and over again."
Mayor Tim Helbling said he feels some rules and regulations are necessary to help draw businesses to the community.
"As a business owner, I really feel the city overregulates, but on the other side of it — the city side — I hear all the ins and outs and what it's taken to bring people to the community," he said.
In January, the city commission imposed a six-month moratorium on mural permit applications to allow the city time to draft a new ordinance to replace the existing mural guidelines, in which "critical" issues have been identified, according to John Van Dyke, Mandan's city planner.
Last month, Many Visions Apparel, 100 Second Ave. N.W., also was ordered to remove a mural from its storefront, after the city commission denied its appeal, because the artwork does not comply with Mandan's mural guidelines, and a permit was not granted.
Get local news delivered to your inbox!
Subscribe to our Daily Headlines newsletter.