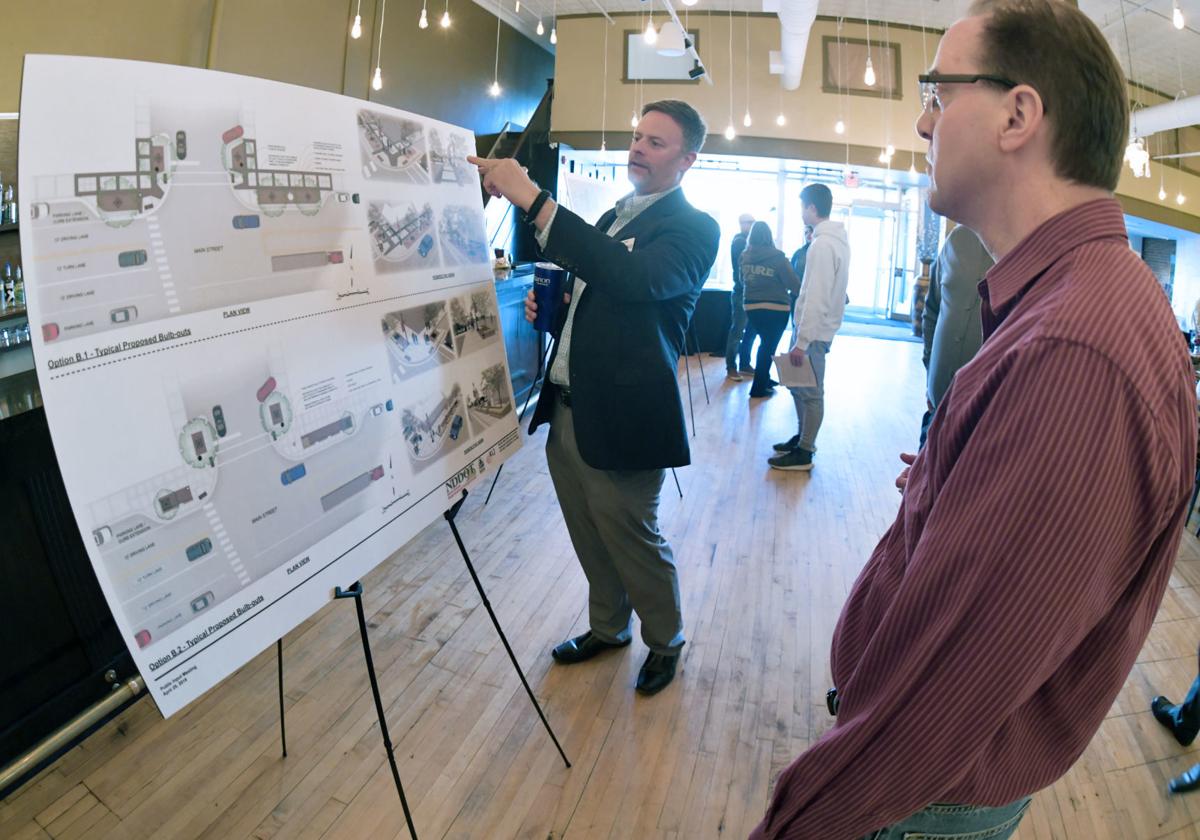 Mandan's Main Street will be experiencing a change of face next summer with fewer driving lanes, more parking and improved sidewalks.
The City Commission on Tuesday night gave final approval to a comprehensive project to improve Main Street between Collins Avenue and 10th Avenue Northwest.
"We're doing something to slow traffic down, trying to make our streets look nicer and more inviting," City Administrator Jim Neubauer said.
A major part of the project is shifting the four-lane street to three lanes, something Bismarck undertook years ago on its Main Avenue.
"Some of the main goals of it are to calm vehicle traffic a little bit and to make it a better environment for pedestrians," City Planning and Engineering Director Justin Froseth said. "Reducing that south lane gets the travel lane away from the sidewalk, and we get parking on the south side of Main Street."
Another notable change will be the addition of curb extensions, also known as curb-outs, to intersections. The commission chose a design that will feature ornamental concrete with colored accents to add a little flare to downtown Mandan along with improving safety.
"The curb-outs help get pedestrians as far into the intersection as we can before they have to worry about traffic," Froseth said. "It's also a decent-sized area to incorporate any strategic plantings, trash receptacles or benches into the area."
The city also plans to replace old traffic lights and begin to incorporate hanging flower pots and public art into the Main Street experience.
Mandan is taking advantage of both state and federal programs, including Gov. Doug Burgum's Main Street Initiative. About 80 percent of the estimated cost of $3 million will be paid for with federal money, with the rest coming from local and state shares.
The changes are intended to increase foot traffic in an area that has recently seen an influx of new businesses.
"I think the changes will be a positive for us," Mandan Laughing Sun Manager Ellen Knudson said. "I think it will add some creativity to downtown and brighten it up a bit, which will make people want to come and walk from business to business. Overall that sounds like a good step forward."
Get local news delivered to your inbox!
Subscribe to our Daily Headlines newsletter.