It's Sunday morning at McCabe United Methodist Church in Bismarck. Earlier in the week, North Dakota health officials had announced the state's first coronavirus case in Ward County.
About 80 people gathered for the March 15 service, about 50% fewer people than church organizers typically expect. The head pastor advised attendants not to shake hands. No attendance folder or offering plate would be circulated. Tongs sat by the plates of doughnut holes outside the room.
One churchgoer, Jolene Hanson, 77, said she thought the news media had blown the coronavirus outbreak "out of proportion."
"I'm just not concerned about the virus just now. I mean I'm leaving tomorrow to go skiing in Montana," Hanson said, leaning back against the pew. "I feel I'm healthy, and I think church is important today."
Fast forward a week, with another Sunday looming, and the situation has drastically changed. After the coronavirus pandemic hit the Bismarck-Mandan area with force this past week, prompting dramatic changes in the way of life in the metro area, most churches have called off gatherings. And Hanson is self-isolating.
"Things have gotten way beyond anything I could've expected," Hanson said. "From last Sunday to this Sunday it's a big difference."
Rapid developments
On Tuesday, the state Department of Health announced four new cases in North Dakota, including two in Burleigh County. On Thursday, health officials announced two more in neighboring Morton County -- the first evidence of community transmission. Cases now stand at 26, with the bulk in Burleigh County.
Most places of worship announced last week that they would continue holding services on the weekend. Bismarck Community Church and the Muslim Community Center were among the few that suspended gatherings that week.
Some, like McCabe United Methodist Church, took extra precautions last weekend, including telling churchgoers not to shake hands, disinfecting hard surfaces and providing additional hand sanitizer. Others canceled some events but continued services.
Change of plans
Now, most churches have suspended worship gatherings and are streaming services exclusively on social media.
"I want to assure you that, throughout all of this, we are going to continue being the Body of Christ with one another, we are going to continue to reach out to the wider community, we are going to continue to make a difference in the world, and I hope you'll join us," Bismarck United Church of Christ Rev. Gretchen Deeg said in what she said was her first live social media video.
Catholic churches in the Bismarck area had been ordered by the Diocese last week to suspend sharing communal wine, exchanging the sign of peace and providing holy water at entrances. Ascension Church and Corpus Christi Church, two Bismarck Catholic churches, canceled their Friday fish fry events for the rest of Lent.
This past Wednesday, Bishop David Kagan in a letter declared the cancellation of "all public celebrations of the Mass, the sacraments and devotions until further notice that it is safe for all to gather in worship."
"This is a great sorrow for me as your Bishop but, in justice and charity to you and to all in our diocese, I make this decision," Kagan said in a statement.
The Bismarck Catholic Diocese also canceled all confirmations between March 22 and May 17, along with communal penance services, weddings, funerals, baptism events and all parish education classes.
"I just hope that people continue to pray, that people know that we know that we need to care about and support each other in different ways now," Corpus Christi Catholic Church Parish Manager Tracy Kraft told the Tribune. "Know that it will get better; there is hope that it will get better again."
The Rev. David Zellmer, interim bishop of the Western North Dakota Synod of the Evangelical Lutheran Church in America, released a statement on Thursday, recommending congregations cancel worship gatherings. He also recommended funerals be limited to immediate family and weddings to the couples, their parents, two witnesses and an officiant. Baptisms should be limited to no more than 10 people, the statement said.
The Church of Jesus Christ of Latter-day Saints in Bismarck has followed a restriction on large gatherings sent by the First Presidency and Quorum of the Twelve Apostles, two of the church's highest governing bodies.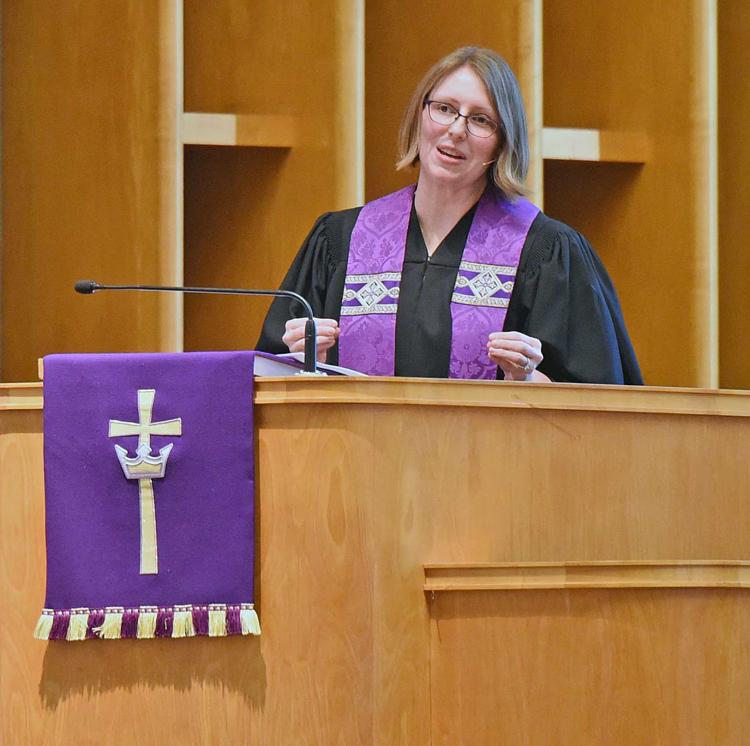 McCabe United Methodist Church Pastor Jenny Hallenbeck Orr told her congregation last Sunday that the church had plans to cancel worship services if local authorities recommended an end to large in-person gatherings. The Methodist church canceled all in-person activities on Monday, the day after Burgum ordered the shutdown of all schools.
It is "devastating" not to connect with churchgoers in-person, Hallenbeck Orr told the Tribune, adding that the Methodist church has kept its doors open for office hours to be a resource for people who might have "care concerns."
"It is a big concern for me how isolating this is," Hallenbeck Orr said. "And I know especially people who already struggle with anxiety and loneliness that sometimes church is their primary connection to other people."
Surprise Church Pastor Matt Anderson posted a video on social media last week where he said the church would consider canceling worship gatherings "if there begins to be local cases of the virus" or evidence of community transmission -- both of which occurred this week, prompting the church to cancel Sunday worship "until further notice," according to a statement.
"As the church leaves the building we are still gonna be the church in probably some new and cooler ways than we've ever been," Anderson said in a video announcement of the suspension.
Hope remains
Hallenbeck Orr remains hopeful as the coronavirus pandemic hits close to home. 
"One of the ways I see hope in this is through God's promises to love us steadfastly through it all. I know this to be true because we, individually and communally, have already made it through significant crises and trauma in the past," Hallenbeck Orr said. "With God's help, and with our collective strength, we will get through this, too."
But Hanson's outlook on the coronavirus pandemic has changed since Sunday's service. She is in her third day of self-isolating -- a decision she made after learning about an elementary school-age child in Mandan who was infected by the coronavirus.
"I've got grandchildren and great-grandchildren and so far, knock on wood, they're all still OK," she said. 
For now, Hanson is entertained by a quote her friend posted on social media on Friday morning: "I guess God got so mad about all the fighting down here that he sent us all to our rooms."
Concerned about COVID-19?
Sign up now to get the most recent coronavirus headlines and other important local and national news sent to your email inbox daily.