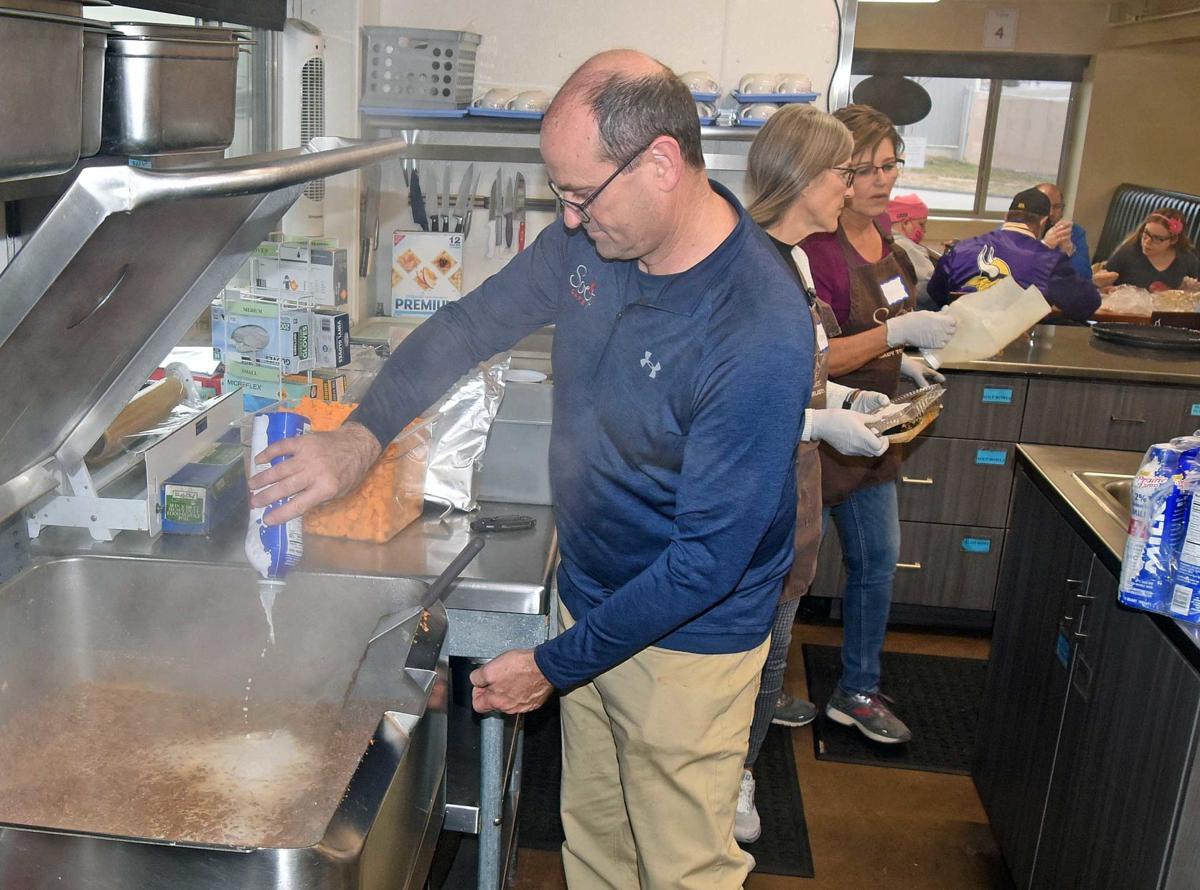 Community Thanksgiving meals in Bismarck-Mandan are taking a different shape this year due to the COVID-19 pandemic.
AID Inc. and Ministry on the Margins have called off their community Thanksgiving meals this week, while other local organizations are stepping up to feed residents.
AID Inc. had planned to serve a to-go Thanksgiving dinner out of First Lutheran Church in Mandan, where the meal has been held in the past, but was told volunteers could no longer use the church's kitchen after Morton County was moved to the "orange/high risk" level of ND Smart Restart guidelines, Executive Director Patti Regan said. The organization reached out to a restaurant and another church but could not find a space for volunteers to prepare food.
Regan said AID Inc. still will be distributing food baskets to those in need. The baskets will not contain a typical Thanksgiving meal, though Starion Bank donated some frozen turkeys that will be given out.
"To be honest, there is more than just one meal a year people have to prepare," Regan said.
Ministry on the Margins in Bismarck has postponed its Thanksgiving until it is safe for people to gather again, according to founder Sister Kathleen Atkinson. Whenever the meal is held, it will include "all the traditional trimmings and decorations," she said.
The Banquet and Heaven's Helpers Soup Cafe in Bismarck both will serve meals on Thanksgiving. Heaven's Helpers will be open from 11 a.m. until 4 p.m. and The Banquet from 5:30-7:30 p.m.
Heaven's Helpers Executive Director Mark Meier said the cafe will be open this year because other organizations had to cancel. The cafe typically is closed on Thanksgiving, but this year it will serve "grandma's turkey dinner soup," which will include turkey and potatoes, alongside lobster bisque, sandwiches and pies. The dining room will be open.
"We're going to continue to do what we do every day, but with a Thanksgiving twist," Meier said.
The Banquet will serve dinner in its dining room, and community members also can get their meals to go, Executive Director Karla Eisenbiesz said. Masks will be provided, and the dining room will be at 25% capacity. Great Plains Food Bank and businesses such as Walmart have donated the food, and enough volunteers have signed up to help.
"The only problem I foresee is fitting all the food into the to-go box," Eisenbiesz said.
Concerned about COVID-19?
Sign up now to get the most recent coronavirus headlines and other important local and national news sent to your email inbox daily.