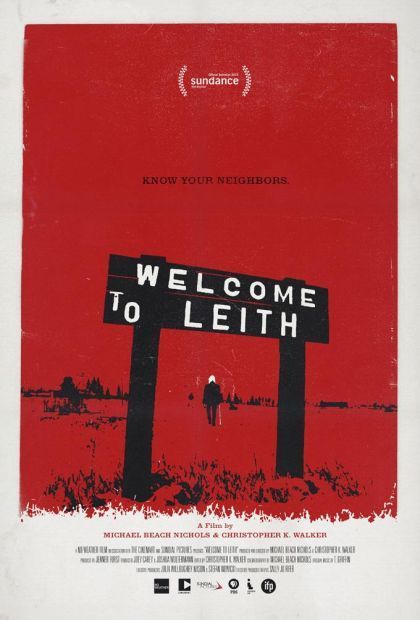 The bizarre and headline-grabbing story of the tiny town of Leith taking on a white supremacist movement is packing theaters at the prestigious Sundance Film Festival this week in Salt Lake City.
The filmmakers say "Welcome to Leith, Know Your Neighbors" has already been signed on by Public Broadcasting for release in 2016. Meanwhile, they're hoping to sell rights to theatrical distribution so it can show in theaters, including North Dakota.
The 85-minute documentary, "Welcome to Leith, Know Your Neighbors," by New York filmmakers Michael Beach Nichols and Christopher Walker was selected as one of 16 entries into the U.S. documentary division.
The festival is an opportunity for independent filmmakers to gain exposure, win awards and sign deals for movie or television distribution.
It also has been an opportunity for Leith Mayor Ryan Schock to sit in a darkened theater and watch the story unfold again and again and again.
In a phone interview from Salt Lake City, Schock said watching the story on film has been emotional and riveting. The filmmakers asked him to attend the festival to put a face on the saga.
"It brings back a lot of memories, and it tells the truth. The good guys won in the end," said Schock, pointing out that, if he hadn't lived the story, he would hardly believe it happened.
He said he's been surprised by the audience response -- the film will have six showings -- because many hadn't followed the news.
"I'm totally floored by all the questions. A lot of people are thanking us for standing up to it. The people that are watching it are blown away. Yesterday, there were tears everywhere in that theater," said Schock, explaining that he doesn't feel like a hero, but more like a man who, with others in town, had to deal with an extraordinary turn of events they never could have anticipated.
Schock said he'd like for his fellow citizens to see it.
"I think the people of North Dakota will be impressed. It's absolutely amazing," he said.
Nichols and Walker captured a story that started in the late summer of 2013, when the 20 or so who live in Leith learned that the quiet, 61-year-old man who'd purchased a small two-story house at the end of the street was a white supremacist actively soliciting other neo-Nazis to move in and take over.
By the time they learned the true identity of Craig Cobb, he had already purchased several other cheap and abandoned lots and properties. Cobb was using white supremacist websites and talk blogs promoting a scheme to run Leith's government by voting themselves onto the town council.
While the story catapulted the town into national and international media coverage, Leith wrote new city ordinances to keep Cobb and his cohorts from occupying property without water or sewer. They endured displays of Nazi flags and swastikas, personal racist insults and drunken threatening outbursts at town meetings.
The saga took an even more dramatic turn in November 2013, when Cobb and his housemate, Kynan Dutton, were arrested for terrorizing after conducting an armed patrol of Leith. It ended in April, when Cobb was released from jail on a plea deal that reduced all but one felony count to a misdemeanor and required four years of supervised probation. Dutton was released earlier.
Cobb has since moved to Sherwood, near the border of Canada, a country from which he is a fugitive from years-old hate crime charges. He is under court order to stay away from Leith.
Nichols said he talked to Cobb Tuesday and invited him to participate by computer Skype with Thursday night's audience. He said Cobb appears to be "laying low," though he has restarted his former Podblanc website.
The filmmakers made several extended trips to Leith and are the only filmmakers of at least three to bring the Leith story all the way to public distribution.
"I feel very lucky that we covered the whole story. It happened in one place, but it has broad implications for the whole country. It was terrifying for the people of Leith, but they had cool heads for the most part and showed their strength and character," Nichols said.