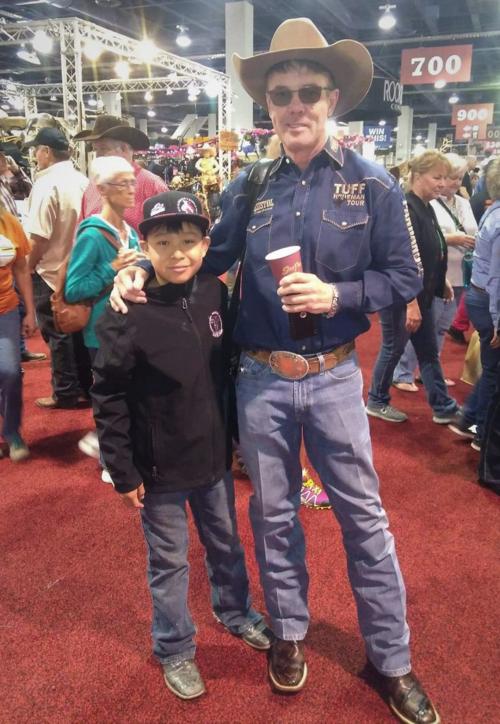 Aiden Lane Treetop, of Fort Yates, tied for 11th place in the saddle bronc riding event at the Junior National Finals Rodeo this past weekend in Las Vegas.
The 10-year-old is the youngest enrolled member of the Standing Rock Sioux Tribe to ever compete in the NFR and came within three points of making it to the short — and final — round of the competition.
"It was pretty fun," Aiden said Monday. "I'm happy I made it. It's pretty cool to me."
The Lakota cowboy advanced to the Junior NFR after securing first place in saddle bronc riding, ages 9 to 11, at the High Plains Youth Rodeo Circuit Finals, Fort Pierre, S.D., in September.
A bull- and bareback bronc rider, Aiden's only been riding saddle bronc since June.
You have free articles remaining.
"Pretty good for his first year," said Ardis Dog Skin, Aiden's grandmother. "I could not be more proud of his effort all year long. He's still a champion."
Since February, more than 7,000 entrants from 38 states and four countries have attempted to qualify for the Junior NFR, which runs concurrently with the National Finals Rodeo.
About 700 of these athletes made the cut and, over the course of 10 days, will compete for gold buckles in eight events, each with varying age groups.
After watching the short round of junior saddle bronc riding on Monday, Aiden planned on celebrating with his family by zip-lining at Fremont Street in downtown Vegas. 
Aiden said he's excited to see his friends and classmates when he returns.
"They're going to be pretty jealous," he said. "I have lots of pictures to show them."