Both total and active coronavirus cases in North Dakota have decreased as the state lab retests dozens of cases following the recent malfunction of two pieces of lab equipment.
Eighty-two positive results between Tuesday and Thursday of last week were reclassified as inconclusive, and the people were asked to retest.
Lab officials "made the correct decision to err on the side of caution," Gov. Doug Burgum said during a Tuesday briefing.
Sixty-five of the 82 people have retested so far, with only one testing positive, the state Department of Health reported.
That reduced the confirmed COVID-19 cases statewide from 2,457 to 2,422, after other new positive cases reported Tuesday were factored in. It also helped lower active cases by 185, to 667. The bigger reason for that drop, however, was that there were 150 additional recoveries reported, raising the state total to 1,701.
"Over the long (holiday) weekend the team had an opportunity to update case records and confirm that individuals who had recovered in the past needed to be marked as recovered ... so there's a little bit of catch-up on the recovereds," Burgum said.
The false positives at the state lab were caught by workers who felt "something was a little bit off," said Dr. Christie Massen, the lab's director.
"We have internal and external quality controls that we perform every day on every run to ensure that there's a minimal risk of having these false positives occur," she said.
Most of the false positives were in Cass and Ward counties. Eight were in Burleigh County and four in Morton County. Thirty-five of the cases involved residents and staff in long-term care facilities, according to Burgum. All of those cases have since retested negative, he said.
"I know that getting a call saying you're positive for this can be challenging and traumatic," the governor said. "Accuracy is of the utmost importance to us at the state of North Dakota, trust is of the utmost importance in terms of the work we're doing, and so again our apologies to those individuals."
The equipment malfunction has been corrected and is not impacting processing at the lab, officials said. Sixteen retests are pending. One person is declining to be retested and is self-isolating at home.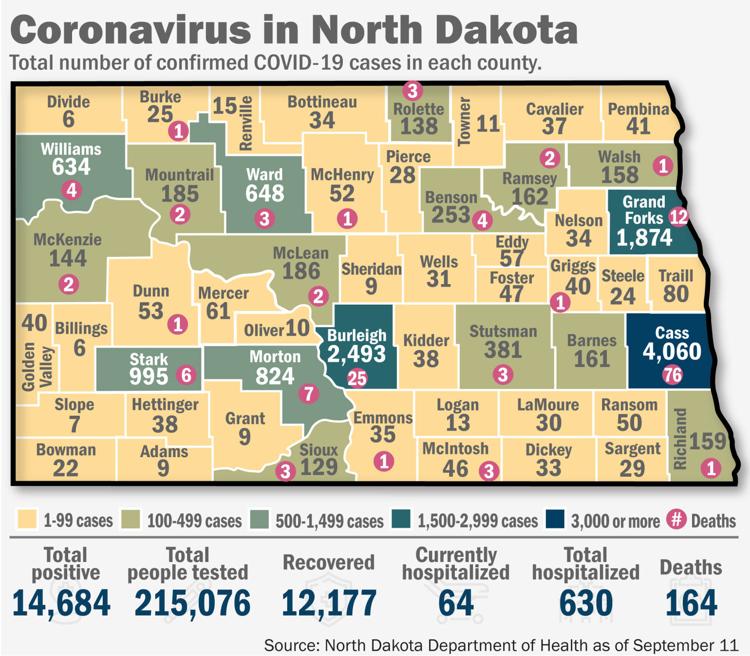 There were no new confirmed COVID-19 related deaths reported Tuesday, leaving the statewide total at 54.
Forty people remain hospitalized due to COVID-19, down one; 156 people statewide have been hospitalized at some point due to the disease. 
State and private labs have tested 66,854 people for COVID-19. The number of total tests, which includes people who have been tested more than once, is at 85,479.
Concerned about COVID-19?
Sign up now to get the most recent coronavirus headlines and other important local and national news sent to your email inbox daily.