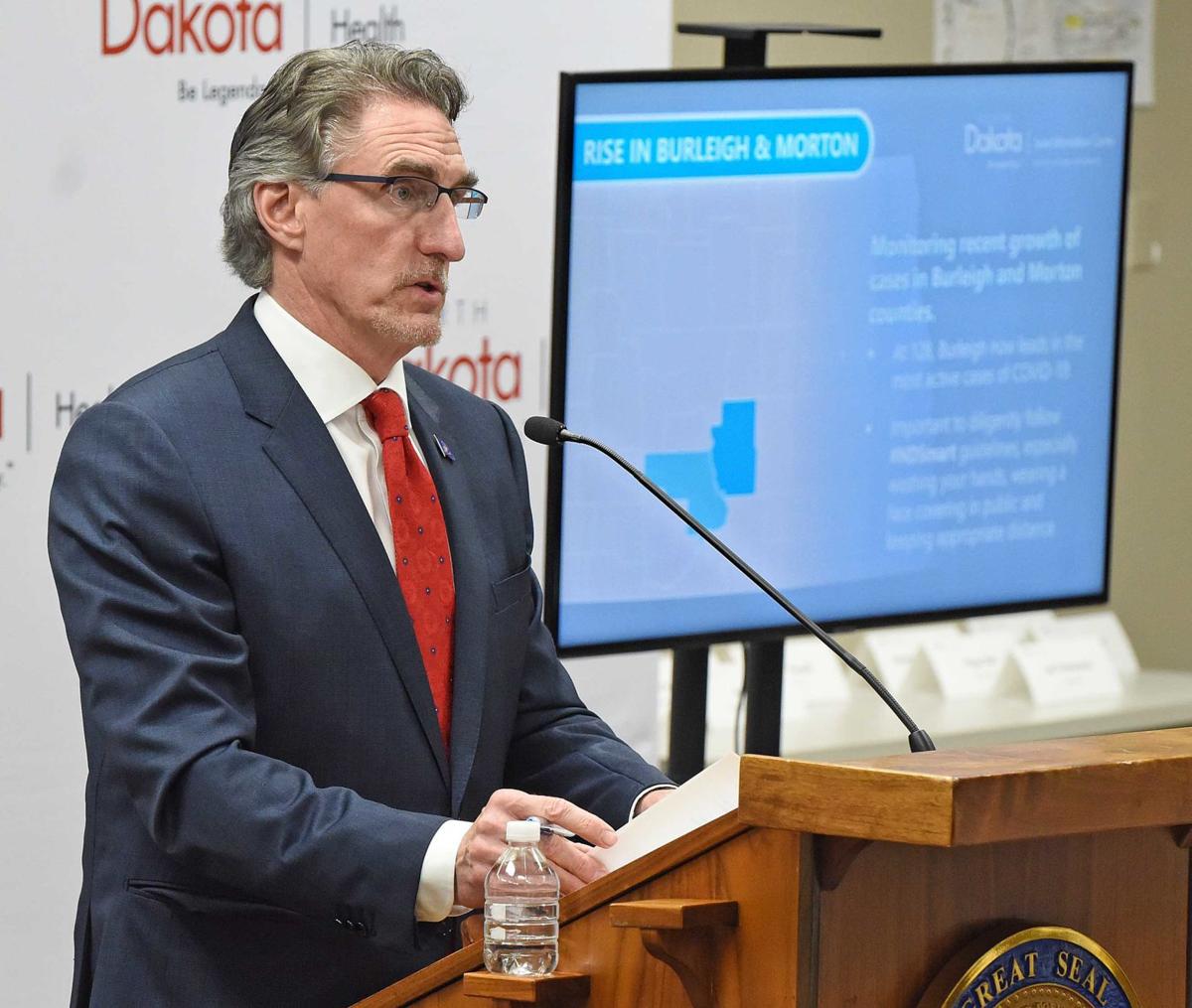 North Dakota health officials are monitoring a rise in coronavirus cases in Burleigh County but are not yet concerned enough to launch a formal task force, as they did when Cass County bloomed into a COVID-19 hot spot last spring.
The situations are different, and lessons learned through the Red River Valley task force are benefiting the coronavirus battle in Burleigh County, Gov. Doug Burgum said at a Capitol briefing Wednesday. However, he urged people to continue taking precautions, noting that some other states that reopened their economies are starting to close them again as they see a resurgence in cases.
"We need to remember that we can't get complacent here -- North Dakota is not immune," Burgum said. "But it also does not have to be our fate in North Dakota."
The state Department of Health on Wednesday reported 73 new COVID-19 cases in 18 counties, including 20 in Burleigh County and seven in Morton County. Cases have been steadily climbing in the region this month, with the reopening of businesses including bars and restaurants and a ramping up of testing.
Burleigh County earlier this week surpassed Cass County in active cases and continued to lead the state on Wednesday, with 128. Cass has 116, and Morton is third with 38.
Cass County is home to Fargo, and Burleigh County is home to Bismarck.
"There has been an inversion here where this metro area has moved ahead of our largest metro area," Burgum said.
However, he also said there are differences in how the spikes developed in the two cities. Fargo had infections spread through nursing homes, while Bismarck had only three active cases in long-term care facilities on Wednesday, according to state health department data. Burleigh County has not recorded a single coronavirus-related death, while Cass County has confirmed 70.
One new death was reported Wednesday -- a Cass County woman in her 90s with underlying health conditions. It's the state's 85th coronavirus death. 
State and local health officials have increased testing in Bismarck in recent weeks. A total of 1,376 people were tested Monday at a mass testing event at the Capitol, according to the state Department of Health. Another 395 people were tested Tuesday at the Bismarck Event Center, according to Bismarck-Burleigh Public Health, which also has been holding testing on select days in its downtown parking lot in recent weeks.
"We want to make sure that we keep the numbers low here in Burleigh-Morton," Burgum said. "So we're continuing to monitor the situation, and if we need to take steps including more formally putting together a task force we will. But at this time we believe we can just manage it through the relationships and the local public health and the state coordination which we have right now."
While Cass County developed as a hot spot early in the pandemic, in Burleigh-Morton "we're starting from a much lower point and a more manageable point," Burgum said. "And we've got more testing capacity, we've got more contact tracing capability, we've got more knowledge."
The number of people in North Dakota tested at least once is at 115,839; total tests number 208,192. About 70,000 of those tests have come in the past three weeks, according to Burgum.
A total of 252 people statewide have been hospitalized since the start of the pandemic, with 26 remaining so on Wednesday.
Most people who get COVID-19 recover, experiencing only mild or moderate symptoms such as fever and cough. Others, especially the elderly and people with existing health problems, can experience more severe illness, including pneumonia. The vast majority of people recover.
Other news
Burgum on Wednesday issued an executive order revising a March order that suspended work registration and search requirements for people with coronavirus-related unemployment claims. The new order reinstates the requirements effective July 26.
North Dakota's Microbiology Laboratory has joined the U.S. Centers for Disease Control and Prevention in genomic sequencing of the new coronavirus, to provide detailed genetic information about its components that make people sick. Burgum said these genomic sequences will be uploaded into a national viral genomics consortium to help epidemiologists see changes in the virus. Lab Director Dr. Christie Massen said the lab has previously sequenced only viruses for foodborne illnesses.
Concerned about COVID-19?
Sign up now to get the most recent coronavirus headlines and other important local and national news sent to your email inbox daily.