Sanford Health Bismarck is opening a 20-bed COVID-19 unit in the former Bismarck Surgical Associates building on Ninth Street -- a move President Michael LeBeau says should be a "wake-up call" as coronavirus cases spiral upward.
Sanford expects to open the $1 million facility on Nov. 24, and lease the building for a year. The hospital is full, and the new unit is part of Sanford's surge plan, LeBeau said.
"It is a wake-up call for us, and I think it should be a wake-up call for the community that the delivery of care is starting to get outside the norm," LeBeau told the Tribune on Tuesday.
Active cases of COVID-19 in North Dakota have doubled in the past month, soaring past 10,000. About one-fifth of the cases are in the Bismarck-Mandan region, which is seeing nearly 225 new cases confirmed daily this month. Nearly 40 coronavirus-related deaths have been reported in Burleigh and Morton counties in November; more than 200 have been confirmed statewide.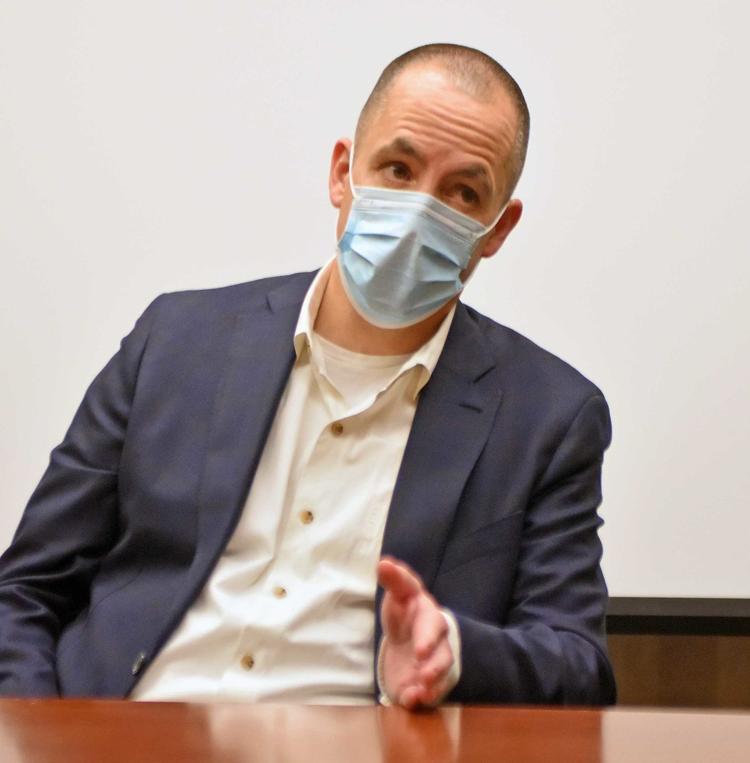 North Dakota in recent weeks has seen record numbers of patients hospitalized with COVID-19. The most recent state data on Tuesday showed Sanford had six available staffed beds open including one intensive care bed, though LeBeau said the numbers can change "almost hourly."
Gov. Doug Burgum late Friday issued an executive order limiting capacity for bars and restaurants, along with various event venues. The measures aimed at stemming the spread of the virus took effect Monday and are in place through Dec. 13, along with an order suspending K-12 and community sports and extracurricular activities. A statewide mask mandate went into effect over the weekend.
Sanford last week activated its surge plan, which essentially is "preparation to do nontraditional care," LeBeau said. It maximizes health care workers' time to handle emergency procedures, and it deals with space needs.
The top priority under the surge plan is the ability to staff COVID-19 units and emergency rooms, and the new unit allows the hospital to expand ICU beds from its current 55, LeBeau said. Sanford Bismarck has not stopped nonemergency care, but it is still catching up from procedures that were deferred earlier in the year when the pandemic hit North Dakota. LeBeau encouraged people to keep up with regular medical care to prevent a need for more serious treatment later.
The hospital also plans to add 80 traveling nurses on top of the approximately 20 it has already. Nurses are taking on an extra shift or two per week, and some doctors are working up to 15 hours per day, LeBeau said. Sanford has no plans to use asymptomatic COVID-19 positive nurses at this time, which is allowed under a plan Burgum announced earlier this month to use infected but asymptomatic staff to work in COVID-19 units.
Sanford is working with the Department of Health and other health care systems to create models of what the peak number of beds needed could be, and holiday gatherings pose a concern.
A post-holiday spike in cases is still preventable, LeBeau said. The community needs to avoid large gatherings and rethink plans for the holidays. He and his family recently canceled plans to have 14 people over for Thanksgiving.
"We do worry that the holidays will increase the positivity rate, increase the infectious rate and transmission rate, and those models show some pretty sobering potential," LeBeau said.
CHI St. Alexius Health activated its surge plan in June, spokeswoman Chelsey Kralicek told the Tribune.
"We have bed availability in the hospital to care for COVID patients," she said in an emailed statement. "Staffing for the increased demand has been our challenge. We've added more than 30 nurses during this time to care for these patients and we are working proactively to source and obtain additional nurses to complement our existing staff members."
The hospital's latest weekly update showed 40 COVID-19 patients admitted. The number of COVID-19 beds "fluctuates daily depending on needs," according to Kralicek.
The most recent state data showed no staffed ICU beds at CHI St. Alexius and six open non-ICU staffed beds.
"We ask our community members to be vigilant and wear masks as we know this is a way to slow the spread in our community and decrease the pressure of all hospitals across our state," Kralicek said in the statement. "As families are thinking of their loved ones, think about ours and make smart decisions -- wear a mask.
Concerned about COVID-19?
Sign up now to get the most recent coronavirus headlines and other important local and national news sent to your email inbox daily.