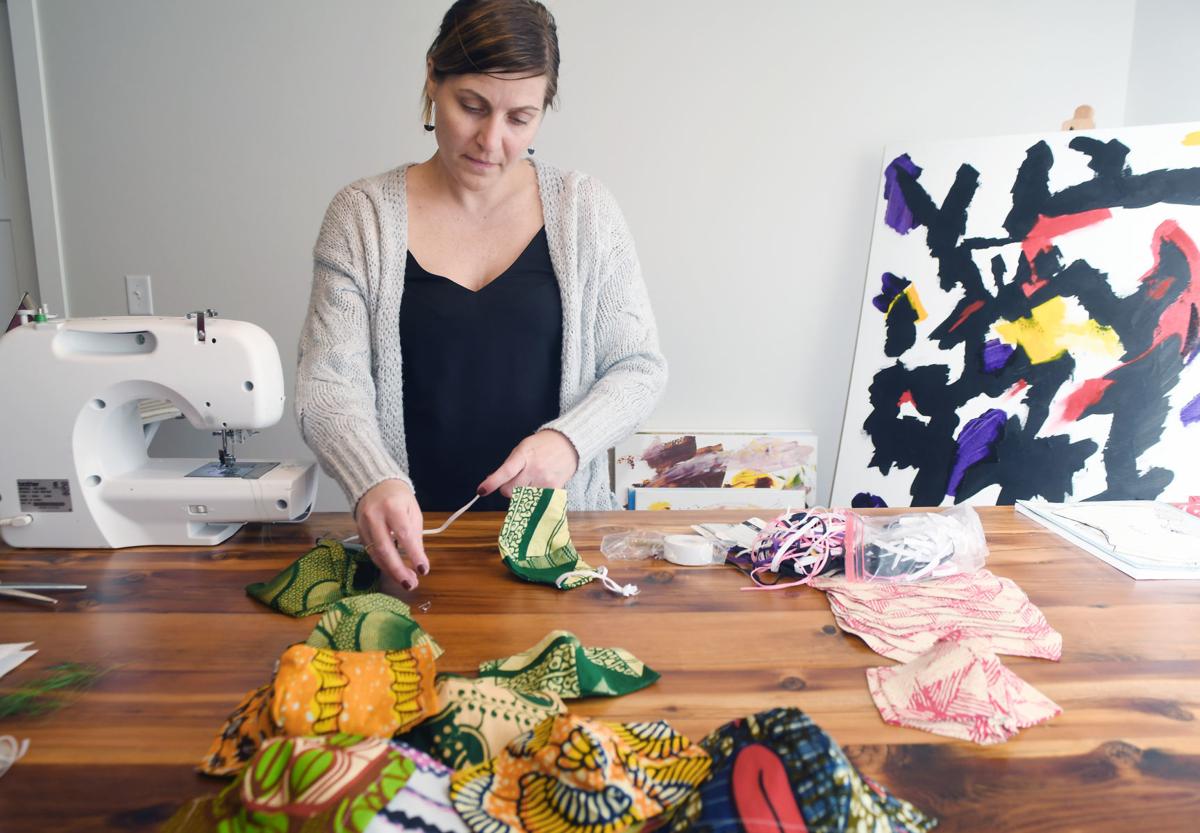 Sanford Health is asking community members to donate homemade face masks primarily for employees who are not working directly with patients.
On April 3, the U.S. Centers for Disease Control and Prevention issued a recommendation for people to wear cloth face masks in "public settings where other social distancing measures are difficult to maintain." But two weeks ago, Sanford Health's western North Dakota division did not have any cloth face masks, said Weston Dressler, senior community relations specialist. So the regional health provider reached out to community members asking them to make and donate the protective covering.
Sanford Health's western North Dakota division has distributed about 300 homemade masks from roughly 20 people, Dressler said.
"The support has been amazing," he said. "We are just very thankful to our community and the ways that they are trying to find (a way) to help us."
The masks are provided to Good Samaritan Society nursing home employees and Sanford Health staff who don't have direct contact with patients, such as accounting, coding or cafeteria employees, said spokesman Jon Berg. The employees do not "perform direct care to patients," but they also are "working around the clock to offer the best care for all our patients," Sanford Health said in a statement.
The masks will also be provided to patients in "certain areas" of Bismarck Medical Center, according to the statement.
"We are really just not at the supply level where we can promise every patient one," Dressler told the Tribune.
The regional health provider is providing the masks to protect their employees and patients from COVID-19. But it is also providing masks to make sure they don't spread the virus if they are infected but not showing any symptoms.
"This is for those asymptomatic carriers that otherwise don't know they would have it," Dressler said.
Sanford Health will only accept masks made from certain fabrics, including quilting cotton, denim and twill. Sanford Health's western North Dakota division has three drop-off locations for face mask donations in Bismarck, Minot and Dickinson.
Bismarck resident Danielle Richter, 37, donated 51 masks to Sanford Health on Friday. Her masks have a distinct African style. That's because she made them from extra fabric she collected on a trip to Ghana about eight years ago.
"They are bright, colorful, cheery," Richter said.
Richter uses elastic bands for the mask's sides. There's no wiring in the mask and she sewed it using a pattern she found online. Richter had already produced about 100 masks with her family when Sanford Health Foundation contacted her last week after a representative viewed her face masks on social media. They have sent the masks to people living in three other states, and "other cities in North Dakota," she said.
Richter is unable to run her fascial stretch therapy company, Get Loose Stretch Therapy LLC, a "nonessential business" closed due to Gov. Doug Burgum's executive order. For her, sewing face masks is just another way to assist people in need.
"In my daily job, I help people from pain and tightness," Richter said. "Since I have been in quarantine, I haven't been able to help people and this is a way to be able to help since I can't in my job right now."
Face mask donations to Sanford Health can be dropped off at First International Bank & Trust at 1601 N. 12th Street in Bismarck from 8 a.m. to 5 p.m. Monday through Friday. Donations in Dickinson can be dropped off at Sanford Health West Dickinson Clinic, 2615 Fairway Street. Donations in Minot can be dropped off at Sanford Health Highway 2 Clinic, 801 21st Ave. S.E.
Concerned about COVID-19?
Sign up now to get the most recent coronavirus headlines and other important local and national news sent to your email inbox daily.