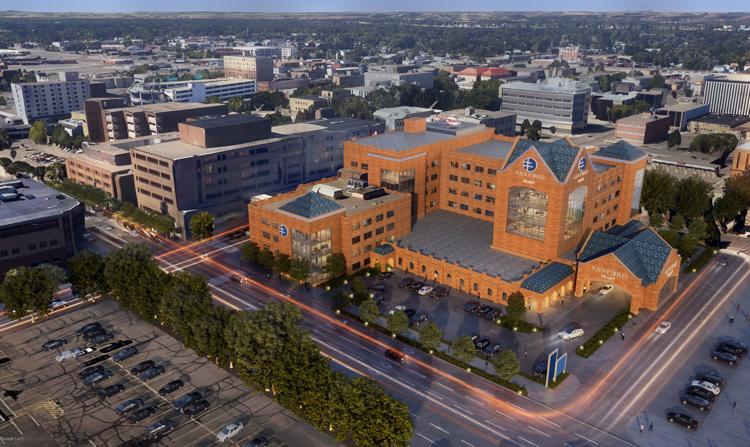 Sanford Health has announced plans to build a standalone heart hospital in downtown Bismarck.
The project is still in the early planning phase. Sanford officials did not provide a timeline for the facility's construction but expect it to be completed within the next decade.
The facility will be built around Sanford's existing Seventh and Rosser Clinic, between Sixth Street North and North Seventh Street on the north side of Rosser Avenue. It will connect to the Sanford hospital via an existing tunnel and skywalk to the clinic, allowing the largest healthcare provider in the state to have one main operation point for Bismarck, located downtown.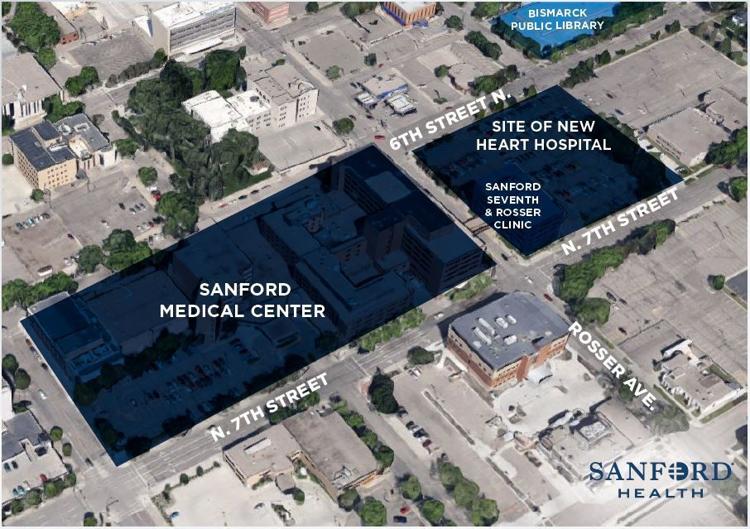 "We thought that having one hospital campus was more efficient," said Dr. Michael LeBeau, president of Sanford Bismarck. "If we built a hospital away from all of our main services, it's just added transportation of patients.
"The phrase is 'minutes matter.' And so this allows us to be most efficient in the way we serve our patients," he said.
Sanford Health, headquartered in Sioux Falls, S.D., bills itself as one of the largest health systems in the U.S., with 44 hospitals, 1,400 physicians and more than 200 Good Samaritan Society senior care locations in 26 states and nine countries. The health system moved into Bismarck in 2012 when it merged with MedCenter One.
Its new heart hospital will consolidate all existing heart services, which are scattered in several areas, into one building for cardiac patients. Services will include consultations; outpatient testing; cardiac cath labs, where doctors can perform minimally invasive tests and procedures on the heart; and nearly all surgical heart procedures.
"Our goal is to house all cardiac functions, including some clinic (functions) over in that area," LeBeau said. "But it's still early. It's still in the planning phases, but I think we can say all heart, all cardiac procedures, we'd want to move over."
Heart transplants will be the only procedure that will not be performed at the heart hospital. Sanford does not perform heart transplants at any of its facilities. Those cases are sent to the University of Minnesota hospital in downtown Minneapolis and to the Mayo Clinic in Rochester, Minn.
Sanford expects to work with Dallas-based architect group HKS, which does all of Sanford's design work, to ensure the new heart hospital maintains the same collegiate gothic design that has become known as its signature look.
Sanford officials declined to provide a cost estimate for the heart hospital. The only other dedicated heart hospital within the Sanford Health network, in Sioux Falls, was completed in 2012 at a cost $77 million.
The Sioux Falls Heart Hospital is attached directly to the existing Sanford hospital, similar to the proposed setup in Bismarck. But LeBeau said the Bismarck hospital will be similar to the Sioux Falls heart facility "only in concept."
"I think we'll use that as kind of our starting point, but that's probably it," LeBeau said about the building's layout and design. "We'll have to develop what I think works best for us and our space."
The heart hospital will be unique for Sanford's operations in North Dakota in that it will house all cardiac services in a standalone facility, though Sanford Medical Center in Fargo last year announced the $200 million addition of a heart and vascular health center to its main hospital.
LeBeau acknowledged that parking in downtown Bismarck will "definitely" be a challenge, especially since the heart hospital will eat up a portion of Sanford's existing parking space. He said officials will work with the city over the next 12-18 months of planning to find the best way to deal with the issue. Sanford also will need a building permit from the city for the hospital project.
Sanford has been building a comprehensive heart program in Bismarck for several years, and the new building is the next step in developing the program, LeBeau said.
Sanford has added 15 cardiology providers in the last four years, and once a recently hired electrophysiologist starts work in November, it will have a total of 26 cardiology providers in the Bismarck region. Sanford officials expect that number to increase as the opening date nears for the new hospital, which they see as a recruiting tool for hiring new physicians.
Sanford has seen higher-than-expected growth in patient numbers in the last few years, which helped push the idea of a heart hospital to reality. Since 2014, Sanford's overall admissions numbers have jumped 32%, emergency room visits have gone up 16% and cath lab visits have increased by 26%.
Officials attribute the growth, in part, to increased coverage in traditionally undeserved health care areas in central and western North Dakota --  areas the new hospital plans to service.
Sanford has a helicopter based in Bismarck and a plane based in Dickinson to transport patients from outside Bismarck-Mandan and might be looking to include another plane or helicopter to its air fleet.
"Our expectation is all of these programs have to be done by flight, so we're currently evaluating how to best serve that region," Lebeau said. "It may or may not include another plane or another helicopter."
Sanford currently provides physician outreach services 26 days a month to Beulah, Hazen, Watford City, Elgin, Dickinson, Jamestown, Minot, Underwood and Mobridge, S.D. The health network said it has invested $100 million in central and western North Dakota since 2012. Officials see the heart hospital as a big step forward in serving central and western North Dakota.
LeBeau has lived in the Bismarck area for 12 years. He said the new hospital is the biggest announcement he can recall in a "number of years" and expressed excitement about expanding into more rural areas.
"Why should you be penalized for living in rural North Dakota?" he said. "This is a game-changer."
CHI St. Alexius, the other big provider in Bismarck, offers cardiac services at its Heart and Lung Clinic, including consultation; cardiac catheterization; minimally invasive surgical procedures; and cardiac surgery. The Heart and Lung Clinic also is for pulmonary and lung procedures, as well as allergies. At its Heart and Vascular Center, it offers cath labs, along with vascular procedures dealing with blood flow in the rest of the body.
Be the first to know
Get local news delivered to your inbox!