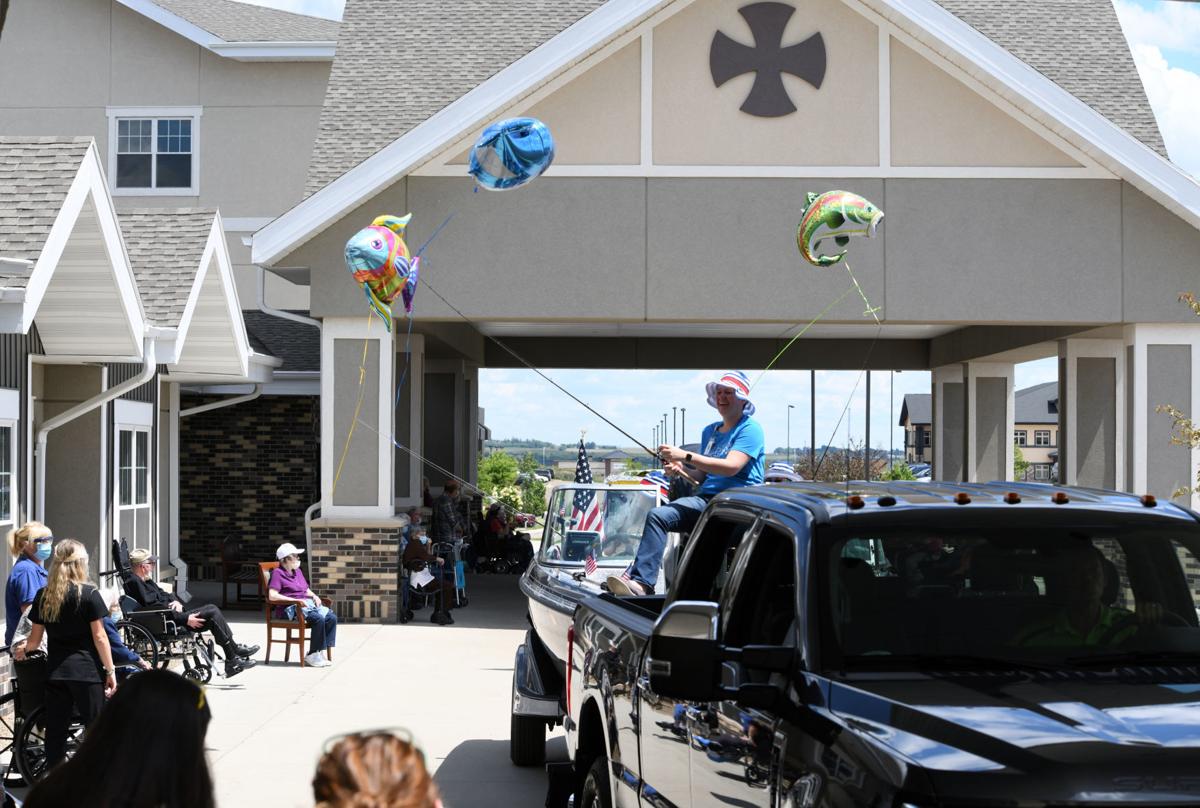 Outdoor visitation and limited indoor communal activities for residents are now possible at nearly all of the long-term care facilities in North Dakota, and close to one-fifth of them have met the state threshold for resuming indoor visitation with restrictions.
Advocates are still pushing for some changes to the state's reopening plan to allow for more family indoor visits with nursing home residents whose health is declining due to stress or isolation stemming from coronavirus pandemic restrictions put in place three months ago.
But both state officials and advocates say they're pleased with the progress so far.
"When we began this process, we didn't know how long it would take to get facilities back open, but I am happy that we were able to get them reopened as quickly as we have been," said Christopher Larson, a nursing home resident in Mayville and chairman of the Task Force on Reuniting Residents and Families.
Visitation for family members of the 10,000 residents at skilled nursing, basic care and assisted living facilities in North Dakota has been restricted by state order since April 6. Indoor visitation has been allowed only in end-of-life situations or for residents with terminal conditions. Gov. Doug Burgum on June 5 announced a three-phase reopening plan that aims to find a balance between creating more visitation opportunities while keeping residents safe from COVID-19. 
Burgum during his weekly coronavirus briefing on Tuesday said 212 of the 218 long-term care facilities in the state have been approved to move into Phase 1, and 35 facilities have entered Phase 2. Outdoor visitation and limited communal activities for residents -- such as dining together -- are allowed under the first phase, provided there are proper coronavirus safeguards in place, while restricted indoor visitation is allowed in the second phase. The third phase is unrestricted indoor visitation with screening of visitors.
The 35 facilities in Phase 2 "are among the first in the nation where indoor visitation is reopening up," Burgum said.
Larson told the Tribune that discussion continues on an advocates' request that families be allowed to do "compassionate care" indoor visits with any nursing home residents who are not in end-of-life situations but whose conditions are clinically deteriorating due to coronavirus-related isolation or depression.
The issue became muddled when Burgum's June 5 order included the phrase "compassionate end-of-life care." He later clarified during a public briefing that compassionate care visits should not apply in cases of "people who may just be really missing their families." 
Larson said discussions continue almost daily "in hopes that we can come to common ground on what compassionate care truly is and allow our residents and families that compassion. We continue to work with our partners in state government to develop this."
Burgum on June 16 announced a pilot project at the Augusta Place senior living facility in Bismarck under which family members can be tested at the facility and, if negative, can meet indoors with a resident for up to one week from the testing date. It led to 10 family member indoor visits the first day they were allowed.
Both Burgum and Larson said the project could be a model.
"While this is strictly being done at Augusta Place, the state is committed to looking at how we can implement this plan statewide," Larson said.
Moving from Phase 1 to Phase 3 is at least a monthlong process for a long-term care facility. That's based on the amount of time required between rounds of testing. Advocates earlier pushed for a reduction in that time but state officials declined, saying the requirement was developed with clinical oversight and is already less than in some other states.
Other factors also influence whether a facility can advance through the phases, including a county's case status and whether there are active cases in a facility.
There have been 262 resident and 335 staff COVID-19 cases in long-term care facilities statewide since the start of the pandemic, and 56 coronavirus-related deaths, according to the state Department of Health. However, there were only 33 active cases as of Thursday -- and only eight in residents -- in a total of 20 facilities across the state. In the Bismarck-Mandan area, Touchmark and St. Gabriel's each had one active case in a resident.
"While reopening presents the challenge of keeping the virus out of facilities, I think our families have done a great job of being mindful of the potential effects of COVID-19," Larson said.
Concerned about COVID-19?
Sign up now to get the most recent coronavirus headlines and other important local and national news sent to your email inbox daily.