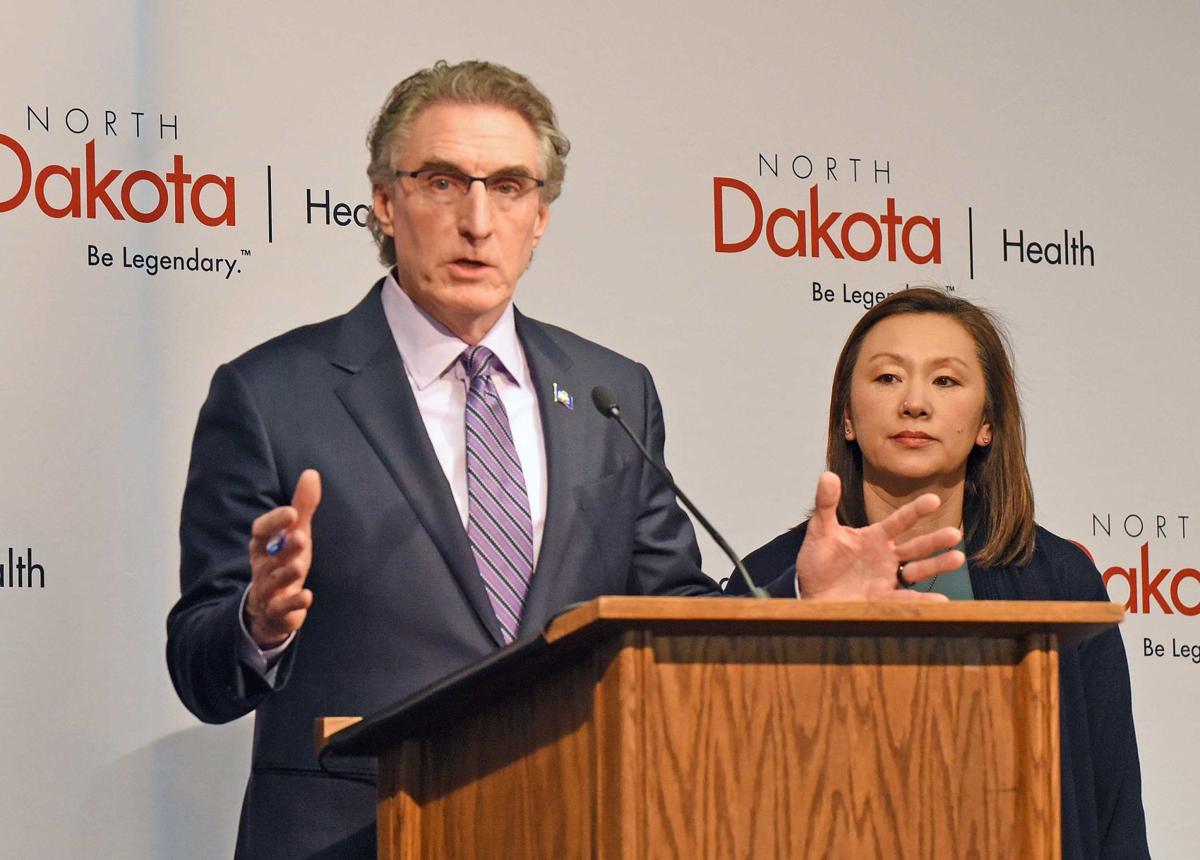 The person who oversees North Dakota's Department of Health has resigned in the middle of the coronavirus pandemic, with Gov. Doug Burgum naming her interim replacement within a matter of hours.
State Health Officer Mylynn Tufte submitted her resignation letter Wednesday, saying "I feel it is time for me to return to the private sector." She did not expound on her reasoning or her plans, and when contacted by the Tribune said only that "it's been a great opportunity to serve the State of North Dakota."
She did not answer if Burgum had asked her to step down. Burgum, who appointed Tufte in February 2017, during an afternoon coronavirus briefing also would not directly answer the question.
"This is a plan that Mylynn had talked about, and we just talked about when would be good timing, and the good timing, for this, as she felt (was) right now," he said.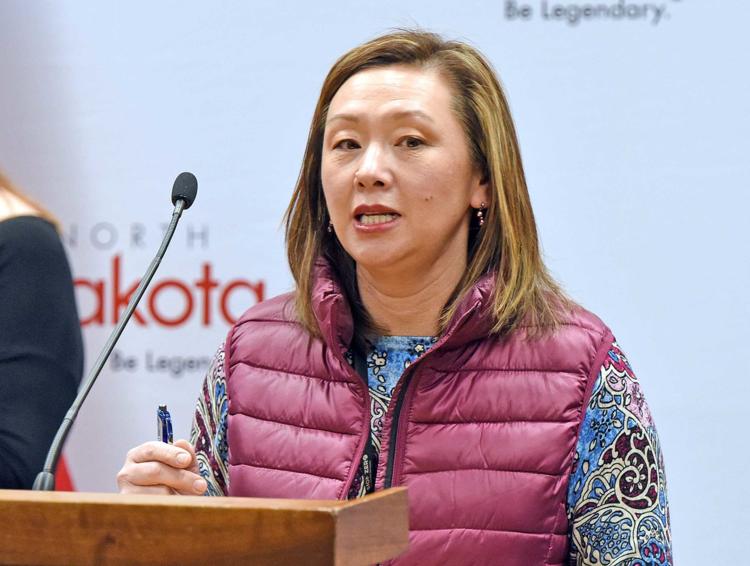 Burgum said he preferred Tufte leave now rather than later in the year, leaving the state scrambling to find a new health leader before the start of the 2021 Legislature.
"This was perfect, I think, in terms of timing," he said.
Burgum named Tufte's interim replacement Wednesday afternoon.
Dr. Andrew Stahl, a Bismarck native, has served in the Army and North Dakota Army National Guard and previously worked as an internal medicine physician at the Veterans Affairs Medical Center in St. Cloud, Minn. He currently serves in the Guard's Medical Corps and on its COVID-19 Task Force, and he has been providing strategic medical analysis for North Dakota's COVID-19 response.
He'll begin serving as state health officer Monday. Tufte will serve an advisory role for three weeks.
Burgum on Wednesday also announced the creation of a new position -- chief health strategist. Outgoing Interim University of North Dakota President Joshua Wynne will fill the role through January, working with the Department of Health "to create a vision and strategy for developing a world-class public health enterprise in partnership with the North Dakota University System, local public health entities, the private sector and local, state, federal and tribal governments," state officials said in a statement.
Tammy Miller, who serves as chief operating officer in Burgum's office and is co-leading the state's Unified Command with National Guard Maj. Gen. Al Dohrmann, will assist Stahl with administration of the health department.
Burgum said the state health officer position essentially entails three jobs -- regulating, administrating and working with partners such as federal health officials.
"There's got to be multiple people stepping in to do this," he said, adding later that "these are three big-time experienced executives that are stepping in."
Tufte has a bachelor's degree in nursing and master's degrees in business administration and information management. She worked as a critical care nurse and as a health management executive before taking the state job.
New cases
The number of active coronavirus cases in North Dakota has declined a third straight day, but two more people with COVID-19 disease have died, raising the state total to 56.
The latest deaths were Cass County women in their 70s and 90s, both of whom had underlying conditions, the state Department of Health reported Wednesday. The county that is home to Fargo has the bulk of the coronavirus deaths in the state, with 45.
The tally of statewide deaths includes all people who tested positive for COVID-19 and died from any cause while infected. The coronavirus disease is listed as the official cause of death for 40 of the 56, with death records pending for nine of the cases.
Seventeen new cases of COVID-19 were confirmed Tuesday and reported Wednesday -- 16 in Cass County and one in Grand Forks County. That raised the state total to 2,439.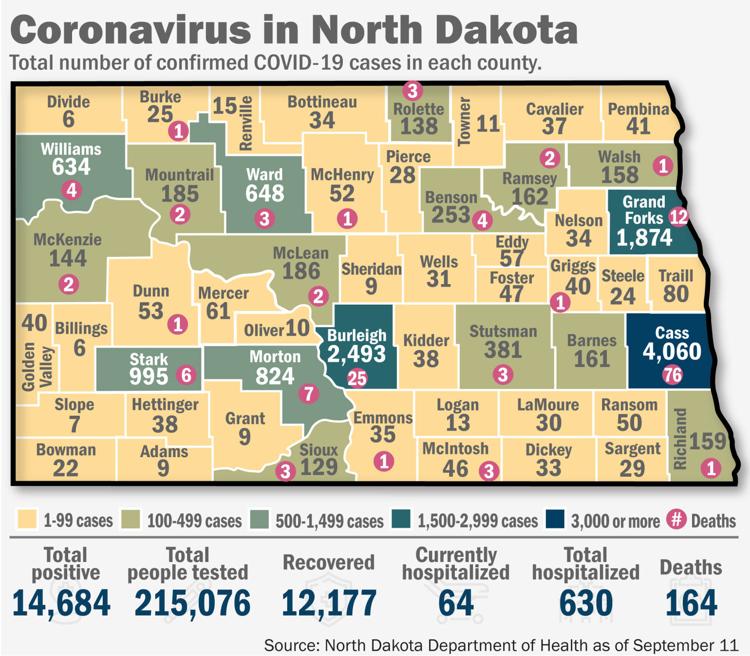 Retesting continues of 82 people whose initial positive results were deemed suspect due to the malfunction of two pieces of equipment at the state lab last week. Seventy-four people have now been retested, with only one testing positive. One person has declined to be retested and is self-isolating at home.
The health department on Wednesday reported 61 new recoveries, raising the state total to 1,762 and helping to drop active cases by 46, to 621. Active cases have been falling since Sunday's report of 869.
Forty people remain hospitalized due to COVID-19, no change from the previous day; 161 people statewide have been hospitalized at some point due to the disease. 
State and private labs have tested 67,340 people for COVID-19. The number of total tests, which includes people who have been tested more than once, is at 86,527.
Executive order
Burgum announced a new executive order on Wednesday suspending a rule that school districts must return to the state any general fund reserves over a certain threshold.
Federal funding for school districts from the federal CARES Act economic rescue package would have pushed some school districts across the limit. Burgum said the Department of Public Instruction requested the order.
"Turning off this turn-back requirement would allow districts to use the CARES Act funds for the significant, unanticipated costs associated with changes to the delivery of educational services because of the coronavirus pandemic, including next fall," Burgum said.
Tribune reporter Jack Dura contributed to this story.
Concerned about COVID-19?
Sign up now to get the most recent coronavirus headlines and other important local and national news sent to your email inbox daily.