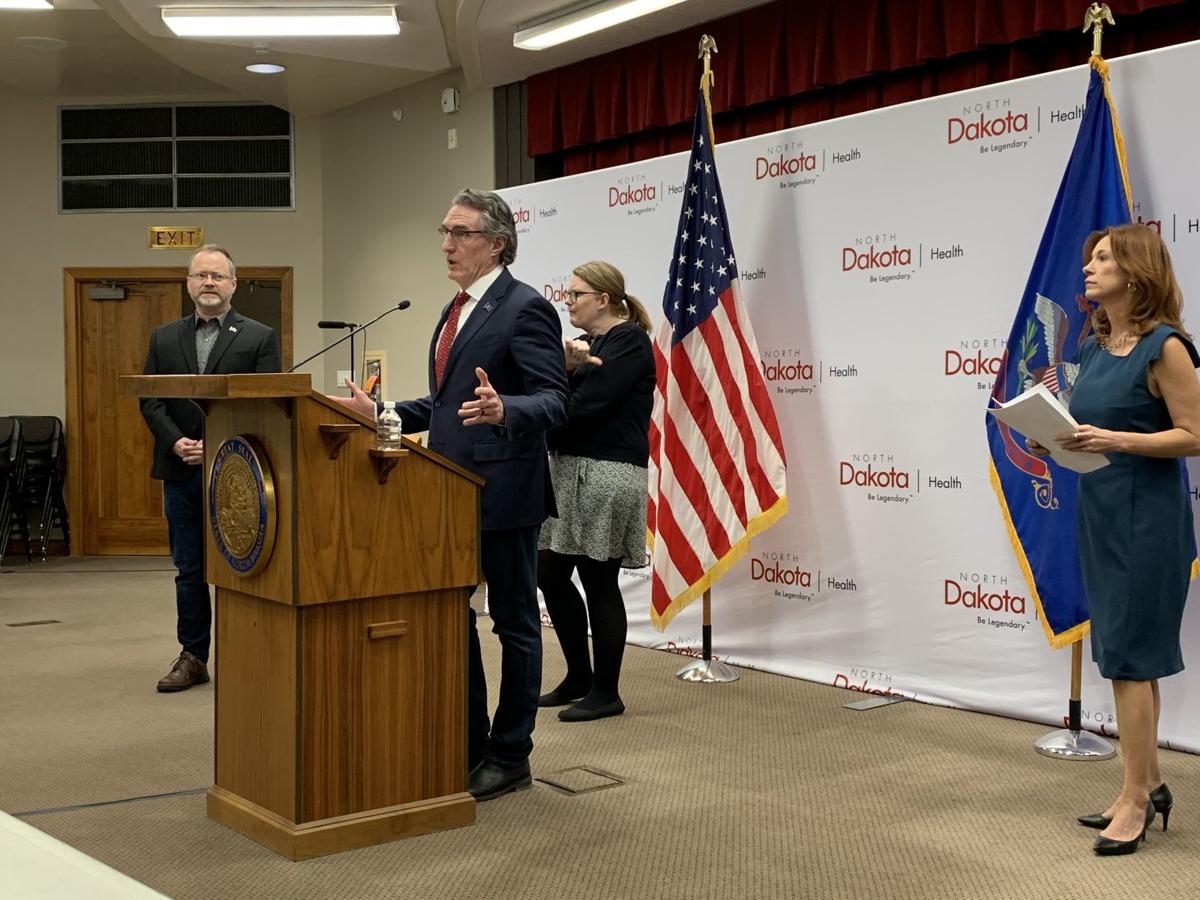 North Dakota is considering steps to shore up the child care industry amid the coronavirus pandemic, and boost safety for both providers and children.
That could involve requiring more workers at child care facilities to better ensure social distancing, along with state financial support to help hire them.
"If you're going to have increased distancing among kids or have them spread among more physical rooms to create that distancing, you're going to need more workers," Gov. Doug Burgum said in afternoon briefing in which he also announced at least two new positive cases of COVID-19, the disease resulting from the new coronavirus. The official state total as of late Monday afternoon was 32 total cases.
The state over the weekend began a child care "rapid planning process" with three objectives, the governor said: provide child care for essential worker households, protect the health of children and child care workers, and sustain child care as an industry.
"If you think about it as sort of a million-dollar-a-day business, in aggregate it's about a $365 million aggregate business in the state of North Dakota that is severely challenged right now," Burgum said.
There are 1,800 child care providers in North Dakota. Some are seeing an increase in children because schools statewide are temporarily shut down, but others are seeing a drop-off in children as parents who are working from home pull them out. About 10% of providers have closed, "and many more have limited their service," Burgum said.
The state has no plans to relax requirements for child care providers, which must meet certain federal regulations. 
"We don't want to create a bunch of pop-up or alternative systems," Burgum said.
Instead, officials will be working to come up with modified rules for existing child care sites. That will involve creating a list of essential worker households "for the purposes of prioritizing child care," Burgum said, and determining whether to require more workers.
"If we do that, then we believe that there may be a role and responsibility to consider financial support coming from the state for that," the governor said.
Child care facilities in North Dakota must maintain a ratio of one staff member for every four infants, said Chris Jones, executive director of the North Dakota Department of Human Services. The ratio changes as children age. For school-age children, facilities must have one staffer for every 18 kids.
The state plans to issue new ratio requirements soon. Burgum said the goal is to have final guidelines by late Thursday with the goal of implementing them next Monday. 
"We hope to make sure that we can keep this to be a vital and healthy part of our economy when we come out of the backside of this crisis," Burgum said.
North Dakota's Democratic-NPL Party issued a statement calling for the plan to "look out for child care workers."
"Childcare providers are some of the lowest paid employees in North Dakota while providing a service that is now more critical than ever," said state Sen. Kathy Hogan, human services lead for the Democratic-NPL Joint Caucus. "They often don't have health insurance and are feeling very vulnerable right now. We encourage the governor to make sure the economic and health needs of childcare workers and all working families are included in this plan."
New cases
The governor announced two new cases of COVID-19 on Monday: in a Burleigh County woman in her 30s who had close contact with another infected person, and in a Walsh County man in his 70s. How the man became infected was under investigation.
A third case had been confirmed shortly before the 4 p.m. briefing, and details were not immediately available, Burgum said. It was part of a group of 300 tests originating out of Cass County that were backlogged at a national lab. Cass County borders Minnesota, and it's possible that case might be a person from northwestern Minnesota. 
State and private labs have now conducted 1,440 total tests, with 1,408 being negative. There have been four hospitalizations and no deaths.
It was the third day in a row for a relatively low number of new positive cases, but based on the rapidly growing number of cases in other state and countries, "This is not the time for us to be complacent," Burgum said. "Each day we have a day like this gives us one more day to prepare" for a seemingly inevitable crunch on medical facilities.
The state is working to boost contact tracing of people who become infected and now has 123 state and local health officials trained to do the work, with 16 North Dakota State University students soon to be added to the list.
"While we have these low (case) numbers, we find somebody who's positive, if we can find the 10 or 20 people they might have been in contact with, and work through that group, then this can be more effective," Burgum said.
There is no delay in testing or shortage of testing materials at the state lab, according to the governor. Medical providers in Fargo also are doing their own testing now rather than sending tests to a national lab that is overwhelmed and seeing long turnaround times.
Sanford Health on Monday announced that it has launched in-house testing for COVID-19. The health network said it is using a U.S. Food and Drug Administration-approved method under Emergency Use Authorization. Tests will be available at Sanford clinics and medical centers, including in Bismarck, and processed at the Sanford laboratory in Sioux Falls, S.D. Patients will receive results in 24-48 hours.
To be tested, patients must meet high-risk criteria and have a physician order. Sanford estimates it will be able to process nearly 400 tests per day, with plans to double that capacity in the coming weeks.
"This was a tremendous effort on the part of our team to rapidly validate and launch our own internal testing," Dr. Allison Suttle, Sanford's chief medical officer, said in a statement. "Our testing will deliver faster results, enabling us to provide responsive care and keep our patients and staff safe."
The expanded testing also will provide public health officials with more data about the spread of COVID-19, according to Sanford.
The health network will continue to use state or commercial laboratories as needed for any overflow testing.
Sanford also is offering e-visits for COVID-19 care in the Dakotas and Minnesota. An e-visit is an online questionnaire about symptoms that patients complete from home. A Sanford provider will review and respond within four hours with a treatment plan or prescription, or instruction to be seen in person for further evaluation or testing. 
Student assessments
North Dakota is requesting a waiver so that students do not have to take any more federally mandated assessments this school year.
The state is canceling its North Dakota State Assessments for English, math and science, as well as two ACT makeup tests slated for later this month. Most high school juniors already took the ACT earlier in March, but those who missed will receive a voucher to take the test this summer at an ACT-sanctioned site outside of school.
"We have determined that testing this year under these circumstances would not only yield unreliable data, but would also place a heavy psychological burden on students and teachers," State Superintendent Kirsten Baesler said at the governor's press briefing. "We understand that losing a year's worth of information about students' progress is not ideal, but we also believe that pressing ahead would be disruptive and would not yield reliable information."
Concerned about COVID-19?
Sign up now to get the most recent coronavirus headlines and other important local and national news sent to your email inbox daily.