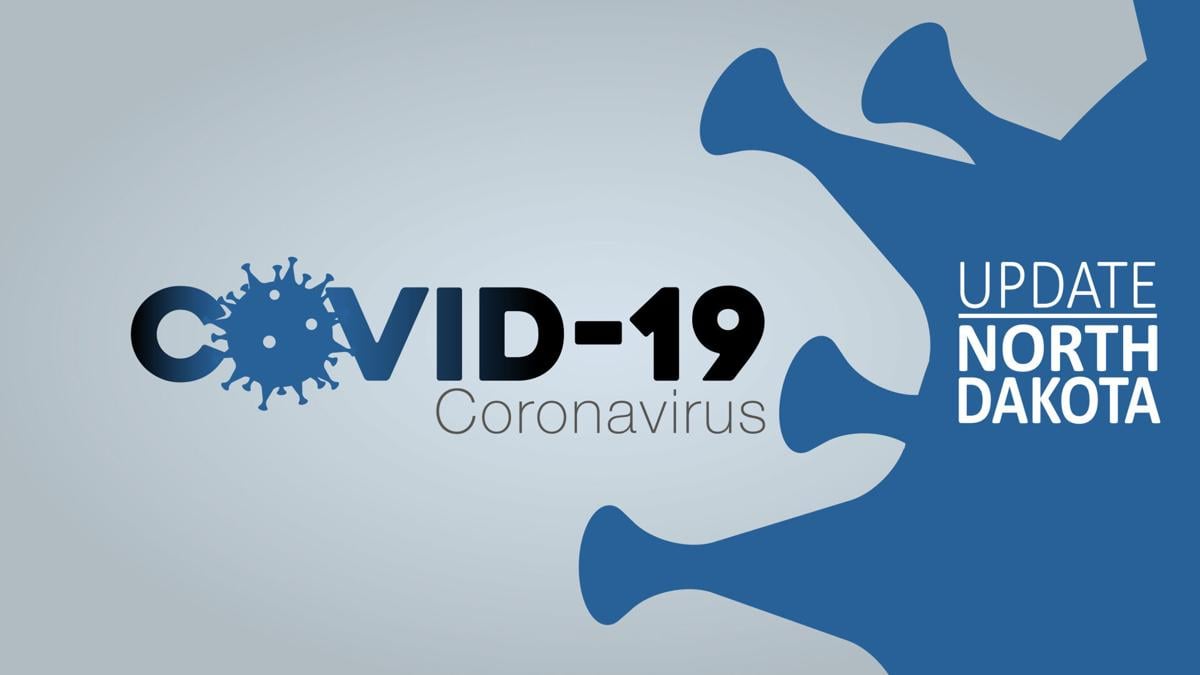 North Dakota's Health Department on Friday reported two more deaths of people with COVID-19, as well as a drop in hospitalizations.
The state's coronavirus dashboard on Wednesday showed 105 coronavirus patients in North Dakota hospitals, down from 121 on Thursday. The state Health Department has said the bulk of hospitalized virus patients are people who are not fully vaccinated against COVID-19.
Twenty patients are younger than 40, including seven in their 20s, and one child each between the ages of 0-5 and 12-14. 
State data showed 206 available staffed inpatient beds and 12 available intensive care unit beds statewide.
In Bismarck, Sanford Health and CHI St. Alexius had no staffed inpatient or ICU beds available.
Test results on Friday yielded 445 new virus cases reported from 8,417 tests. State officials calculated a positivity rate of 5.53%. The 14-day rolling average test positivity rate dropped to 6.48%. That rate is above the state's target of less than 5%.
Health officials have blamed the delta variant, which as of Thursday has accounted for a confirmed 729 cases in the state, including 67 hospitalizations and eight deaths. 
The new COVID-19 cases brought North Dakota's pandemic total to 118,931, with 114,459 recoveries, 4,738 hospitalizations and 1,564 deaths.
The state's COVID-19 dashboard indicated two new deaths reported Friday. The state no longer publicly reports the county, sex and age range of newly confirmed virus-related deaths, but Burleigh and Morton counties' death totals did not change from 202 and 102, respectively. 
Active virus cases were at 2,908 statewide, including 672 in Burleigh-Morton counties.
More than 690,000 total doses of the three available COVID-19 vaccines have been administered in North Dakota, with about 103,000 doses in Burleigh-Morton counties, according to the state's vaccine dashboard. It shows 51.1% of eligible North Dakota adults are considered fully vaccinated; 26.1% of adolescents in the 12-18 age group are considered fully vaccinated.
The federal Centers for Disease Control and Prevention recommends that people wear masks in public indoor settings in areas with substantial or high COVID-19 transmission. That's calculated based on new cases per capita and testing results.
All but three of North Dakota's 53 counties are in those two categories, with most in the high category. Burleigh and Morton both are in the high category, according to the agency's COVID-19 data tracker website.
Long-term staff
The president of the North Dakota Long-Term Care Association said the organization is opposed to a proposed federal COVID-19 vaccine mandate for long-term care staff.
Shelly Peterson said at a Reuniting Residents and Families Task Force press briefing Friday that the organization does not support the mandate because of concerns it could cause staffing issues for many facilities across the state.
President Joe Biden announced in August that the Centers for Medicare and Medicaid Services would require staff vaccinations in nursing homes that participate in Medicare and Medicaid.
Peterson said that while the organization "absolutely supports" the vaccine, requiring employees to be vaccinated would negatively impact staffing levels when facilities are already having trouble with filling shifts. She said a survey from the Long-Term Care Association found that 89% of facilities had unfilled shifts, and 57% said they were struggling financially.
"I fear facilities will close because we don't have staff," she said.
One such center said it fears it will lose 60% of its staff if the regulation is put in place, Peterson said. Based on current vaccination rates, facilities across the state could lose 4,000 employees, though staff vaccination rates have increased since Biden's announcement, Peterson said.
"I don't think it will come true," she said.
Most new cases in long-term care facilities are occurring in staff, Rosanne Schmidt, a state regional coordinator with the state Department of Human Services, said. There were 84 active cases in North Dakota long-term care facilities on Friday -- 12 residents and 72 staff.
About 93% of long-term care residents in North Dakota are vaccinated, but just 66% of long-term care workers are vaccinated, Peterson said.
The long-term care association president said she thinks the education about vaccines the organization has been doing is working, and they are asking the federal government for clarification on a testing strategy for unvaccinated staff rather than a vaccine mandate.
Town hall announced
The Health Department will hold a virtual town hall at 12:30 p.m. Tuesday regarding COVID-19 testing, monoclonal antibody treatment and the use of ivermectin, a veterinary drug for deworming livestock. The Food and Drug Administration has not approved ivermectin to prevent or treat COVID-19 in humans or animals. 
The public can view the town hall at health.nd.gov/covidtownhall, and submit questions using the Q&A feature. 
State Hospital visitation
The State Hospital in Jamestown is not allowing visitors for the health and well-being of patients and staff.
The hospital will continue to assess the risk and evaluate its visitation policies.
Items for patients can be dropped off at the LaHaug building's main entrance.
Patients can still communicate with family and friends by phone, online or through special arrangements for specific situations.
Masks are required on the hospital's campus. 
More information