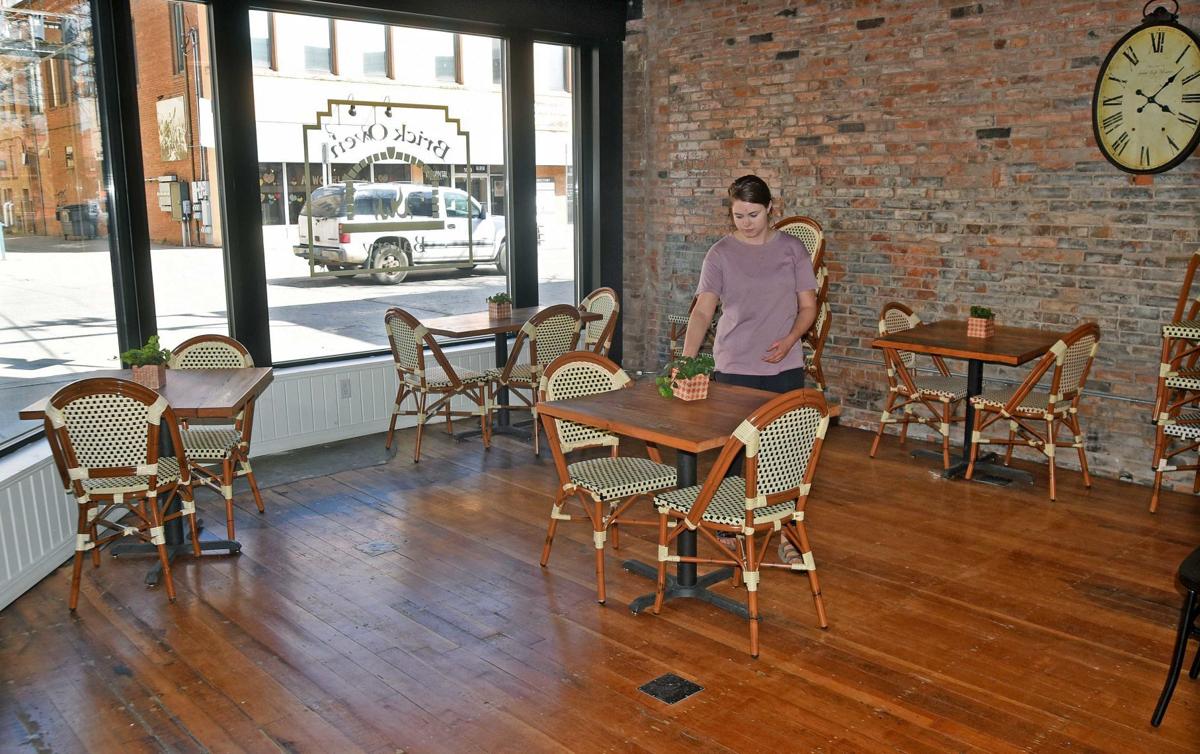 North Dakotans will be able to return to bars, restaurants, salons and gyms on Friday, though many of the amenities and experiences they're used to won't be available under new operating protocols developed by state officials and industry groups.
There will be no standing or dancing in bars, and no blackjack. Self-service condiments, cups, straws and lids won't be available at restaurants, and there will be less seating. Locker rooms and showers will be closed at gyms, and a trip to the hairstylist might include wearing a mask.
The state released the protocols Tuesday, a day after Gov. Doug Burgum announced he will allow the state to fully reopen its economy after 1 ½ months of restrictions and shutdowns to try to stop the spread of the coronavirus. Burgum cited various encouraging factors in the state's efforts, including low positive test rates and fatality rate, a growing testing capacity and increased contact tracing, and ample hospital bed capacity.
Burgum on March 20 ordered eating and drinking establishments, as well as recreation and entertainment businesses, to close to on-site services. A week later he ordered the closure of "personal service" businesses such as beauty salons, massage parlors, and tattoo and body art businesses. Violations carry a fine up to $1,000.
Those types of businesses are considered "high contact," with regular contact between people within less than 6 feet for more than 10 minutes. But "they also happen to be ones that North Dakotans care a lot about -- their favorite restaurant, their favorite bar, and their personal care folks that they may have been seeing regularly for things like haircuts," Burgum said.
Unless there are dramatic changes in state efforts to stop the spread of COVID-19, the orders will be allowed to expire Thursday and will be replaced on Friday with an executive order allowing businesses to reopen under the new operating standards that vary by industry.
Although the businesses have been eligible for federal aid including unemployment, Burgum acknowledged "there has been a lot of disruption." 
"Now we want to be standing by your side as we work towards getting reopened in a smart way," he said.
New standards for all industries include contactless payment systems, limited occupancy, precautionary signs at entrances, encouraged face masks, and regular cleaning and disinfecting. 
For bars and restaurants, other protocol highlights include a capacity that's 50% of normal; increased table spacing for physical distancing; table limits of 10 people; no standing in bars; preportioned salad bars; no self-service condiments, cups, straws or lids; no blackjack; and closed dance floors.
For fitness centers, highlights include limits on the size of group fitness classes and group sports; spread-out fitness equipment for physical distancing; limited used of saunas, hot tubs and steam rooms; closed locker rooms and showers except for restroom use; closed indoor playground equipment; and suspended 24-hour facility use.
For salons, spas, massage parlors and tattoo shops, highlights include a check-in process and waiting areas that can accommodate physical distancing; use of face masks or eye protection; no food or beverages that aren't commercially packaged; and screening of clients and/or employees. 
State officials have been working toward meeting the eight components of the "ND Smart Restart" plan: widespread rapid testing; robust contact tracing; targeted, effective containment; protections for the most vulnerable; sufficient health care capacity; ample availability of personal protective equipment, preparations for a second surge; and the new standard operating procedures for businesses.
Burgum said an executive order he will sign Wednesday will clarify which of the protocols are guidelines and which are mandatory. Any violations of the executive order would carry the prospect of a $1,000 fine, but Burgum said he thinks enforcement will be needed only in "rare" cases because individual responsibility and market forces will result in businesses "making smart decisions." Enforcement would be handled "locally," the governor said, with some of it falling to local health agencies. He did not elaborate.
The federal government has issued guidelines for reopening, and several states have begun restarting their economies. In North Dakota, the decision to allow businesses to return to normal does not impact school closures. Distance learning will continue. It also does not change the need for residents to quarantine or self-isolate if necessary, and it does not lift visitor restrictions at long-term care facilities.
Labor groups including the North Dakota AFL-CIO on Tuesday issued a statement urging Burgum to ensure worker protections while reopening the economy. The groups suggested an eight-part "safety first" framework that includes measures such as a "massive increase" in personal protective equipment and coronavirus testing and "strong, clear and enforceable" standards.
"Working people of North Dakota deserve assurances that their employers are held to the highest standards when it comes to our health and safety while on the job," the groups said. "Not only does COVID-19 present an immediate, new and little-understood workplace hazard for many of us, but puts our families at risk as well."
State Democratic-NPL Chairwoman Kylie Oversen also issued a statement, saying that as many workers return to the job, "we need to recognize that all of us have a responsibility to them and each other. That means not only taking personal safety precautions, but also supporting paid family leave, so everyone can take time off when they're sick or need to take care of a family member. Without these precautions and stronger policies in place, we'll be back where we started."
Burgum noted that reopening is voluntary for businesses.
"Any business owner has got the right to choose when they're open or not, and if you're uncomfortable, whatever business you're in, about reopening, about the safety of yourself, your team members or others, you can choose not to reopen," he said. "Or, of course, you can choose at any time to come up with a new business model that might allow you to keep your business going but have more distance involved."
Burgum also acknowledged that since testing lags, "we won't know if we've opened the dial too much right away; we may not know for a week or two." He urged North Dakotans who are at higher risk of contracting COVID-19 to "be very choosy about where you start engaging publicly again."
New cases
The number of COVID-19 cases in North Dakota rose by 49 on Tuesday, but the state Department of Health did not report any deaths from the coronavirus disease for only the third time in the past 10 days.
State officials have reported 10 deaths in that time span -- all of them in Cass County, home to Fargo -- raising the state total to 19.
Cass County's total number of positive cases rose 41 in the health department's latest daily report, bringing the county's total to a state-leading 472, with 12 deaths, also a state high.
Other new cases confirmed Monday and reported Tuesday were three apiece in Grand Forks and Stark counties, and one each in Mountrail and Stutsman counties, raising the state total to 991.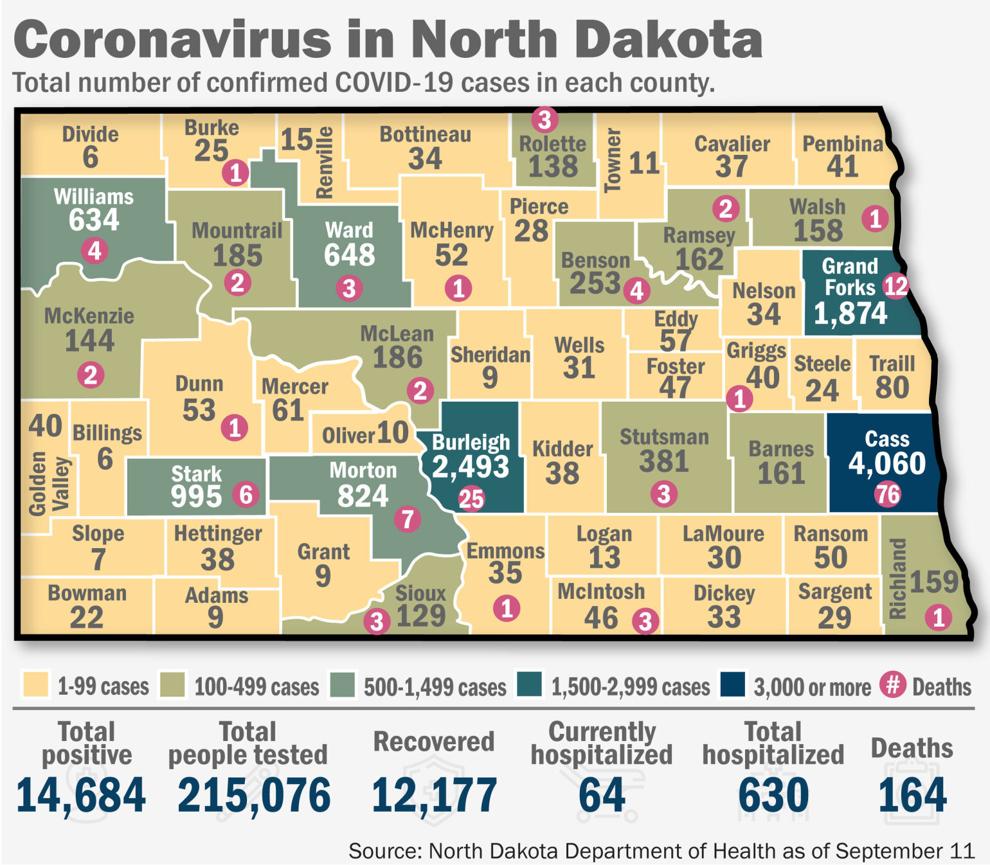 The number of people statewide who have recovered from COVID-19 increased by a single-day high of 59, to 409, leading to a slight drop in the number of active cases, to 563. Seventy-nine people have been hospitalized; 25 remain so, up two from the previous day. The number of hospitalizations is at a high, but Burgum said the number represents only about 1% of existing hospital capacity.
State and private labs have tested 23,723 people for COVID-19, with 22,732 being negative. There were 1,289 tests conducted Monday. The state's goal is to work toward 4,000 tests per day in May and 6,000 in June.