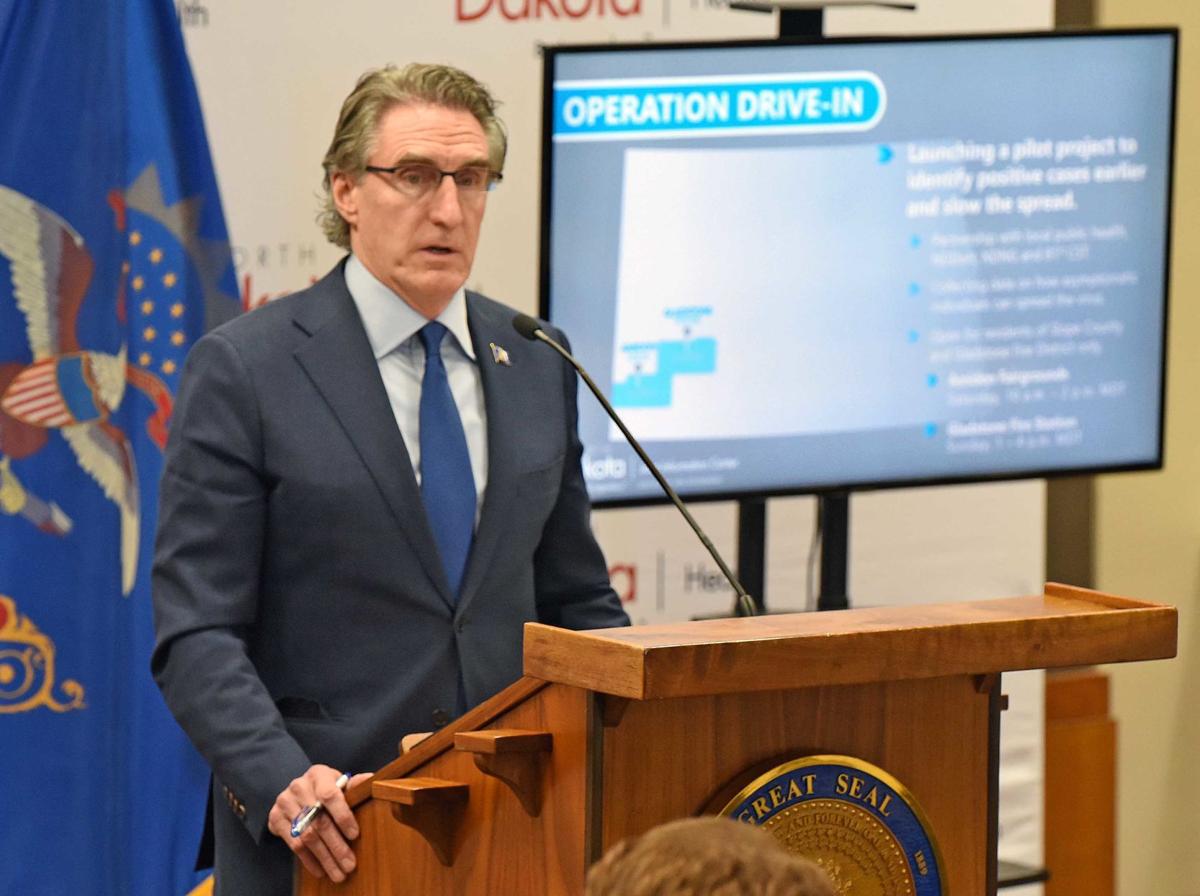 North Dakota is ramping up testing for the disease that results from the new coronavirus, setting up a pilot project in two rural southwestern towns this weekend to test people who aren't showing any signs of COVID-19.
The state over the past few weeks has been testing mainly people who are showing symptoms or those who are considered at risk because of their age. This weekend, state health officials will be testing people who might not be showing any symptoms.
Gov. Doug Burgum during a Friday afternoon briefing said the goal is "to help us guide and shape further testing on focused populations. If it works here in these smaller populations, then we may be bringing it larger metro areas."
Voluntary drive-thru testing for people in Slope County will be conducted at the Amidon Community Center from 10 a.m. to 2 p.m. Mountain time on Saturday. For residents in the Gladstone Fire District, testing will be conducted at the Gladstone Fire Station from 1-4 p.m. Mountain time on Sunday.
Slope County has about 700 residents, according to U.S. Census Bureau data. The Gladstone area has about 400.
"What we learn in these two low-population, currently low-incident counties will help all the other portions of the state, and it could help counties all over the western United States that are similarly regarded," Burgum said.
"We have to develop the testing protocols and approaches that allow us after the peak to get people back into the workforce, and widespread testing is going to be one of the tools that allows us to move forward," the governor said.
New cases
Confirmed cases of COVID-19 in North Dakota have risen by 14 to a total of 173, the state Department of Health reported Friday.
The number of people who have recovered from the disease resulting from the new coronavirus also took a big jump -- up 12 over the previous day.
The new numbers are for Thursday. They include two new positive cases in Morton County, raising the county's total to 16. Other new cases are in Cass, Grand Forks, Mountrail, Stark, Ward, Williams, Eddy and Slope counties. The cases in Eddy and Slope are the first confirmed cases in those counties.
Twenty-nine people have been hospitalized, up one from Wednesday, and 55 people have recovered. There have been three deaths. State and private labs have tested 5,798 people, with 5,625 being negative.
Burgum has stressed that because testing data lags and not everyone is tested, the actual number of positive cases in the state could be 10 times higher.
The state Department of Health this week changed how often it provides case updates. The state had been releasing numbers twice a day -- once in the morning and once in the afternoon. Some of the cases were from the previous day and some from the same day. The new cases reported Friday were the first full-day batch of cases reported.
Supplies saved
Burgum detailed a "good news" story about firefighters in eastern North Dakota who came to the rescue after a state health department emergency response truck loaded with medical supplies bound for hospitals in Northwood and Mayville slid off a highway and crashed in Steele County during Thursday's snowstorm.
Firefighters from Finley responded to the scene and hauled away the masks, medical gloves and gowns.
"This is just a great example of North Dakotans stepping up during this time of emergency and doing whatever it takes," Burgum said.
Other matters
Burgum signed an executive order Friday aimed at increasing the number of people in the state who can operate ventilators.
The order allows the State Board of Respiratory Care to grant temporary respiratory therapy licenses to anyone who has had a license in the past five years that is currently inactive.
"We think this has the opportunity to bring hundreds of more respiratory therapists back into the workforce if needed," Burgum said.
The governor responded to critics that he isn't doing enough, detailing numerous efforts over the past few weeks such as ordering the on-site closure of bars and restaurants, boosting the medical work force and having the majority of state employees work from home.
"Make no mistake, I will use every tool at my disposal as governor to protect the lives and safety of North Dakotans," he said. "But I'm only going to use those tools if it makes sense and when it makes sense."
Concerned about COVID-19?
Sign up now to get the most recent coronavirus headlines and other important local and national news sent to your email inbox daily.