North Dakota leaders on Friday moved the state from "moderate" to "low" risk on a five-level coronavirus risk scale that influences operating protocols for various types of businesses and recommendations for large gatherings, while also announcing initial steps toward reopening long-term care facilities.
The "ND Smart Restart" plan states that under low risk, "much of normal life can begin to resume in a phased approach. However, some physical distancing measures and limitations on gatherings will still be recommended to prevent transmission from accelerating again."
The decision to move the state to the second-lowest risk category, behind only "new normal," is based on several factors, including a high testing rate -- 9% of the state's population -- and a low rate of active cases, less than one-tenth of the population, Gov. Doug Burgum said at an afternoon briefing.
"Thank you to the people of North Dakota, because it's your actions, your individual responsibility which has produced the great data, the low numbers, the low cases, the low utilization of hospitals, the low spread, the fast responses, the collaboration, all of that is what has happened here," he said.
The reduction on the risk scale has practical impacts for recommended protocols. For example, restaurants and bars that were kept at 50% capacity under moderate risk can now go to 75%. Movie theaters can go from 20% capacity to 65%. Large gatherings such as weddings can go from 50% of a venue's occupancy to 75%. 
"For people that have June weddings coming up or large events, that will be an important one to note," Burgum said.
New cases
The deaths of two more elderly Cass County residents with COVID-19 have pushed the statewide total to 59, the North Dakota Department of Health reported Friday.
Both the woman in her 90s and the man in his 70s had underlying health conditions, officials said. Their deaths raised Cass County's total to 48. The county that's home to Fargo also saw its total number of coronavirus cases rise by 30, to 1,661.
Burleigh County had one additional case reported Friday, bringing its total to 126. Other new cases included four in Stutsman County, three in Grand Forks County, and one apiece in Richland and Rolette counties, for a daily total of 40. That raises the state's total number of cases since the start of the pandemic to 2,520.
The tally of statewide deaths includes all people who tested positive for COVID-19 and died from any cause while infected. The disease is listed as the official cause of death for 45 of the 57, with death records pending for seven of the cases.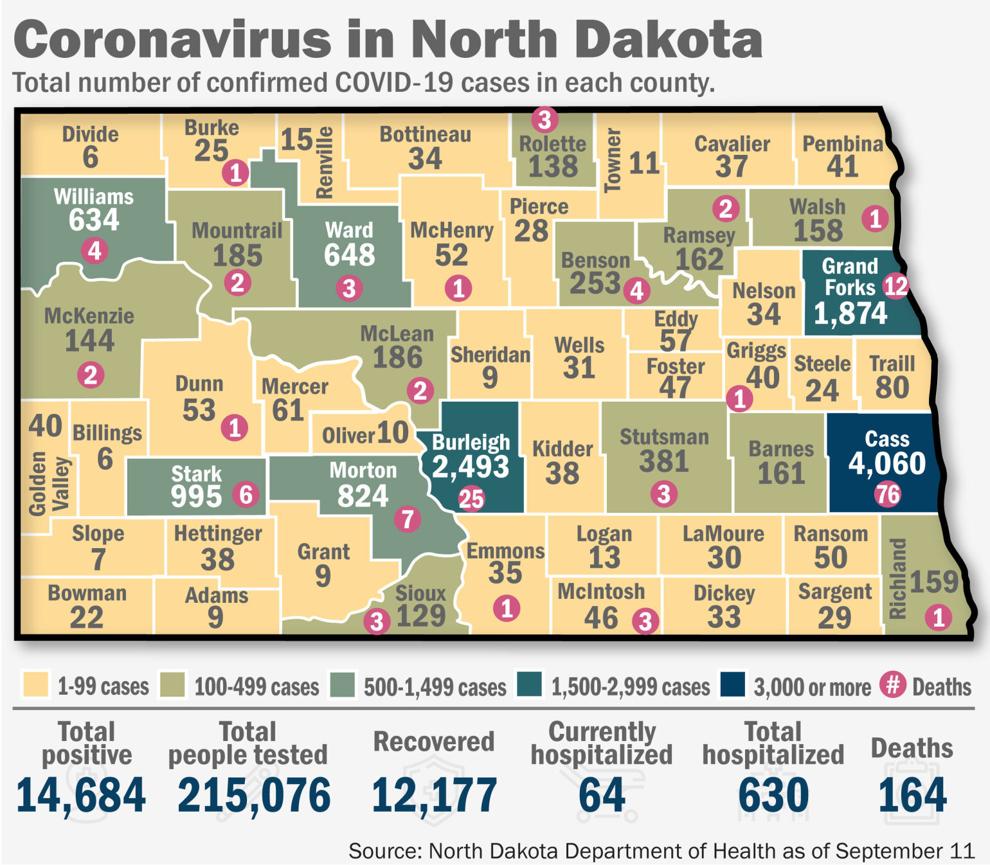 The health department on Friday reported 89 new recoveries, raising the state total to 1,882. Active cases declined by 52, to 579. Three-fourths of those cases are in Cass County, but Burgum stressed that still represents only one-fourth of 1% of Fargo's population.
Thirty-six people remain hospitalized due to COVID-19, up one from the previous day; 164 people statewide have been hospitalized at some point due to the disease. 
State and private labs have tested 69,453 people for COVID-19. The number of total tests, which includes people who have been tested more than once, is at 89,599. The 2,894 tests handled Monday was a daily high.
Nursing home visitation
Officials have started working on a framework for gradually relaxing restrictions at the state's 218 long-term care facilities, where visitation is banned even for family members of residents.
All skilled nursing, basic care and assisted living facilities in the state have completed at least one round of testing of residents and staff as of this week, according to state Human Services Executive Director Chris Jones.
All facilities will need to go through two testing rounds before entering a three-phase reopening under which restrictions will be lessened based on numerous criteria, ranging from a county's case status to the ability to screen visitors.
Restrictions will be lifted first within facilities, in areas such as communal rooms.
"Visitation for all residents will initially occur via scheduled outside visits," with precautions in place such as physical distancing and masks, according to Jones.
"The guidance will be individualized to ensure that a safe resident-centered evidence-based decision governs the reopening of facilities where our state's most vulnerable populations reside," he said.
The structure for reopening is being developed with input from state and federal officials, legislators and a task force developed by the Long Term Care Association. The goal is to have a final policy developed by June 25, according to Christopher Larson, a nursing home resident in Mayville and chairman of the Task Force on Reuniting Residents and Families.
"While our work is far from complete, the first step is key, (with) the end goal of reuniting our residents and families at the end of this pandemic," Larson said in a statement read by Burgum.
Serology tests in use
North Dakota has begun to use newly arrived finger prick and blood draw serology tests to track antibodies for immunity to COVID-19.
The state ordered 178,000 serology tests -- costing $3.68 million -- 101,000 of which have arrived. Of those, 2,546 tests have been conducted, 86 of which have shown the presence of antibodies, Burgum said.
Study tests of consenting people previously ill with COVID-19 will help confirm the tests' accuracy. Moving forward, health officials plan to administer the tests to people in businesses such as manufacturing plants to find out how many might have antibodies, to learn about North Dakota's potential herd immunity.