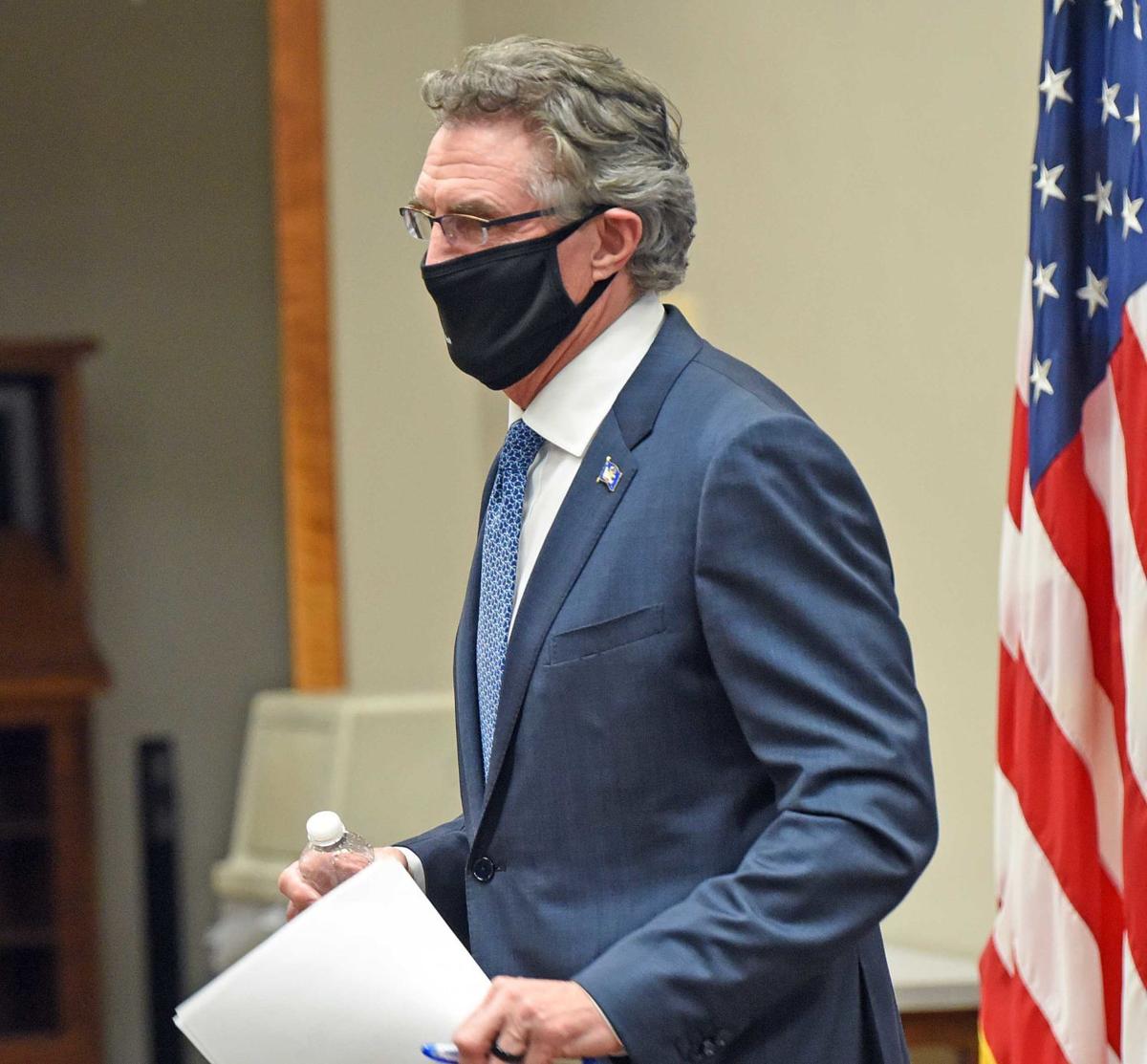 North Dakota is launching an effort to ease the return to school this fall, Gov. Doug Burgum and state Superintendent Kirsten Baesler announced Wednesday.
Separately, Burgum announced the resignation of the man who has served as interim state health officer since Mylynn Tufte stepped down last spring.
Schools around the state are preparing to begin the new academic year through a combination of in-person instruction and distance learning. Mandan public schools open Thursday; Bismarck public schools open Aug. 31. Instruction statewide went strictly online last spring when the coronavirus pandemic hit North Dakota in mid-March.
"We kept school going last spring through heroic efforts of parents and teachers and administrators and school boards, but we were doing that schooling without the benefit of the buildings," Burgum said Wednesday during one of his regular public coronavirus briefings. "Now, bringing the buildings back in play and putting people all together increases the risk of breakouts and spread. We know that, and we know that there's going to be positive cases that occur in schools, and we have to be ready to respond."
The "Healthy Return to Learning" team will involve officials with the state departments of health and public instruction, and local doctors, public health officials and school administrators. The team will provide resources aimed at keeping schools open and safe, according to Baesler.
"We know there will be situations that our education system has never experienced before," she said.
Health officer resigns 
Dr. Andrew Stahl, a Bismarck native, took over June 1 as interim state health officer when Tufte resigned in late May. Tufte said only that she was returning to the private sector. She did not expound on her reasoning or say if Burgum asked her to step down. Burgum named her successor the same day she submitted her resignation letter.
Stahl has military experience and was serving in the Guard's Medical Corps and on its COVID-19 Task Force, as well as providing strategic medical analysis for North Dakota's COVID-19 response, when he accepted the interim job overseeing the health department. His resignation is effective Aug. 31.
Stahl had intended to return to his previous clinical practice at some point, and maintain his Medical Corps officer credentials, according to Burgum.
"It has been a very challenging and rewarding position," Stahl said in a statement provided by the governor's office. "COVID-19 has changed how we operate and has changed the practice of medicine in a huge way. I'm looking forward to continuing my plans to return to clinical practice and am thankful for the opportunity to serve."
Burgum said whether to mandate the wearing of masks in public "was never a point of contention" between him and Stahl. A mask mandate never came up in discussion during Stahl's tenure, the governor added.
Burgum said a search is underway for Stahl's replacement. The governor hopes to have someone in the position Sept. 1.
New cases
Two more people with COVID-19 have died in North Dakota, the Department of Health reported Wednesday.
The deaths of a McLean County woman in her 70s and a Grand Forks County woman in her 90s raised the state total to 130. Both of the newly confirmed victims had underlying medical conditions, according to the department.
It is the first confirmed coronavirus-related death in McLean County, home to Washburn and Garrison. Burleigh County did not report a death for the first time this week.
Health officials reported 188 new coronavirus cases in 27 counties, including 42 cases in Burleigh and 11 in Morton. The region has developed into a hot spot with the reopening of the economy, increased gatherings of people and more public testing. Burleigh continued to lead the state in active cases, with 324, while Morton slid one spot to fifth, with 107.
Active cases statewide numbered 1,209, just four shy of the daily high set on Sunday. The total was up 40 from Tuesday.
"The numbers are not headed in the right direction in the state of North Dakota right now," Burgum said.
Total COVID-19 cases statewide since the start of the pandemic number 8,968, with 7,629 recoveries and 478 hospitalizations. There were 49 people still in the hospital Wednesday, up two from the previous day. Burgum noted for perspective that "we've got thousands of hospital beds in the state of North Dakota."
The state health department releases the statewide COVID-19 hospitalization number but has refused to release the citywide total for Bismarck, citing state law that shields disease control records from public disclosure. Burgum on Wednesday said releasing data for smaller populations runs the risk of improperly releasing personal medical information.
"We're working every day, working on it right now, to try to figure out where we can protect people's personal information but give enough information for public information," he said.
The number of people in North Dakota tested for coronavirus at least once is at 182,526, and total tests number 406,733.
Increased testing is one of the tactics of the Burleigh-Morton COVID-19 Task Force, which was formed two weeks ago to address the rapid rise of cases in the region.
"Our goal by next week is to have testing available every day of the week in the Bismarck-Mandan metro area," Burgum said.
Most people who get COVID-19 recover, experiencing only mild or moderate symptoms such as fever and cough. Others, especially the elderly and people with existing health problems, can experience more severe illness, including pneumonia. The vast majority of people recover.
Concerned about COVID-19?
Sign up now to get the most recent coronavirus headlines and other important local and national news sent to your email inbox daily.