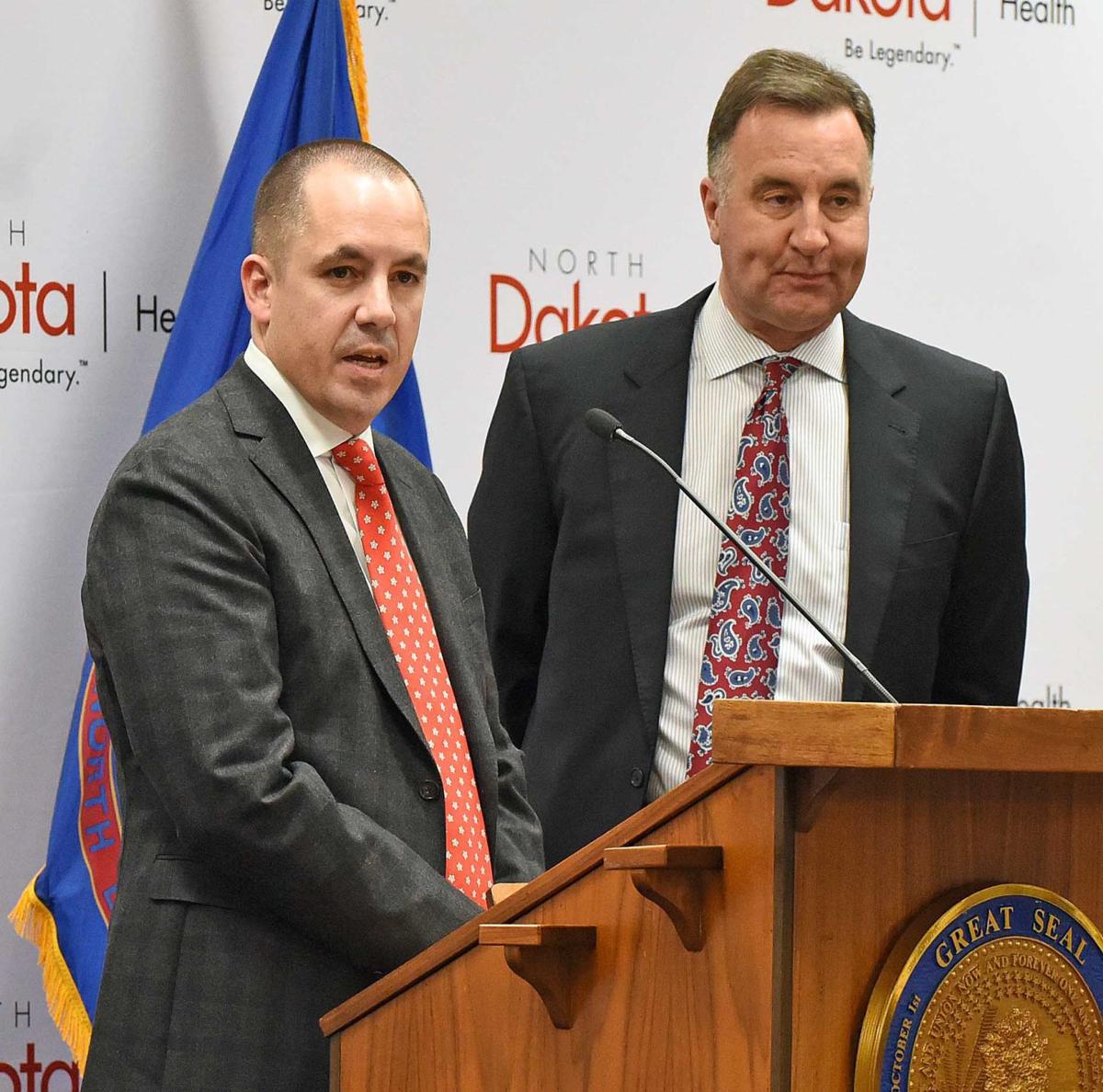 The number of North Dakotans hospitalized for COVID-19 is now at three, the North Dakota Department of Health said Saturday as it announced two more cases in Burleigh County.
The department said a woman in her 20s and a male in his 30s have tested positive for the disease caused by the new coronavirus, bringing the state's total cases to 28.
The woman's case involves possible travel and the man's case involves community spread.
Burleigh and Morton counties account for 22 of the 28 cases.
One of the cases announced Friday is now hospitalized, the department said in a news release. No other details have been released about the individuals who are hospitalized.
State and private labs have now conducted 1,182 total tests, with 1,154 being negative. There have been no deaths. All but one of the North Dakota cases have been adults.
"The good news is that unlike many other states, we're able to report that for two days in a row we've got fewer positive cases than we had before," Gov. Doug Burgum said in a Saturday news conference. "Hopefully this means that the steps that we've done to encourage social distancing have helped slow the spread of COVID-19."
Burgum said the state has received tests from 48 of North Dakota's 53 counties.
Hospital capacity
Dr. Michael LeBeau, president of Sanford Health in Bismarck, and Kurt Schley, president of CHI-St. Alexius Health in Bismarck, said the two health systems are learning from hospitals in other states with more cases and are working with the state Department of Health to coordinate the COVID-19 response.
The hospitals are screening patients, visitors, health care workers and other staff with a series of questions regarding exposure to COVID-19 upon entry.
Testing will continue to be focused on those with risk factors, such as people who traveled and are showing symptoms, LeBeau said, noting that as of now, the limited amount of resources don't allow for testing people who do not show symptoms.
"We have to make sure that we are stewards of our resources," LeBeau said. "If you look at where other states are at currently, we're lucky that we still have supplies, that we're still testing."
Schley said the hospitals are performing daily assessments of available supplies and labor and have established incident protocols to handle patients with COVID-19.
Schley encouraged retired doctors, nurses and other health professionals to consider coming back to work if the need arises. He asked people to contact the hospitals they had been affiliated with or the North Dakota Hospital Association.
"The need is not there today. We want to be prepared, prepared, prepared," Schley said.
Burgum added that the North Dakota Department of Commerce is working to identify retired health care workers who are "on the bench" and could be part of a surge pool if needed.
For the sake of health care workers, LeBeau urged North Dakotans to diligently practice social distancing, but to make an exception to donate blood. Donation numbers are down and "we do not want to run out of blood products at this time," he said.
Testing locations expanded
Burgum announced a new executive order Saturday allowing licensed pharmacists to administer COVID-19 tests. The order also eliminates the proof-of-delivery requirement for pharmacies and allows pharmacists to provide emergency refills for medications for up to a 30-day supply. Typically, they can only issue a 72-hour supply. The order doesn't allow emergency refills for opiates and other drugs that could be abused.
"These measures will give North Dakotans more places to get tested, ensure they can obtain the medications they need and reduce person-to-person contact to help slow the spread of coronavirus," Burgum said.
No new closures ordered
Burgum did not announce any new mandatory business closures on Saturday but said he's monitoring daily whether the state needs to be more restrictive. Factors that affect that decision include the number of new COVID-19 cases and gauging how well individual responsibility is working, he said.
Burgum on Thursday ordered all eating and drinking establishments, as well as recreation and entertainment businesses, to close on-site services to try to stem the spread of the coronavirus.
He also directed schools to remain shut down to students, with a focus on remote learning likely beginning in April, and restricted public access until April 6 at state facilities.
Burgum thanked the faith community for canceling in-person worship services.
"That's part of being North Dakota smart," he said.
Burgum said some states have taken the step of closing nail and hair salons and other personal services businesses, but he's decided to let small business owners make their own decisions about closing or limiting business. Many in Bismarck-Mandan have voluntarily closed.
On Saturday, Bismarck resident Kyle Huber demonstrated in downtown Bismarck to show his opposition to Burgum's executive actions that prevent people from gathering.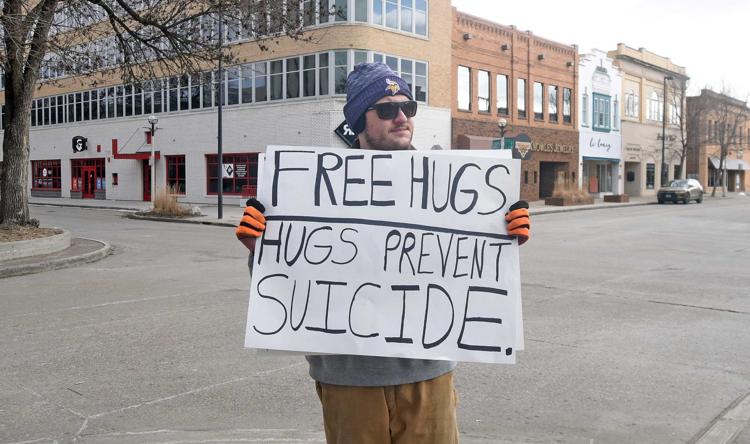 "If you want to stay home, that's your choice," said Huber, 24.
Huber, who held a sign that offered free hugs, said he's concerned that increased isolation will lead to higher suicide rates.
During the news conference, Burgum addressed the concern about increased isolation affecting behavioral health. He encouraged people to use the National Suicide Prevention Lifeline at 1-800-273-8255 or the North Dakota Behavioral Health website for tips on how to talk to people who may be struggling.
Burgum also urged people to use the state's Recovery Talk hotline at 1-844-44-TALK2 to talk to a trained specialist with experience with addiction. Families can access support resources at parentslead.org.
Concerned about COVID-19?
Sign up now to get the most recent coronavirus headlines and other important local and national news sent to your email inbox daily.