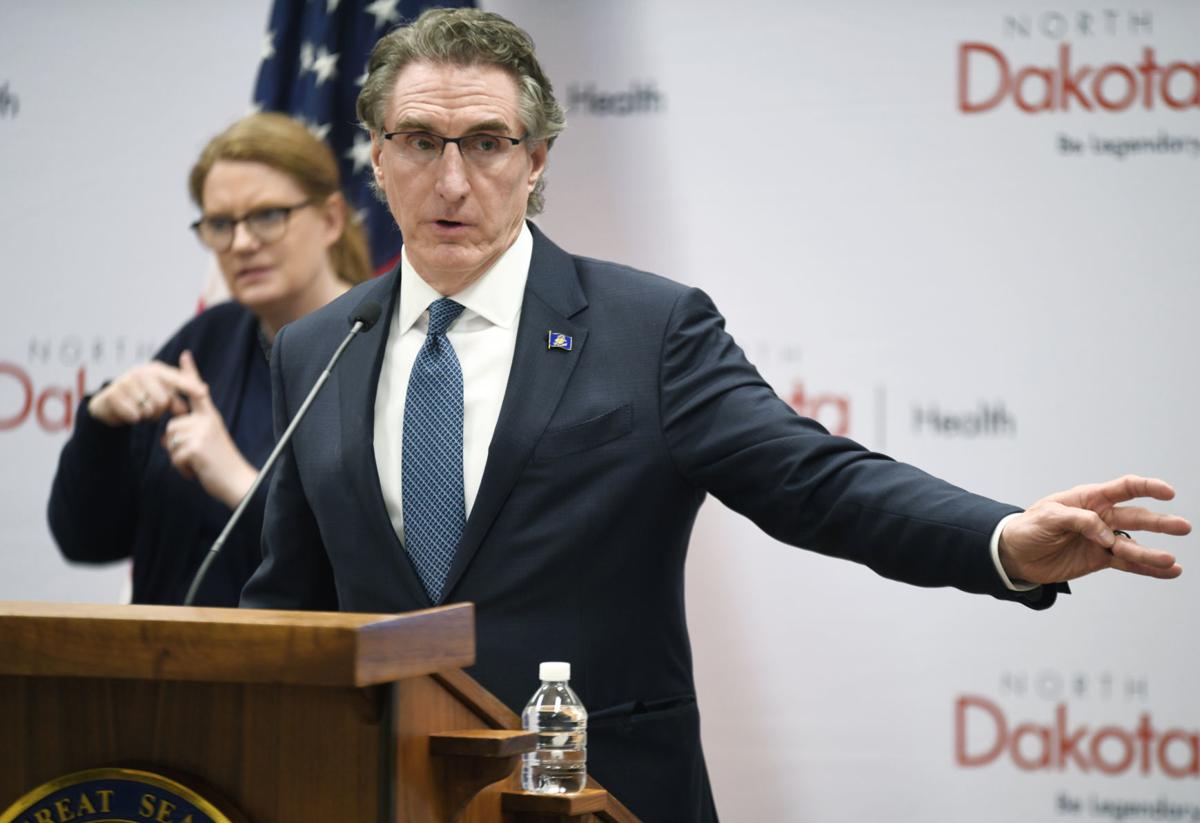 A Cass County man in his 90s has died of COVID-19, North Dakota's first confirmed death from the disease that results from the coronavirus, the state Department of Health reported Friday.
Gov. Doug Burgum during an afternoon briefing also ordered closures of "personal service" businesses such as hair salons and quashed rumors that a statewide shutdown was imminent.
The man who died had underlying health conditions and became infected through community spread, officials said. They did not identify him. It wasn't clear what day the man died. Burgum said the state was notified early Friday.
"While we knew this day was coming, it doesn't diminish the profound impact for a family in North Dakota losing a family member, a friend, a loved one," Burgum said. He added that "we should prepare ourselves for the real possibility that this will not be our last."
State Health Officer Mylynn Tufte also issued condolences in a statement. 
"My heart is with the friends, family and caregivers who are grieving," she said, adding that "Now more than ever, we need to take care of each other and do our part to prevent the spread of this virus."
Confirmed cases of COVID-19 continue to rise in North Dakota's two most populous counties, with two more cases in Burleigh County and three more in Cass County.
The health department on Friday morning reported 10 more positive cases of the disease that results from the new coronavirus. Other new cases include three in Morton County and two more in Stark County.
Burleigh County now has 25 cases and neighboring Morton 11, for a total of 36 -- by far the most in the state. Cass County, home to Fargo, now has 11 cases. Together, the three counties have more than 300,000 people, according to U.S. Census Bureau data.
Cases statewide now total 68, with 16 hospitalizations and the one death. Fifteen people are considered to be recovered. State and private labs have conducted 2,708 total tests, with 2,640 being negative.
Given that there is a lag in reporting data and that not everyone is tested, "We should probably assume that the real case number in North Dakota could be as high as tenfold higher," Burgum said.
The governor said "We have to logically assume given the lag in the reporting data that this virus is everywhere in our state," and that the peak could be "two to three weeks or more out in front of us."
All of the cases are adults except for two. On March 18, the state confirmed COVID-19 in a Morton County girl age 10-19. Fort Lincoln Elementary School in southeast Mandan later identified her as a student.
On Thursday, the state confirmed a case in a boy younger than 10 who lives in McIntosh County, southeast of Bismarck on the South Dakota border.
The McIntosh District Health Unit issued a statement saying the boy was younger than 2, had been released from the hospital and was isolating at home. County Public Health Administrator Cheryl Reis-Schilling urged residents "to be prepared, but not panic."
Wishek child care provider Jamie Vetter issued a statement on her Facebook page saying "There have been laughs and lots of tears shed in the last 24 hours! I just want to thank everyone that has reached out, said prayers for my family and for the daycare kiddo and their family that contacted covid 19. We all knew it was a matter of time until it hit our area and unfortunately it hit close to home."
Vetter's day care is shut down as most of her family is quarantined. Quarantines typically last at least two weeks.
"Pray for my family that we do not get this and can be back to work," she said.
State health officials were working to identify people who had been in close contact with the boy, according to Reis-Schilling. About 1,000 people live in Wishek.
Executive orders
Burgum on Friday added personal care service businesses to an executive order he issued last week mandating all eating and drinking establishments, as well as recreation and entertainment businesses, to close to on-site services.
That extends the shutdown order to hair salons, barbers, manicurists, massage parlors, and tattoo and body art businesses. Violations can carry a fine up to $1,000.
More than 8,500 people are licensed to provide personal care services in North Dakota.
"We recognize there are a significant number of people affected by this … but again we're trying to strike that balance about slowing the spread of COVID-19," Burgum said.
In a moment of levity, the governor quipped, "I imagine this will create a mad rush to get a haircut tonight. Instead of having a bad hair day, you may have bad hair weeks coming up."
Burgum on Friday also signed an executive order suspending quarterly unemployment tax payments and payroll reports, without penalty.
A total of 26,500 businesses owed about $30 million to the state at the end of the first quarter on Tuesday. That will still be owed, but it will be deferred without penalty until July 1.
Quashing rumors
Burgum put to rest speculation on social media that he was preparing to issue a statewide shutdown.
"Apparently the only thing that travels faster than the virus in North Dakota is misinformation," he said. "We have in our office been bombarded the last two hours with rumors that somehow today at 4 o'clock we were going to announce that we were shutting down the state, we were locking it down, we were going to close the borders.
"I want to reassure North Dakotans that this is not the plan, and it's not even possible," Burgum said.
Governors in Minnesota and Montana issued shelter-in-place orders this week.
"Each governor gets to choose their strategy," Burgum said. "In North Dakota, we're banking on that North Dakotans understand what individual responsibility is, and they respond to that more than they might respond to a government mandate."