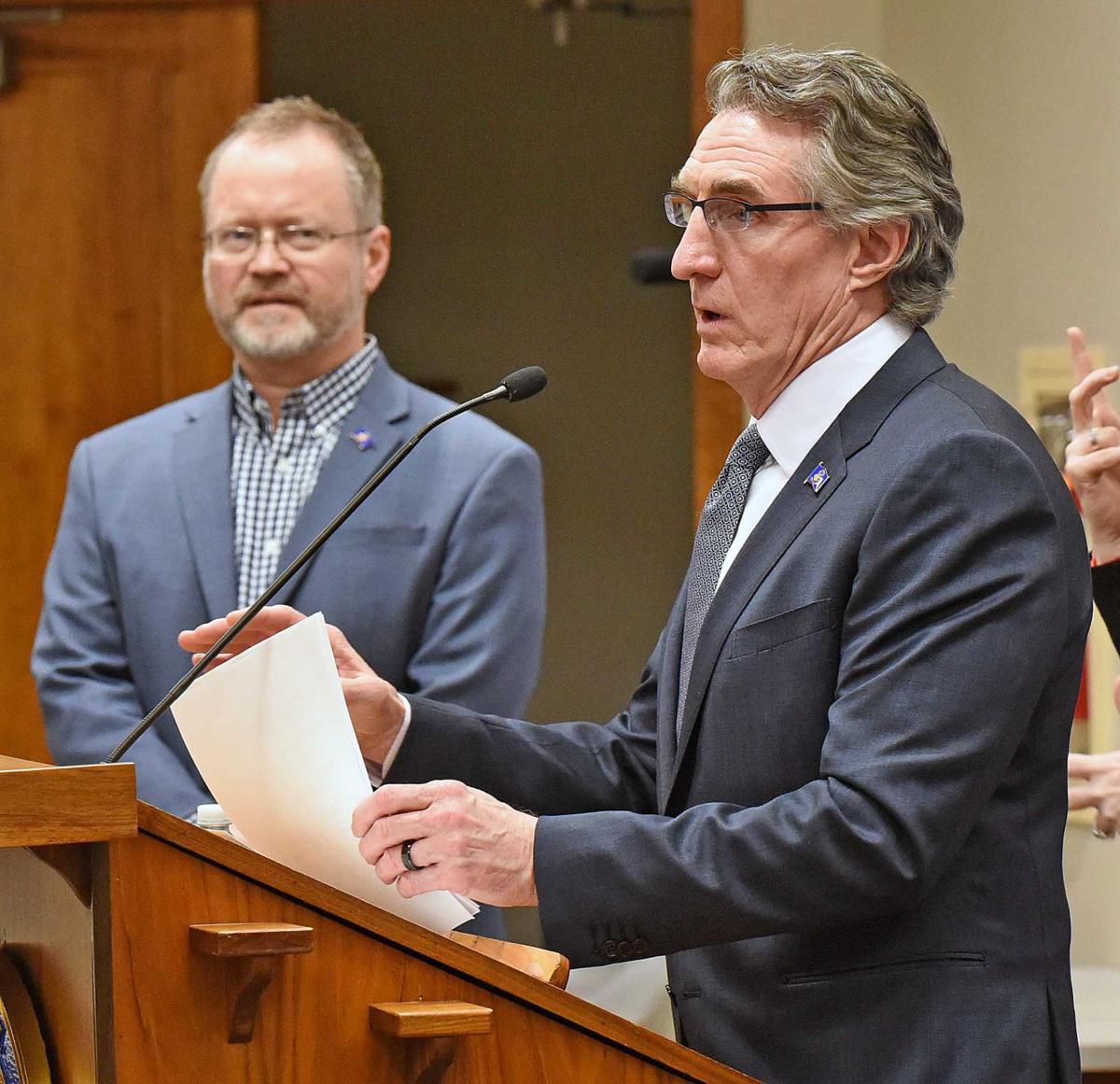 North Dakota reported two more cases of COVID-19 on Sunday and a fourth hospitalization due to the disease that results from the new coronavirus, and Gov. Doug Burgum indicated the state could soon begin seeing more cases from the east.
Burgum said the low number of new cases was encouraging but stressed during an afternoon public briefing that "this is not the time to get complacent at all."
He noted that Montana, South Dakota and Minnesota all have confirmed cases near North Dakota's borders, including a case in Minnesota's Clay County, which borders Cass County, North Dakota's most populous with 182,000 people.
"We should really treat Minnesota positives as occurring in metro areas that are largely made up of North Dakotans," Burgum said, referring to Fargo-Moorhead.
He indicated that positive cases might mount in eastern North Dakota in coming days. While the turnaround time for tests done at the state lab is 24-36 hours, some national labs being used by Fargo health care providers have been overwhelmed and seeing turnaround times extend to seven days, he said.
"There were 300 test samples that were collected in Cass County that have been sent out nationally that we don't have results back," Burgum said.
"We could see a step up there," he said. "We should presume, given the large number of pendings, that we have more cases that are out there than we know of."
Burgum said he expects the tests to come in this week. If there are further delays, some of the cases might be retested locally, with 24-hour turnaround times. Some of the 300 people awaiting test results had been sick and are now recovering, the governor said.
In the meantime, Burleigh County continues to have the most cases in North Dakota, with 16. Neighboring Morton County has seven cases.
The new North Dakota cases are in a Burleigh County woman in her 30s who had traveled, and a Pierce County man in his 40s who had close contact with someone who had COVID-19. It's the second confirmed case for Pierce County, home to Rugby.
The cases bring the state's total to 30, with four hospitalizations and no deaths. State and private labs have now conducted 1,355 total tests, with 1,325 being negative. Burgum said he has requested a significant increase in contact tracing efforts to better determine who newly identified COVID-19 cases have been in contact with. 
Executive orders
Burgum has signed numerous executive orders over the past week, including expanding testing, easing regulations for health professionals and directing schools to remain shut down to students.
School districts statewide have been developing resources and guidance for online learning and virtual instruction. Schools have until Friday to submit "innovative education plans" for state approval, with alternative instruction such as online learning to begin as early as April 1.
Bismarck Public Schools on Sunday announced it intends to move to distance learning the week of March 30.
"BPS will be reaching out to parents and students regarding this early this week," spokeswoman Renae Walker said.
In the meantime, the district is urging middle school and high school students to use this week to complete any outstanding work, "as being 'up-to-date' will be foundational to moving forward into a distance learning model," officials said in letters going out to families.
The district is urging elementary school students "to be active, read, write, and practice math each day."
Burgum last Thursday also ordered eating and drinking establishments, as well as recreation and entertainment businesses, to close on-site services to try to stem the spread of the coronavirus.
About half a dozen workers at A&B Pizza's south Bismarck location walked off the job Thursday, according to cook Jordan Dittus.
"We don't want to spread the virus unnecessarily," he said. "This doesn't just involve us as individuals. Our community is at risk. Every nonessential business that stays open is another excuse for someone to leave home when they don't need to."
The restaurant, like many others, remains open for takeout and delivery. Owner Dave Barth didn't immediately respond to a request for comment.
Burgum also had urged tribal governments to implement similar measures. He announced Sunday that all tribal casinos in North Dakota are or will be closing, including 4 Bears Casino & Lodge near New Town on the Fort Berthold Reservation and Prairie Knights Casino near Fort Yates on the Standing Rock Reservation.
Burgum on Sunday clarified an executive order he announced Saturday allowing licensed pharmacists to administer COVID-19 tests. The move is intended to make pharmacists available to conduct testing if needed to help out traditional medical testing -- not to enable state residents to go to a pharmacy and ask for a test.
Someone seeking a test should "please call ahead to your standard medical provider first," Burgum said.
He also clarified that while retired doctors, nurses and other health professionals are being asked to consider coming back to work if the need arises, the state will not put any elderly former professionals at risk.
Concerned about COVID-19?
Sign up now to get the most recent coronavirus headlines and other important local and national news sent to your email inbox daily.