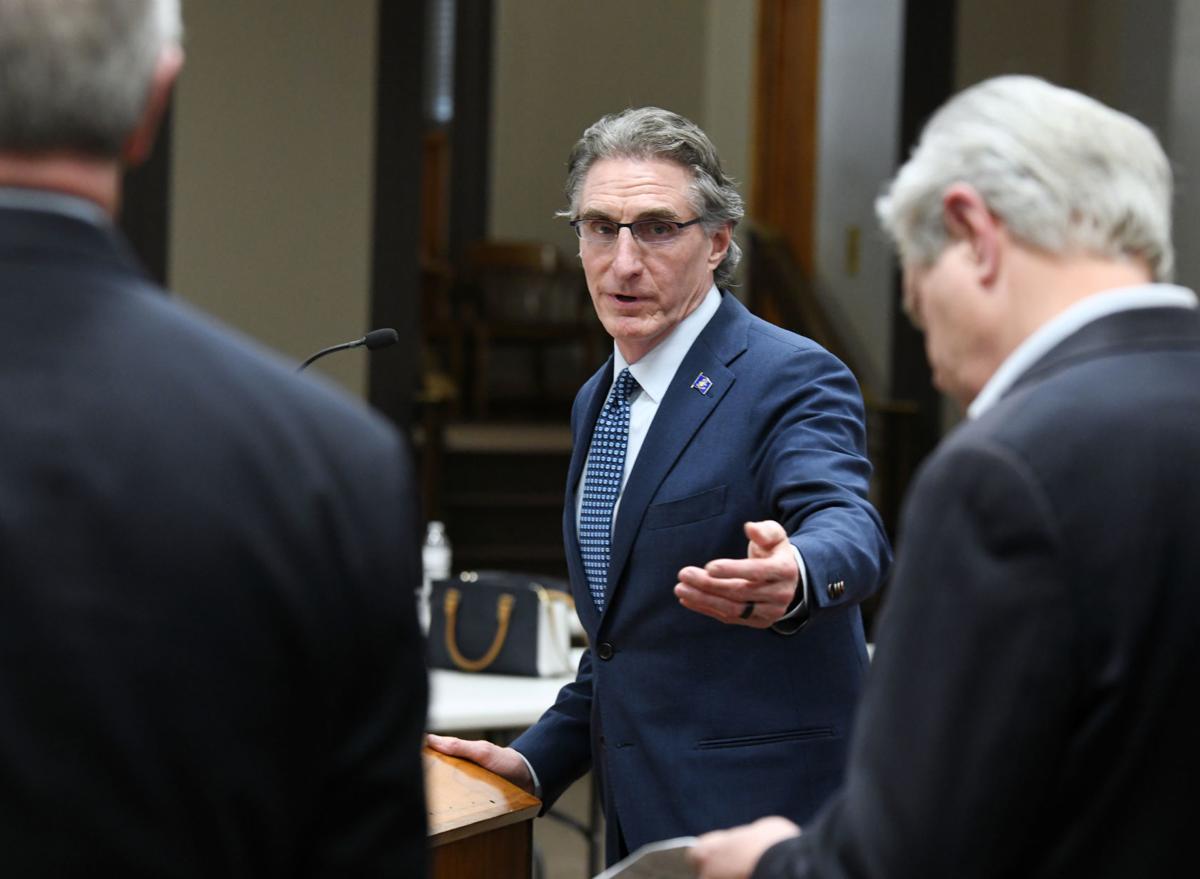 North Dakota has two more deaths from the coronavirus, including one in Morton County, state health officials reported Monday.
Separately, the state has taken steps to protect low-income renters from losing their housing but is taking a more cautious approach when it comes to freezing all evictions and foreclosures.
A Morton County man in his 70s and a McHenry County woman in her 80s both died from COVID-19, the disease that results from the coronavirus. Both had underlying health conditions and acquired the coronavirus through community spread, Gov. Doug Burgum said during an afternoon briefing. Officials did not say when the two died.
The first victim in the state was a 93-year-old man from Fargo, who died of COVID-19 last Thursday.
"We know that unfortunately North Dakota will continue to lose people to COVID-19 and other illnesses, but with every passing the emotional burden weighs on those families and on those friends, and as we are all in this together, the first lady and myself want to send our condolences to those families for the loss of their loved ones, because we know that it affects not only them but the communities and the whole state," Burgum said.
The deaths also are a "harsh but important reminder" that people need to take the virus seriously and take precautions such as staying home when possible and social distancing when in public, the governor said. He cited reports of weekend gatherings along the Missouri River in Bismarck "like nothing is going on" as an example of what not to do. 
"The key thing for us to do is not to have more government mandates -- the key thing is to have individual responsibility," Burgum said.
The health department reported 11 new coronavirus cases since Sunday afternoon, raising the state total to 109. Nineteen people have been hospitalized, and 20 people have recovered. State and private labs have tested 3,909 people, with 3,800 being negative.
The new cases identified early Monday include one new case in Burleigh County, raising the county's total to 29. Three of the new cases are in Cass County, there are two each in Mountrail and Ward counties, Grand Forks County has its first two cases, and there is one new case in Stark County. Another case applied to Cass County earlier Monday turned out to be a Minnesota resident and was removed from the Cass County and North Dakota totals.
Burgum on Sunday announced that he has requested a major presidential disaster declaration. A declaration by President Donald Trump would unlock federal aid to help the state pay for its response to the pandemic.
Rent and evictions
A coalition of nonprofit organizations sent a letter to Burgum on Monday urging him to issue an executive order freezing evictions and foreclosures on residential properties in the state as the first of the month nears on Wednesday.
The order "would allow people to remain stably housed as they safeguard their health and the health of their families and other North Dakotans," said the letter signed by 12 labor and homeless advocacy organizations, including the North Dakota Farmers Union, North Dakota United, the Fargo-Moorhead Coalition to End Homelessness, High Plains Fair Housing and the American Civil Liberties Union of North Dakota. 
The letter called for an executive order that suspends evictions and foreclosures immediately until 90 days after the coronavirus emergency is declared over. It also called for a suspension of imposing late fees and reporting failure to pay to credit agencies. 
"If you don't have a job and you don't have rent or mortgage for Wednesday, it doesn't really matter how this gets done. We just want it to get done," said Dane DeKrey, advocacy director of the ACLU of North Dakota.
Several states have made moves to temporarily suspend evictions, including neighboring Minnesota. That state's executive order, announced by Gov. Tim Walz last week, bans eviction actions starting Tuesday at 5 p.m., prevents law enforcement from executing writs of recovery and asks financial institutions to halt foreclosures caused by the COVID-19 pandemic.
A federal moratorium on evictions and foreclosures through April covers only single-family homes with loans through the federal Department of Housing and Urban Development, leaving out the majority of renters who rent from private owners or property management companies.
Burgum said the state has adopted the same set of rules as HUD for 3,000 low-income units in North Dakota.
"The people that were likely most in need with low-income, we did that a week ago," he said.
Burgum said that in light of the "enormous amount of money" coming in direct federal aid checks to Americans and unemployment insurance, the state wants to "really be thoughtful before we issue a broad order for everybody in the state of North Dakota because we might be creating a bigger problem than we'd be fixing."
"For those people that can pay their rent on April 1, we'd like to them to pay their rent," Burgum said. "Because the people they're paying their rent to have also got employees and mortgages and all of that."
The North Dakota Supreme Court last Thursday issued an order suspending all residential eviction proceedings, except in cases of "good cause," for the duration of the emergency. Court Administrator Sally Holewa said "good cause" for eviction includes violations such as health hazards, risk of violence, extreme damage to a property or an extremely disruptive tenant, not for inability to pay rent.
But advocates said the Supreme Court's order has gaps.
"From a legal standpoint, the problem with 'good cause' is it opens it up to interpretation between judges," DeKrey said, adding that the groups wanted "finality" from Burgum.
Advocates also said the Supreme Court's order doesn't cover late fees that a tenant could accrue and doesn't address damage to a person's credit score for missing rent.
"Late fees just continue to snowball individuals who struggle to pay rent," said Cody Schuler, executive director of the Fargo-Moorhead Coalition to End Homelessness.
Jeremy Petron, a board member with the Bismarck-Mandan Apartment Association, said many property owners and management companies in the association are devising plans to work with tenants on extended payment plans and waiving late fees.
"Management companies aren't in business to evict residents, we are in business to keep apartments rented. But property owners also have expenses to cover," Petron said.
The North Dakota Democratic-NPL party supports the proposed order. Fargo Democratic Rep. Mary Schneider last week sent a letter to the governor's office urging him to sign an order temporarily halting evictions, foreclosures, utility shutoffs and related late fees and interest.
After Burgum's briefing, the party issued a statement saying the governor is "out of touch with working families suddenly without their paychecks."
"The governor just said he expects working families to absorb the entire cost of the economic fall-out," Party Chairwoman Kylie Oversen said. "Rent is due in two days and people aren't getting paid. It's not their fault, and they can be kicked out of their homes with only three days notice. At best, late fees will pile up that could set them back for years. The governor, who is a landlord himself, just told North Dakotans he has no understanding of the challenges they're facing."
Executive orders
Burgum issued or amended three executive orders on Monday.
One allows certain school districts in the state to offer K-5 child care for teachers and "lifeline" households -- people such as health care workers, first responders and law officers -- through May. Bismarck Public Schools was one district planning to offer the service, state Human Services Executive Director Chris Jones said last week.
Burgum also suspended an open meeting requirement that governments provide a physical room for public meetings. Many governments are trying to conduct businesses remotely to avoid large gatherings. Governments must provide a conference dial-in number or an electronic link to real-time or livestream public access.
The governor also extended the deadline for renewal applications to the state agriculture department for such things as livestock auction permits and pesticide applicator licenses. The deadline for state aid applications from libraries also has been extended.
Concerned about COVID-19?
Sign up now to get the most recent coronavirus headlines and other important local and national news sent to your email inbox daily.