Active cases of COVID-19 soared in North Dakota to a new high on Thursday after three straight days of declines, and coronavirus-related hospitalizations and newly confirmed cases also set records. 
Gov. Doug Burgum during a public coronavirus briefing Thursday said "this is what may appear to be the beginning of the fall surge" that health experts have warned about in the U.S. for months. With holidays and hunting in coming months, "This is going to be a real challenging time," the governor said.
Active cases in Burleigh and Morton counties reached a pandemic high of 1,452. Ward County -- home to Minot, the state's fourth-largest city -- had three more reported deaths, pushing the county past Morton for third-most in the state, at 51. Nineteen of the Ward deaths have been reported by the Department of Health this week.
The state this week labeled Ward and several other counties "high risk," a category that already included Burleigh-Morton.
The health department on Thursday reported eight other deaths, in the counties of Cass, Dickey, Emmons, Logan, Stutsman, McLean, Oliver and Ransom. Victims ranged in age from their 50s to their 90s. They brought the statewide death toll to 499.
Health officials reported 184 people in hospitals due to COVID-19, up six from the previous day's high. 
There were 20 staffed intensive care beds and 213 staffed inpatient beds available in North Dakota on Thursday, according to state data. Sanford Health Bismarck had one staffed intensive care bed and no staffed inpatient beds available. CHI St. Alexius Medical Center in Bismarck had one staffed intensive care bed and 13 staffed inpatient beds available.
Burgum said attracting additional health care workers to the state to boost the number of staffed beds is unlikely given the need in larger urban areas. He said one way to address hospital capacity concerns in North Dakota is to reduce the need for beds through voluntary preventative measures.
"How about we as a state decide we don't need as many beds?" he said.
The state on Thursday reported 1,222 new COVID-19 cases statewide, including 169 in Burleigh and 60 in Morton. The previous high for daily cases was 1,038 on Oct. 22. The state's pandemic case total is at 41,130, with 6,771 active cases, up 524 from Wednesday. The previous high for active cases came Sunday, at 6,506.
Mask mandates
Burgum during his briefing again urged personal responsibility when it comes to preventative measures such as masking and physical distancing, and he said he supports local measures such as the mask mandate passed by the Bismarck City Commission that goes into effect Sunday.
"This is a battle, just like a flood fight, that needs to be fought locally," said Burgum, who has been criticized by some for not implementing a statewide mask requirement.
Mask mandates in Bismarck and other cities carry no enforcement or penalties.
"This is about social psychology as much as it is about law," Burgum said. "I believe that the strongest motivation is when people find their own reason for participating."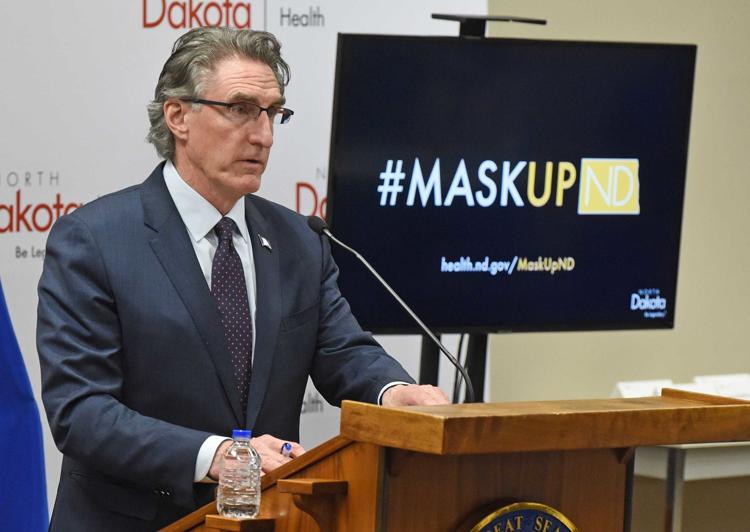 He also said mask mandates, even without enforcement, benefit businesses that already require masks because they no longer have to worry about losing customers to other businesses with more lenient rules.
White House Coronavirus Task Force Coordinator Dr. Deborah Birx, during a visit to Bismarck on Monday, said she found the city's COVID-19 protocols to be the worst she had seen anywhere in the country. She also met privately with leaders including the governor. Burgum on Thursday said, "She did not tell me anything directly about mask mandates."
The COVID Tracking Project reported that North Dakota has had more than 1,442 new cases per 100,000 people over the past two weeks, which leads the nation, according to The Associated Press. The rolling average number of daily new cases has increased by more than 40% in the last two weeks, according to Johns Hopkins University researchers.
Testing efforts
Statewide, there have been 33,860 recoveries and 1,547 hospitalizations since the onset of the pandemic in mid-March. The number of state residents tested for coronavirus at least once is at 289,520 and total tests number 845,567, including 8,402 completed Wednesday.
Burgum said his administration wants to "redouble our efforts" around testing, especially of young people asymptomatic for the virus. Higher education is a focus for more regular testing.
"This would give us visibility into 11 communities and into a population that we could identify and test regularly," the governor said. "It would help us really understand community spread and could help us identify perhaps thousands of asymptomatic positives."
North Dakota by year's end will receive 220,000 rapid-result coronavirus tests from the federal government. About 61,000 such tests have arrived. Another batch will arrive for use in long-term care facilities.
Burgum said the rapid tests could save valuable time awaiting results.
Labs at North Dakota State University in Fargo and the University of North Dakota in Grand Forks will be branching out to do pool-testing of more students with the same lab capacity.
A new testing machine also is coming to the state that will be able to process 6,000 tests a day.
Risk levels
Officials have moved 21 North Dakota counties up a level on the state's five-level color-coded system, Burgum announced.
Eight counties were bumped up from yellow "moderate risk" to orange "high risk": Grand Forks, Mercer, LaMoure, Ramsey, Richland, Towner, Walsh and Ward. Burleigh, Morton and 14 other North Dakota counties already were orange, and remain there. No counties have been moved to red "critical risk."
The risk level determines what sort of coronavirus-related protocols are in place under the ND Smart Restart Plan for everything from businesses to family gatherings. The guidelines are not enforced. The state reviews the county levels weekly.
Overall, 24 counties are at orange, 15 are at yellow, 14 are in the green "low risk" level, and none are in the blue "new normal" level.