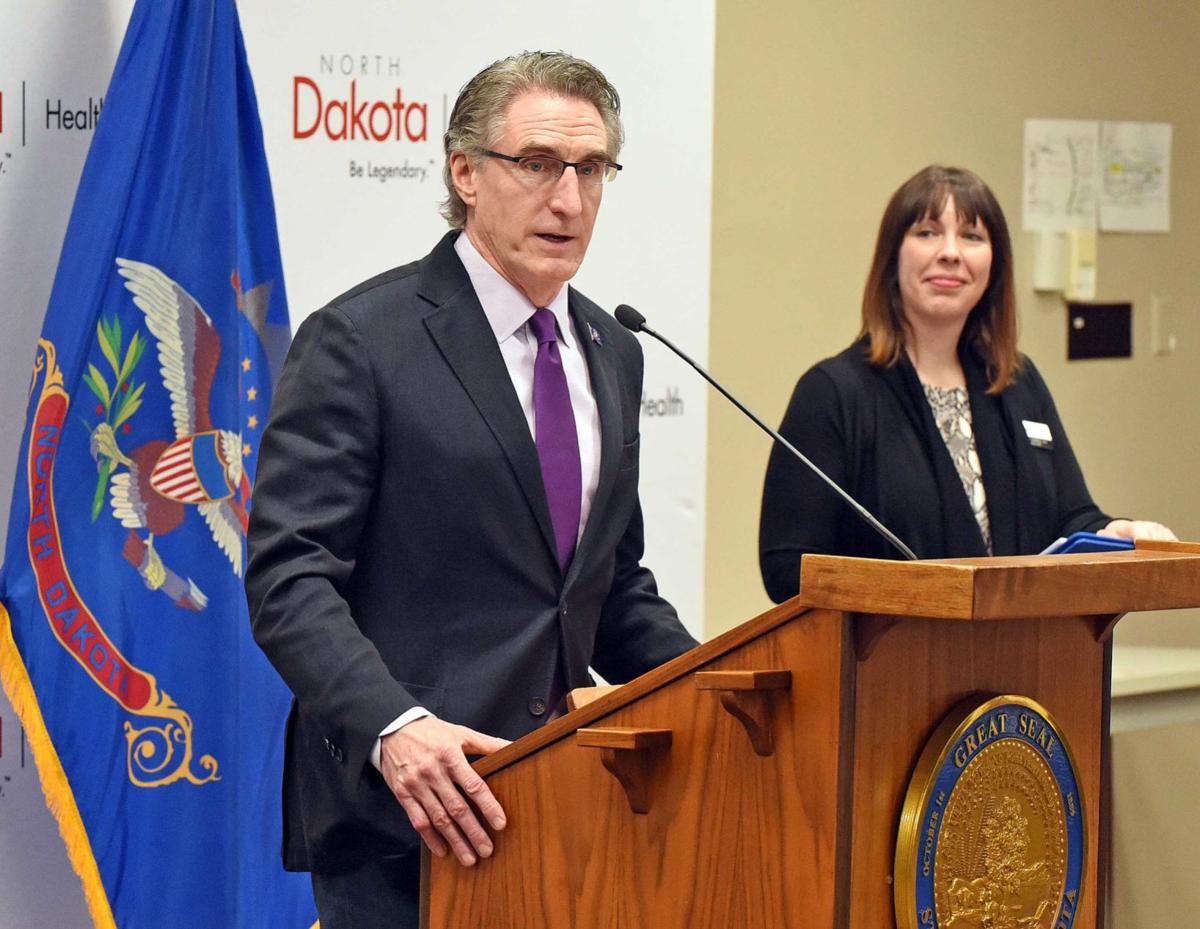 North Dakota's Department of Health on Friday reported seven more cases of COVID-19, the disease resulting from coronavirus, bringing the state total to 26 and including the first case confirmed in a county considered rural.
Gov. Doug Burgum -- who also announced the second hospitalization in the state due to the disease -- said the case in Pierce County should be a wake-up call to any North Dakotans who think the outbreak will impact only larger cities.
"This has the ability to spread to even the most rural parts of countries and nations, and it has the potential to spread to the most rural areas of North Dakota," he said during an afternoon news conference.
The other new cases included three in Morton County, two in Burleigh County and one in Ramsey County. Ramsey County is home to Devils Lake; Pierce County is home to Rugby.
The new cases bring the total in Burleigh-Morton counties to 20. The state revised the county total earlier Friday, having incorrectly attributed a Morton County case to Burleigh County on Thursday. Burleigh County's total is 13 and Morton's is seven. There also are three cases in Ward County and one in Cass County. Cass County is the state's most populous, followed by Burleigh County.
The rise in the statewide total is not unexpected, given what has happened in other states and in other countries. Burgum on Thursday ordered all eating and drinking establishments, as well as recreation and entertainment businesses, to close to on-site services to try to stem the spread of the coronavirus. Businesses can continue with takeout, delivery, curbside and drive-thru services.
Tribe responses
Burgum on Thursday urged tribal governments to implement similar measures. The Three Affiliated Tribes late Thursday announced it is closing 4 Bears Casino & Lodge near New Town on the Fort Berthold Reservation. All restaurants and bars will be closed, as well as the casino, hotel, event center and marina/bait shop. The Eagles Landing C-Store will remain open.
"At this time we do not have an anticipated opening date, but will do so as soon as we're informed the virus is no longer a threat," management said in a statement.
Prairie Knights Casino near Fort Yates will remain open, at least over the weekend, Standing Rock Tribe spokesman Marshall Kelly said.
"In regards to closing, it's under consideration. The management is putting together some contingency plans," he said.
The Tribal Council is to address the matter Monday, Kelly said.
The casino previously canceled shows and announced numerous restrictions such as suspending its bus program and shutting down the salad bar and buffet.
Testing continues
State and private labs have now conducted 938 total tests, with 912 being negative. Two people have been hospitalized, and there have been no deaths. All but one of the North Dakota cases have been adults. A girl who is a student at Fort Lincoln Elementary School in southeast Mandan also tested positive.
The Hair Academy in Bismarck on Friday announced on its Facebook page that a student there tested positive for coronavirus. The student was in attendance at the academy on March 16 and 17, the post said.
"It is here in North Dakota, we do have community spread, and we're going to continue to see more cases coming," Burgum said, adding that as much as 20% of the state's population could be at risk.
He added, however, that "We have an opportunity to stay below the line of what our capacity is for medical services."
State Health Officer Mylynn Tufte earlier this week said North Dakota's state lab has the capability to do 1,800 tests, but nylon testing swabs are in short supply. Because of that, the state recommended that health care providers focus on patients hospitalized with respiratory illness, those living or working in congregate settings and health care workers.
Tufte on Friday said South Dakota offered the state 1,000 swabs and the federal government was sending another 4,000.
"The issue around swabs, I think, is being relieved," she said.
New executive orders
Burgum on Friday expanded a measure announced the day before easing licensing regulations for health professionals and facilities, expanding it to include radiology and medical imagery professionals.
He also announced two new executive orders. One is aimed at making it easier for officials to process unemployment claims.
Claims have risen from 418 all of last week to 600 claims on Wednesday to 1,600 on Thursday, according to Burgum. He said the net result of his detailed order "is a significantly greater percentage of claims will be paid than under normal circumstances."
The other executive order directs state agencies to detail laws or regulations that hinder or prevent them from delivering needed services.
"Try to look at the bureaucracy that exists -- how do we cut through it, and how do we cut through it rapidly," Burgum said.
As part of that, Burgum ordered that all driver's licenses and motor vehicle registrations that have expired since March 1 will be considered still valid "until the emergency ends."
Other announcements from Burgum on Friday included that loan applications are being made available for North Dakotans for U.S. Small Business Administration disaster loans, and that the state plans to reopen highway rest areas next week after cleaning and repairs made necessary by vandals stealing toilet paper.
"This included people using crowbars to try to access storage areas. Apparently the demand for toilet paper was so high that people felt they had to take to criminal activity to try to access that," Burgum said. "It's super sad and … we'll make the assumption that that was somebody passing through our state and not a caring North Dakotan who cares about their neighbors."
An executive order announced Thursday directs schools to remain shut down to students, with a focus on remote learning likely beginning in April. Burgum also restricted public access until April 6 at state facilities, including the Capitol in Bismarck, and directed most state government employees to work remotely.
The Legislature's interim Budget Section on Thursday voted unanimously to accept $6 million from the federal Centers for Disease Control and Prevention to help mitigate the spread of the coronavirus. The money will fund a variety of things, from lab supplies and personal protective equipment to surveillance activities and contact tracing, according to health department spokeswoman Nicole Peske.
Cyber threats and scams
Separately, the state on Friday reported "widespread phishing and social engineering attacks (that) malicious actors are using to exploit the coronavirus pandemic."
"The global spread and widespread news coverage of COVID-19 has created an opportunity for criminals to take advantage of people, making cyber hygiene equally as important as physical health and safety precautions," Chief Information Security Officer Kevin Ford said in a statement. "In the same way that we want all citizens to follow recommended guidelines to help prevent the spread of coronavirus, we want to encourage all North Dakotans to exercise extreme care when surfing the web or sharing information online."
The threats include phishing emails that purport to be from legitimate sources such as the CDC or World Health Organization, and fake maps with interactive dashboards that deploy malware infecting the user's computer.
Attorney General Wayne Stenehjem this week also advised North Dakotans to beware of scams.
"We see a surge in scams after every natural disaster, large and small, so it doesn't surprise me that scam artists would try using this global pandemic in their efforts to prey on potential victims," he said. "A healthy dose of skepticism will help stop the scam artists in their tracks."
Concerned about COVID-19?
Sign up now to get the most recent coronavirus headlines and other important local and national news sent to your email inbox daily.