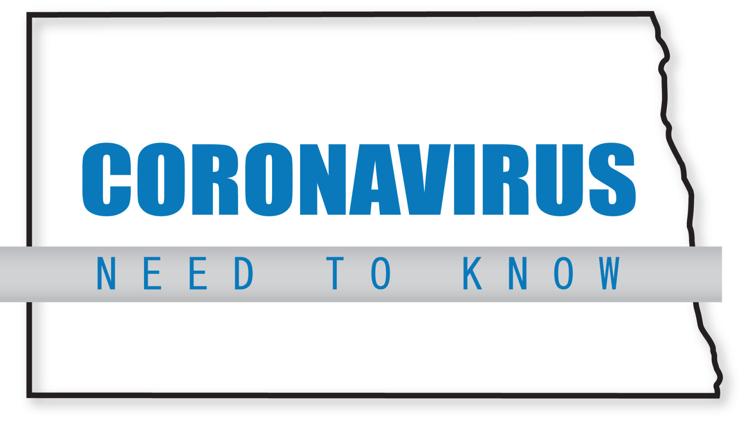 The latest North Dakota coronavirus news: food boxes, farm loans, relief fund and more.
Food Box program
Food is being distributed to the needy in Bismarck-Mandan this week through the U.S. Department of Agriculture's Farmers to Families Food Box program.
The effort is part of the Coronavirus Farm Assistance Program. USDA is partnering with regional and local distributors to purchase $3 billion in fresh produce, dairy and meat and deliver food boxes to Americans in need.
Great Plains Food Bank is working with USDA to distribute the food boxes in Bismarck-Mandan. There are no income requirements to receive assistance and all in need are welcome.
The distributions will be Tuesday in Mandan in the parking lot of Mandan Middle School from 11 a.m. until 2 p.m., and in Bismarck in the parking lot off third street at the Kirkwood Mall from 3:30-6:30 p.m.
Cars may begin lining up one hour prior to the start of each distribution.
Distributions also are planned in the two cities on June 16 and 30.
Federal farm loan flexibility
Farmers with federal farm loans are being allowed to set aside their next payment until the maturity date of the loan, or up to twelve months for annual operating loans.
The U.S. Department of Agriculture is expanding a loan set-aside provision normally used in the wake of natural disasters so that it applies during the coronavirus pandemic.
"FSA recognizes that some customers may need this option to improve their cash flow circumstances in response to the COVID-19 outbreak," said Richard Fordyce, administrator of the federal Farm Service Agency.
Any principal set aside will continue to accrue interest until it is repaid.
Interested borrowers should contact their FSA county office.
Narcotics Anonymous meetings
The Lewis & Clark Area Service Committee of Narcotics Anonymous is sponsoring Zoom meetings amid the coronavirus pandemic. 
For more information call 800-494-8381 or go to the website at www.umrna.org.
Narcotics Anonymous is a nonprofit fellowship of recovering addicts who meet regularly to help one another stay off drugs. 
Relief fund grants
The Northwest North Dakota Community Foundation has awarded more grants from its Relief Fund.
The money is going to organizations responding to immediate needs in Williams, Divide, McKenzie and Mountrail counties as a result of the coronavirus outbreak and energy industry pressures.
The foundation to date has awarded 26 grants totaling $71,000. The most recent awards are to the YWCA, Out in Faith Bakken Oil Ministries and Community Connections.
Donations to the fund can be made online at www.NWNDCommunityFoundation.org or by sending a check to: NWNDCF, P.O. Box 371, Williston, N.D. 58802-0371. Donations are tax-deductible.
North Dakota virus numbers
North Dakota has 2,577 confirmed cases of COVID-19, including 128 in Burleigh County and 59 in Morton County. There have been 1,959 recoveries and 61 coronavirus-related deaths. A total of 167 people have been hospitalized; 36 remain so. State and private labs have conducted tests on 72,040 people, and conducted 94,711 total tests.
Concerned about COVID-19?
Sign up now to get the most recent coronavirus headlines and other important local and national news sent to your email inbox daily.