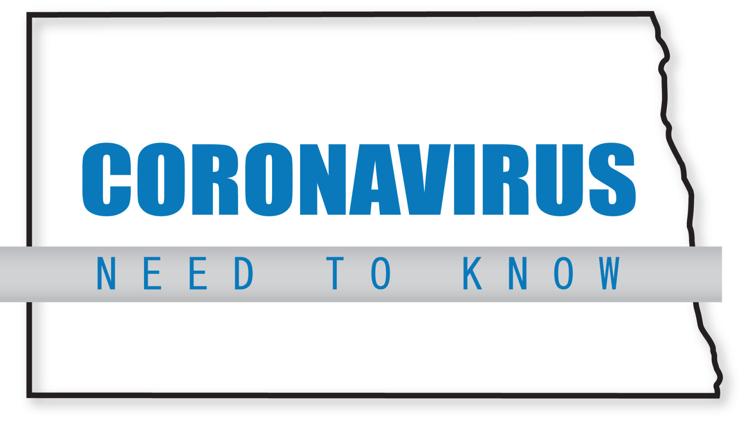 The latest North Dakota coronavirus news: Eviction proceedings, Bismarck meetings canceled, changes to parks, load limits and more.
Eviction proceedings suspended
The North Dakota Supreme Court has suspended all residential eviction proceedings.
A trial court may still proceed with a specific case if it can show good cause.
The court's Wednesday order stipulates that if eviction proceedings do occur or resume during the coronavirus emergency, testimony may be submitted by electronic means due to the limited public access to court facilities. Justices ordered the same for emergency and merits hearings, and for guardianship proceedings.
Justices also said the 90-day limit on the duration of an emergency guardianship may be waived and the court permitted to order an additional 90 days of guardianship if certain requirements are met.
Mandan schools support line
Mandan Public Schools has established a Family Support Line for families in need.
The line is for needs such as food, shelter and mental health. It is not for technology or educational concerns. 
The service will be available from 8 a.m. to 8 p.m. Monday through Friday. The number is 701-390-9103.
The number for Technology Support is 701-751-6600. All other questions should be directed to 701-751-6500.
Bismarck meetings canceled
The city of Bismarck has canceled three public meetings amid the coronavirus outbreak.
Upcoming meetings that are affected are the April 2 Board of Adjustment meeting and the April 9 Renaissance Zone Authority meeting.
City spokeswoman Gloria David cited federal guidance on large gatherings and a lack of agenda items for the decision.
The Planning & Zoning Commission meeting scheduled earlier this week also was called off.
Morton and Burleigh parks
Morton County Parks has canceled all events until further notice. The board plans to review the decision on a monthly basis.
No overnight camping is allowed in Morton County parks, and they will be limited to day use only. Visitors are encouraged to sanitize and follow all federal social distancing guidelines, such as avoiding gatherings of more than 10 people.
The Bismarck Parks and Recreation District said parks, trails, boat ramps and open spaces can continue to be used "in a safe manner," with no restrictions. There are a few park spaces that are not yet open due to seasonal restrictions.
Williston State College cancels commencement
Williston State College has canceled its commencement and honors activities set for the week of May 11-15.
Faculty and staff will work on a virtual recognition program to honor graduates.
Students will continue their coursework from home and are discouraged from being on campus "unless they have a legitimate need," Williston State College President John Miller said.
The college's residence halls and meal services are available for students without other options.
Virtual urgent care service
CHI St. Alexius Health has announced the launch of a virtual, on-demand urgent care service, Virtual Care Anywhere, available by phone or computer.
The cost is $35. However, people who think they might be experiencing COVID-19 symptoms can use the coupon code COVID19 and have the fee waived.
Patients can request an appointment, and a virtual care provider will respond once available, typically within 15-30 minutes, but potentially longer.
"Virtual urgent care visits are one way we will help patients with COVID-19 symptoms assess their options for treatment or testing," CHI St. Alexius Health President Kurt Schley said. "Virtual visits allow for timely care delivery without putting other patients or our clinicians at risk for contracting the virus. And while it's not intended to replace in-person care visits, it will help reduce patient volumes at care sites so we can serve those who need care the most."
Load limits update
Load restrictions are remaining in place on all Stark County roads and highways.
Gov. Doug Burgum this week announced that the state is lifting seasonal load limits on state highways across North Dakota, to help facilitate commerce during the coronavirus outbreak.
That doesn't apply to Stark County roads and highways -- only to state highways in the county, the sheriff's office said.
North Dakota virus numbers
North Dakota has 58 confirmed cases of COVID-19: 23 in Burleigh County, eight apiece in Morton and Cass Counties, five in Stark County, four in Ward County, three in Ramsey County, two in Pierce County, and one each in Walsh, Dunn, Foster, McHenry and McIntosh counties. There have been no deaths. State and private labs have conducted 2,261 total tests, with 2,203 coming back negative. There have been 11 hospitalizations, and no deaths.
Concerned about COVID-19?
Sign up now to get the most recent coronavirus headlines and other important local and national news sent to your email inbox daily.