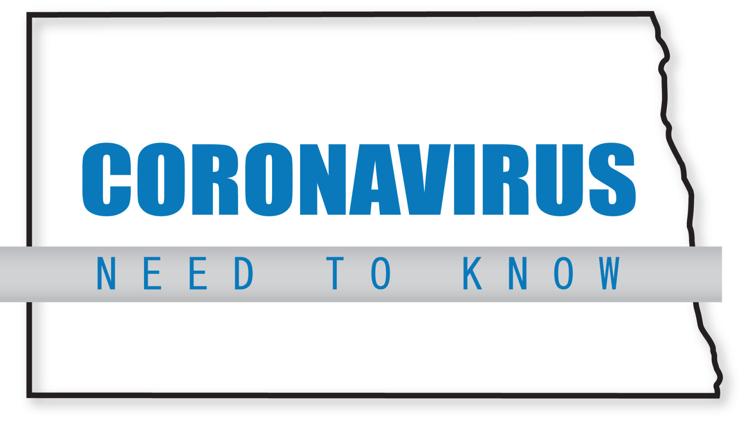 The latest North Dakota coronavirus news: mayor tested, federal aid, casino, BSC, transit, parks facilities and more.
Mayor Bakken tested
Bismarck Mayor Steve Bakken has tested negative for the coronavirus.
Bakken attended his father's funeral in Portland, Ore., for two days a couple of weeks ago, he told the Tribune. He had symptoms of the common cold that remained when he returned home.
City Attorney Jannelle Combs told Bakken that he needed to get tested for the coronavirus or he wouldn't be allowed to enter the City County Building, Bakken said. He underwent a nasal swab on Tuesday and tested negative.
"I adhered to it because that's the protocol we should have for all city staff. You lead by example," Bakken said. "So I'm not excluded from that same set of rules."
State gets CDC money
The Legislature's interim Budget Section voted unanimously this week to accept $6 million from the federal Centers for Disease Control and Prevention to mitigate the spread of the coronavirus.
The state Department of Health is receiving just under $4.6 million at this time, according to spokeswoman Nicole Peske. The money will help the department "and our health care partners" in responding to the virus outbreak, she said.
"This includes staff and partner costs, laboratory supplies and equipment, personal protective equipment (PPE) such as masks, gowns which is issued through the state's medical cache, along with surveillance activities and contact tracing," Peske said in an email.
Bismarck city facilities
The city of Bismarck is closing regular business services through next Friday, March 27.
Essential services including police, fire, central communications, public health, public works and utility operations will continue.
"The health, safety and well-being of our employees and citizens remains our top priority," Mayor Steve Bakken said.
Regular business services employees will be reassigned as needed to perform other tasks.
Tribal casino shuts down
The Three Affiliated Tribes is closing 4 Bears Casino & Lodge near New Town on the Fort Berthold Reservation.
All restaurants and bars will be closed, as well as the casino, hotel, event center and marina/bait shop. The Eagles Landing C-Store will remain open.
"At this time we do not have an anticipated opening date, but will do so as soon as we're informed the virus is no longer a threat," management said in a statement.
BSC transitions
Bismarck State College is transitioning to a "virtual campus."
Beginning Monday, campus buildings will be locked to the public. Services such as admissions, financial aid and academic records will be handled online. Services such as security, food service and housing for students remaining on campus will continue. All staff able to complete their duties remotely will be doing so. 
All events on campus through Sunday, May 3, have been postponed or canceled.
BSC earlier announced it was extending its spring break through March 25 and will then deliver most courses remotely through April 5. More information is available at: bismarckstate.edu/coronavirus.
Bis-Man Transit changes
Bis-Man Transit is suspending CAT Bus service started Monday. Additional paratransit vehicles will be placed in service to accommodate fixed route riders who are going to essential locations such as grocery stores or doctor appointments.
The Bis-Man Transit Facility will restrict public access beginning Monday. Staff will remain on site to answer phone calls and handle trip reservations.
People wishing to buy transit tickets or CAT bus passes can do so with a credit card by calling the office at 701-258-6817. Passes will be mailed out and cannot be picked up on location. Tickets also be purchased at Cash Wise Foods and Dan's Supermarket locations.
Grocery store changes
Cash Wise Foods is inviting people most at risk for contracting COVID-19 to shop during the first hour of store operations. That includes people over 60 and people with compromised immune systems.
"We would like to provide these guests a time where the store is at its cleanest and the aisles are less crowded," Coborn's Inc. said in a statement.
New store hours in Bismarck and other western North Dakota cities are 7 a.m. to 10 p.m. The stores are closing seating areas, including Caribou and Dunn Bros areas.
Dan's Supermarkets have made similar moves.
Burleigh County changes
The Burleigh County Courthouse in Bismarck is restricting public access.
People with business to conduct with any department in the courthouse should contact the department for instructions regarding alternate communications -- phone, mail, email, website or drop box.
Prisoners paroled
The American Civil Liberties Union on Friday commended the North Dakota Parole Board for mitigating the state's prison population in response to the coronavirus pandemic, granting parole to 56 people during a special meeting.
The ACLU said that will help limit overcrowding in North Dakota prisons that could intensify a COVID-19 outbreak.
Game and Fish changes
North Dakota Game and Fish Department offices are closing to the public until April 6, including headquarters and district/lab offices in Bismarck, and district offices in Devils Lake, Dickinson, Jamestown, Harvey, Riverdale and Williston.
Remaining open are outdoor recreational facilities, including boat ramps that are accessible on the Missouri River, the department's 229 wildlife management areas, and the pond and nature walk on the outdoor wildlife learning site adjacent to the main office in Bismarck.
Most Game and Fish staff will work remotely, but the main telephone line at department offices will be staffed. District game wardens will conduct daily patrols as normal.
Bismarck parks facilities
Bismarck Parks and Recreation officials have extended the closure of facilities through April 6.
This includes the BSC Aquatic & Wellness Center, Capital Ice Complex, Capital Racquet & Fitness Center, Fore Seasons Center, Frances Leach High Prairie Arts & Science Complex, Nishu Bowman Indoor Archery Complex, VFW Sports Center and the World War Memorial Building.
The district also has closed its administrative office. Staff will continue to report to work to assist people by phone, at 701-222-6455, email at bisparks@biparks.org, or the drop box outside the front doors.
All Parks and Rec parks, trails and boat ramps remain open, with a reminder to the public to practice social distancing.
North Dakota virus numbers
North Dakota has 26 confirmed cases of COVID-19: 13 in Burleigh County, seven in Morton County, three in Ward County, and one each in Cass County, Pierce County and Ramsey County. Two people has been hospitalized. There have been no deaths.
The health department has tested 938 North Dakotans for the virus, with 912 coming back negative.
Concerned about COVID-19?
Sign up now to get the most recent coronavirus headlines and other important local and national news sent to your email inbox daily.