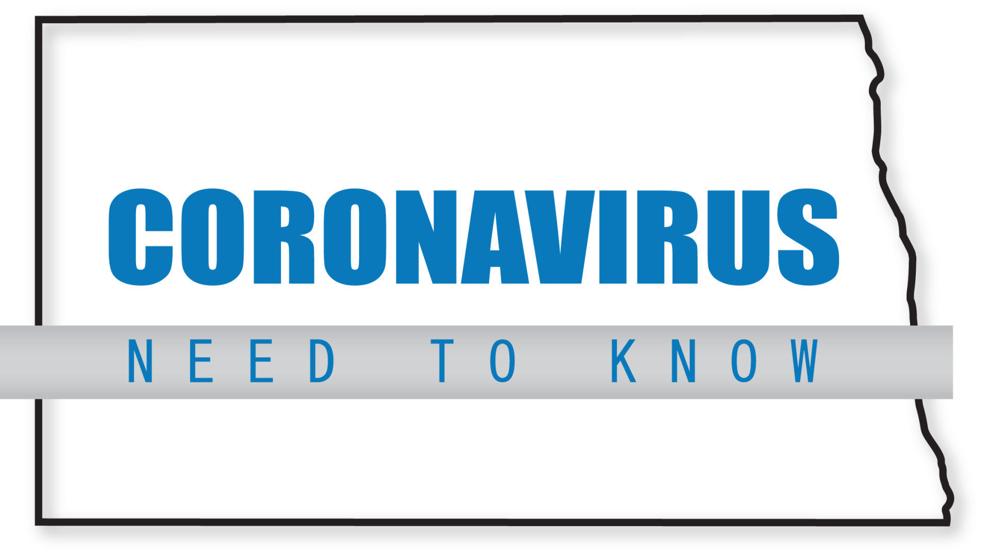 The latest North Dakota coronavirus news: free food, federal aid, free testing and more.
Mobile Food Pantry
Trucks carrying fresh vegetables, bakery items and boxed goods will be in the communities of Napoleon, Wishek, Ashley and Ellendale on Thursday as part of the Great Plains Food Bank Mobile Food Pantry. The food is available at no cost to those in need.
The Mobile Food Pantry will stop in Napoleon at St. Philip Neri Catholic Church from 10-10:30 a.m., in Wishek on the street next to the Lutheran church from 12:30-1:30 p.m., in Ashley in the back of the senior center from 3:30-4:30 p.m. and in Ellendale at the Ellendale Area Food Pantry from 4:30-5:30 p.m.
"Many of our clients live in rural areas and we understand the importance of making fresh and nutritious food readily available," said Anna Johnson, a regional service manager for the food bank. "One in six in North Dakota struggle with not enough food to eat each day, and this program provides them a convenient option."
FEMA aid
The Federal Emergency Management Agency has provided more than $8.5 million in additional aid for the COVID-19 response in North Dakota.
The assistance was made available under a major disaster declaration issued a year ago. FEMA has provided a total of $85.6 million for the North Dakota pandemic response to date.
The $8.5 million will go toward the state Health Department's COVID-19 associated costs, contracts and facilities.
Social emotional learning
The National Governors Association will collaborate with North Dakota and five other states on meeting the social-emotional needs of students and families during and beyond the COVID-19 pandemic, according to Gov. Doug Burgum's office.
The NGA Center for Best Practices will offer both technical assistance and grant money. The other states are Arkansas, Indiana, Michigan, Oregon and Wisconsin. The center's work with the states will run through next March.
North Dakota's project is centered on tying together social-emotional needs and workforce readiness, including through the North Dakota Education to Workforce Pathways through SEL Coalition, as well as building capacity for the state to expand and implement North Dakota SEL Network efforts. SEL stands for Social Emotional Learning.
"The stress of the pandemic on students and their families has highlighted the importance of integrating social-emotional learning within our schools and beyond," Burgum said.
Testing this week
Free public COVID-19 testing is available in the region. What follows is not a complete list and is subject to change. A more comprehensive list of free testing offered by local public health units can be found at health.nd.gov/covidtesting. 
Listed events are open to all ages on a first-come, first-served basis, unless otherwise specified. Listed testing hours could be reduced if supplies run out.
PCR and rapid antigen tests are administered Tuesday through Saturday, from 12-6 p.m., at the strip mall at 2805 Morrison Ave., Suite A, in Bismarck.
Coal Country Community Health Center offers testing. People can call the Hazen clinic at 701-748-2256, the Center clinic at 701-794-8798 or the Killdeer clinic at 701-764-5822. 
People in Emmons County who are showing symptoms should call the Linton Medical Center for testing, at 701-254-4531, or their doctor. 
Preregistration for testing events is available at https://testreg.nd.gov/. It speeds up the process but does not guarantee a test. People who previously have been tested for COVID-19 do not need to preregister.
North Dakota virus numbers
North Dakota has had 103,638 confirmed cases of COVID-19, including 14,958 in Burleigh County and 5,036 in Morton County. There have been 101,086 recoveries and 1,466 coronavirus-related deaths. A total of 3,955 people have been hospitalized; 23 remain so. State and private labs have processed tests on 417,671 people, and conducted 1,810,784 total tests.