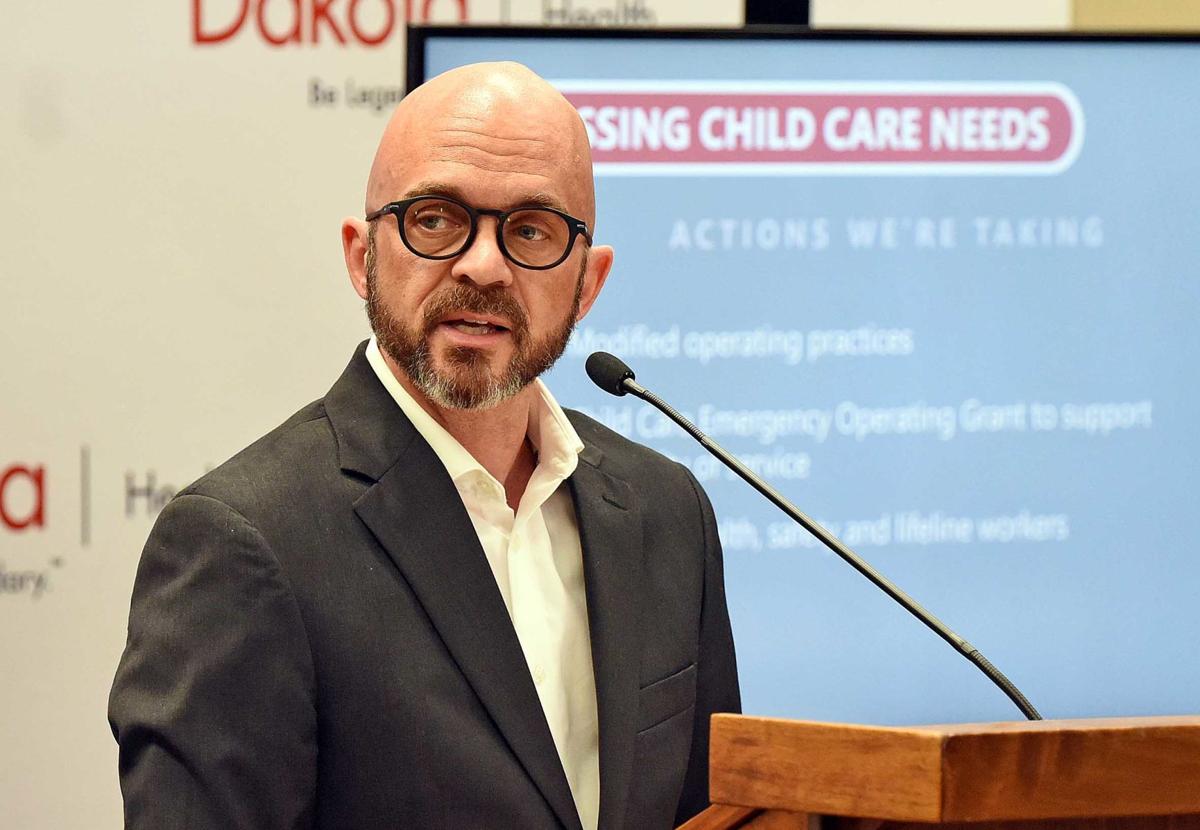 North Dakota is taking steps to shore up the child care industry, enable all residents to vote in the June election and ensure they can pay taxes on time as the number of coronavirus illnesses in the state continues to rise.
State health officials on Thursday confirmed 13 new cases -- the most yet in a single day -- including the second case in a child and five additional cases in Burleigh County. The state total rose to 58. Three new hospitalizations were reported, bringing that total to 11. There have been no deaths. Eleven people are considered recovered, though they might have lingering effects. State and private labs have conducted 2,261 total tests, with 2,203 being negative.
One of the new cases is in a boy younger than 10 who lives in McIntosh County, southeast of Bismarck on the South Dakota border. On March 18, the state confirmed COVID-19 in a Morton County girl age 10-19. Fort Lincoln Elementary School in southeast Mandan later identified her as a student.
All other cases in North Dakota have been in adults ranging from their 20s to their 90s. The other new cases identified Thursday: three women and two men in Burleigh County, two men and a woman in Stark County, a woman and a man in Cass County, a woman in McHenry County and a man in Ward County.
Burleigh County now has 23 cases -- by far the most in the state -- with another eight in neighboring Morton. Cass County also now has eight cases. Stark County has five, Ramsey County three, Ward County four and Pierce County two. McIntosh, Dunn, Foster, Walsh and McHenry counties all have one. Twelve of North Dakota's 53 counties now have confirmed cases.
"By the end of next week, we should just assume -- if you look at other places, the rate of spread -- is that we will have positive cases in every county in the state," Gov. Doug Burgum said during an afternoon briefing.
Child care rules, aid
The Department of Human Services has crafted new operating guidelines for licensed child care operators and is implementing a grant program to help fund the changes aimed at safeguarding health and shoring up the industry.
North Dakota has about 1,600 licensed child care providers. 
"As of today, 174 have closed, and our capacity is down since the start of the pandemic by about 23% in terms of serving children," said Chris Jones, executive director of the North Dakota Department of Human Services. "So this is a fast-moving, in some ways of a collapse, and if we don't do something soon, we're really putting not only our children at risk but also our economy at risk."
The state's modified rules are aimed at limiting group sizes and human interactions to help prevent spread of the coronavirus, and at ensuring child care slots for children of "lifeline" worker households -- people such as health care workers, first responders and law officers.
Child care providers who prioritize spots for those families are eligible for grants, as long as they agree to cap at $50 the fee for a family to hold a spot during an extended absence.
"Under current projections, these emergency grants to providers could total around $11 million per month statewide, with a timeline of nine weeks," Jones said.
The money will come from the Department of Human Services budget. Child care providers who opt out do not have to prioritize spots for lifeline households or modify their fees, but they are required to follow the new operating rules.
The state also is encouraging K-12 school districts to offer K-5 child care for lifeline households, using ancillary workers such as paraprofessionals, who have already undergone background checks.
"Some school districts are already planning to do this, including Bismarck Public Schools," Jones said.
More information can be found at www.nd.gov/dhs, by clicking on the COVID-19 link and then Provider Resources.
June election change
Burgum also announced Thursday that the state is waiving the requirement that counties provide at least one physical polling site for the June election, which is the primary for county and state races and the general election for city, park board and school board races.
"It gives counties the local flexibility and the local control to conduct the June 2020 primary by mail ballot only," the governor said.
The state will be mailing out absentee ballot applications to everyone listed in the state's central voter file, according to Secretary of State Al Jaeger. People can mail back the application without having to pay postage.
Jaeger acknowledged that "it will be challenging" but expressed confidence that things will go smoothly.
"Our goal is that the day after the election, the news is all about the results, and not about the process," he said.
Other announcements
The federal government has extended the implementation deadline for Real IDs one year, to Oct. 1, 2021. The enhanced-security identification aimed at combating terrorism will be needed then to board commercial airliners for domestic flights and to gain entrance to federal buildings and facilities.
About 25% of North Dakota residents have upgraded their driver's license or identification card to a Real ID.
North Dakota Tax Commissioner Ryan Rauschenberger reiterated an earlier announcement that North Dakota will follow the lead of the federal government and move this year's income tax-filing deadline from April 15 to July 15.
Businesses need to contact the state tax department to request extensions for such things as sales, lodging and restaurant taxes, he said.
Burgum also urged North Dakotans who are self-isolating to use some of their time to fill out the 2020 census.
Concerned about COVID-19?
Sign up now to get the most recent coronavirus headlines and other important local and national news sent to your email inbox daily.