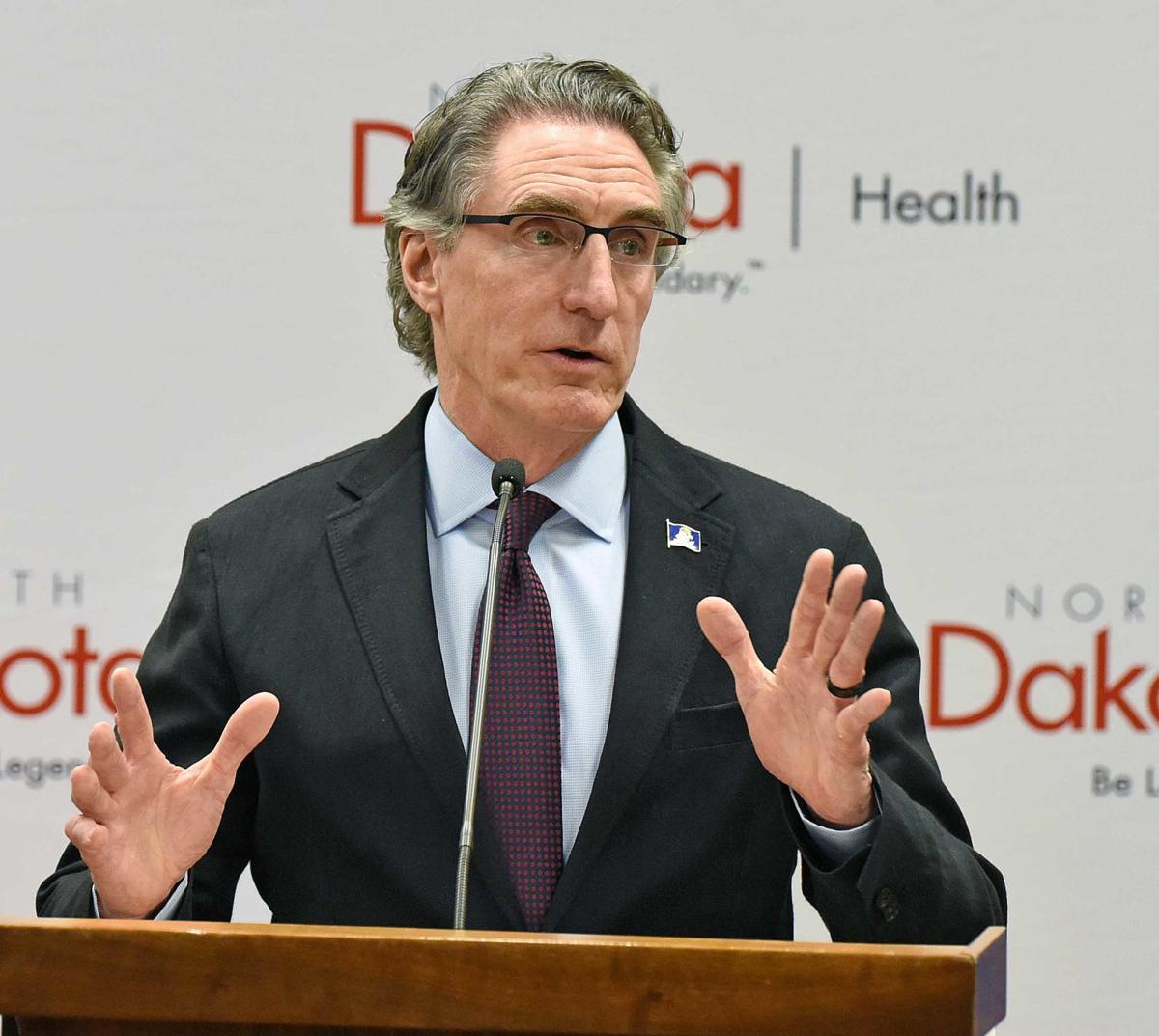 North Dakota officials are working to expand the emergency workforce available as hospital capacity ramps up to handle an expected crush of coronavirus patients, and also telling residents to save their empty hand sanitizer bottles.
Gov. Doug Burgum made the announcements on Tuesday while also detailing 17 new cases of COVID-19, the disease resulting from the new coronavirus. It was the second-highest daily total, and raised the state's overall count to 126.
"As was predicted, we're continuing to see this grow," Burgum said, stressing again that the actual number of cases could be as much as 10 times higher, and that testing data lags and not everyone is tested.
"There could be over 1,200 people in the state of North Dakota that had it 10 days ago, and that number is climbing," he said.
Twenty-one people have been hospitalized, and 30 people have recovered. There have been three deaths -- in Morton, Cass and McHenry counties. 
Eight more coronavirus cases were confirmed in Cass County, pushing it past Burleigh County for most in North Dakota. One of the new cases is in Burleigh County, which had led the state for almost two weeks. The county's total is 30, while Cass County's total has climbed to 31. The increase there has been expected, as results come in from a batch of 300 tests collected in the county that were sent to a backlogged national lab. 
Cass County, home to Fargo, is North Dakota's most populous, with 182,000 people. Burleigh County, home to Bismarck, is the second-most populous, with nearly 95,300 people.
The other new cases reported Tuesday included the first three confirmed in Williams County, home to Williston, along with one each in Mountrail, Grant, McKenzie, Stark and Grand Forks counties.
State and private labs have tested 4,257 people, with 4,131 being negative.
Workforce center
The Workforce Coordination Center that Burgum announced Tuesday is a collaborative effort of many agencies, including Job Service North Dakota, the National Guard, and the state departments of labor, health, information technology and human resources.
"We're talking about thousands of people that we're trying to identify statewide," Burgum said, adding that they could either volunteer or fill paid jobs to handle workforce needs as they arise. He did not say where the money would come from.
Many of the positions could go toward building field hospitals, if officials determine that they will become necessary as the number of cases of COVID-19 climbs in North Dakota.
"When we go from Tier 2 to Tier 3 hospital capacity, we've got to have resources that are lined up," Burgum said.
Tier 1 is existing capacity across the state's 55 hospitals. Tier 2 involves existing medical facilities expanding their ability to handle COVID-19 patients, while Tier 3 involves creating additional capacity through means such as makeshift hospitals. U.S. Army Corps of Engineers officials are in North Dakota this week scouting possible sites, including Bismarck State College.
Such facilities would necessitate the need for more emergency workers, according to Burgum.
"If you're willing to help, and you've got experience in health care, public health, law enforcement, public safety, if you've been a first responder, if you're qualified as an EMT but you're not currently working in any kind of role with a rural ambulance system or in our metro areas, we need volunteers to help at emergency shelters, congregate living facilities and drop-in centers, child care, food and agriculture, communications, energy, water and waste management, critical manufacturing, a whole range," Burgum said.
"This location will pool all applicants and then match up the needs of the businesses or agencies that need their help," the governor said.
Hand sanitizer
Some businesses in North Dakota are working to produce hand sanitizer in bulk, first for health care facilities and then for public retail sale, Burgum said. He did not indicate how many companies are considering this, but he said distilleries have the capability.
"We know that the shelves have been bare for a week. I'm sure that many people have got an entire multiyear inventory at home, but the shelves are bare," the governor said, referring to people hoarding the product.
North Dakota lacks a bottling facility for hand sanitizer, however.
"If people have ... hand pumps, squirt nozzles, bottles that you have at home as you burn through those, save your plastic bottles because we may have a way to have you be able to refill those," Burgum said.
It's unknown exactly how the bottles would be used and redistributed, but Burgum suggested that a program could emerge where people donate their spare bottles or drop off their bottles to be sterilized, filled and returned.
Road construction
The lack of traffic on the state's highways, coupled with falling construction and labor costs, could position the state well for more road work this summer, Burgum said.
The governor said he's asked state transportation officials to think about "what projects could we actually advance and do this summer that we were going to do in the summer of 2021?"
North Dakota has experienced a 30% drop in interstate traffic as people stay home to stop the spread of the virus, he said.
The state could turn to bonding to help fund the construction, including borrowing through the Bank of North Dakota and the State Investment Board, which has a portion of money available for infrastructure projects. Burgum said. He added that it makes "a ton of sense for us to be bonding and building right now versus waiting until things are booming again and we'll be competing with everyone for labor and construction materials."
"It could be another way to help the economy get back, if the state is building necessary infrastructure," Burgum said.
Concerned about COVID-19?
Sign up now to get the most recent coronavirus headlines and other important local and national news sent to your email inbox daily.