North Dakota officials are clarifying and expanding new operating standards for businesses as the state prepares to allow those that have been shut down or restricted since mid-March to stem the spread of COVID-19 to fully reopen on Friday.
Gov. Doug Burgum earlier this week announced new protocols for bars, restaurants, salons and gyms that were developed in conjunction with industry groups. Burgum on Wednesday clarified that businesses will be required to follow their industry-specific standards or risk fines up to $1,000. 
New standards such as no dancing or blackjack in bars, spread-out tables in restaurants, and use of face masks or eye protection in personal care service businesses such as hair salons and massage businesses are aimed at preventing the spread of the coronavirus disease. Cases statewide topped 1,000 on Wednesday.
The state also has now added standards for movie theaters. They include limiting capacity to 20% of normal, staggering show times to decrease congestion in common areas, and implementing new safety protocols for food service workers.
"So I'm sure that you are going to see gloved and masked people serving popcorn," Burgum said. "It's all voluntary, but movie theaters can open up this Friday across the state of North Dakota if they choose to. And I would say if you're interested in going, go the first night on Friday night because those theaters will be really clean -- no one's been in them for a couple months."
Industry standards for recreation centers, athletic centers and music venues are pending.
Burgum said large concert venues such as the Bismarck Event Center and sports arenas such as those on college campuses will remain closed.
"We're trying to avoid having the really large gatherings as we dial back up the amount of interaction and potential spread and potential risk, to dial that up in a slower way," Burgum said.
The North Dakota Highway Patrol on Wednesday announced that it will have extra patrols this weekend to keep drunk drivers off the roads as the bars reopen.
"Many North Dakotans will be eager to enjoy a drink at their favorite establishment when bars and restaurants reopen," Patrol Lt. Adam Dvorak said in a statement. "There are serious consequences when you drive impaired. If you choose to consume alcohol this weekend, take personal responsibility and find a sober ride."
Vulnerable population
The new operating standards for businesses are one of eight components of North Dakota's "ND Smart Restart" plan. The others are are widespread rapid testing; robust contact tracing; targeted, effective containment; sufficient health care capacity; ample availability of personal protective equipment; preparations for a second surge; and protections for the most vulnerable.
"We've got eight criteria for a North Dakota Smart Restart; we've got a checked box by seven of those," Burgum said. "The one that we don't relates to protections for the most vulnerable, one of the most important ones."
Twenty-seven out of 218 long-term care facilities in the state have COVID-19 cases, according to the governor. He pointed to nursing homes in other parts of the country that have had large-scale deaths and said "we want to make sure that we don't have that kind of an outbreak in any one of our congregate living facilities."
The state earlier this month unveiled its Vulnerable Population Protection Plan with several components, including identifying and isolating positive cases, utilizing "rapid response" teams to keep positive cases in facilities from becoming outbreaks, minimizing staff movement across facilities and ramping up testing of care workers. Visitation also has been restricted at long-term care facilities across the state.
State Human Services Executive Director Chris Jones on Wednesday said his department in recent days has assembled a leadership team to help move the plan forward, and that it will be "enhanced, day after day, week after week," to protect everyone from nursing home residents to the homeless to people in jails.
The American Civil Liberties Union of North Dakota on Wednesday announced that it has filed public records requests with the state and federal governments seeking information about the impact of COVID-19 behind bars.
The ACLU of North Dakota also is part of a group of advocacy organizations in the state that on Wednesday called on state leaders to implement policies supporting working class families.
Policies proposed by the groups that included the North Dakota AFL-CIO, North Dakota Farmers Union and Fargo-Moorhead Coalition to End Homelessness include temporarily banning evictions, preventing state employers from furloughing and laying off state employees, providing credit relief for farmers and ranchers and creating a stabilization fund for higher education.
New cases
The state Department of Health on Wednesday reported 42 more coronavirus cases, raising the state's total to 1,033. With 28 additional recoveries, the number of active cases increased from 563 the previous day to 577.
Cass County had the bulk of the new cases, with 20, and Grand Forks County had 16. Cass County, home to Fargo, has seen outbreaks in nursing homes, with 106 total cases reported in 13 long-term care facilities, including four that have double-digit cases. Grand Forks County saw a recent outbreak at the LM Wind Power wind turbine blade plant, where about 900 people work.
Cass County now has a state-high total of 492 cases, followed by Grand Forks County with 251 cases and Burleigh County with 76. Burleigh County, home to Bismarck, has two new cases.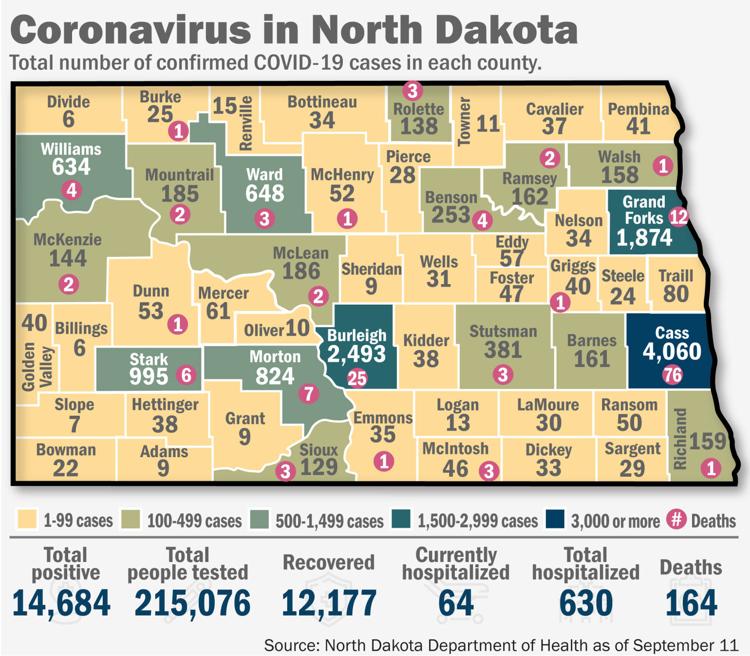 Other new cases reported Wednesday include two in Stark County and one apiece in McKenzie and Stutsman counties.
A total of 82 people have been hospitalized due to COVID-19; 28 remain so, up three from the previous day.
State and private labs have tested 25,536 people for COVID-19, with 24,503 being negative. There were 1,813 tests conducted Tuesday. The state's goal is to work toward 4,000 tests per day in May and 6,000 in June.
Concerned about COVID-19?
Sign up now to get the most recent coronavirus headlines and other important local and national news sent to your email inbox daily.