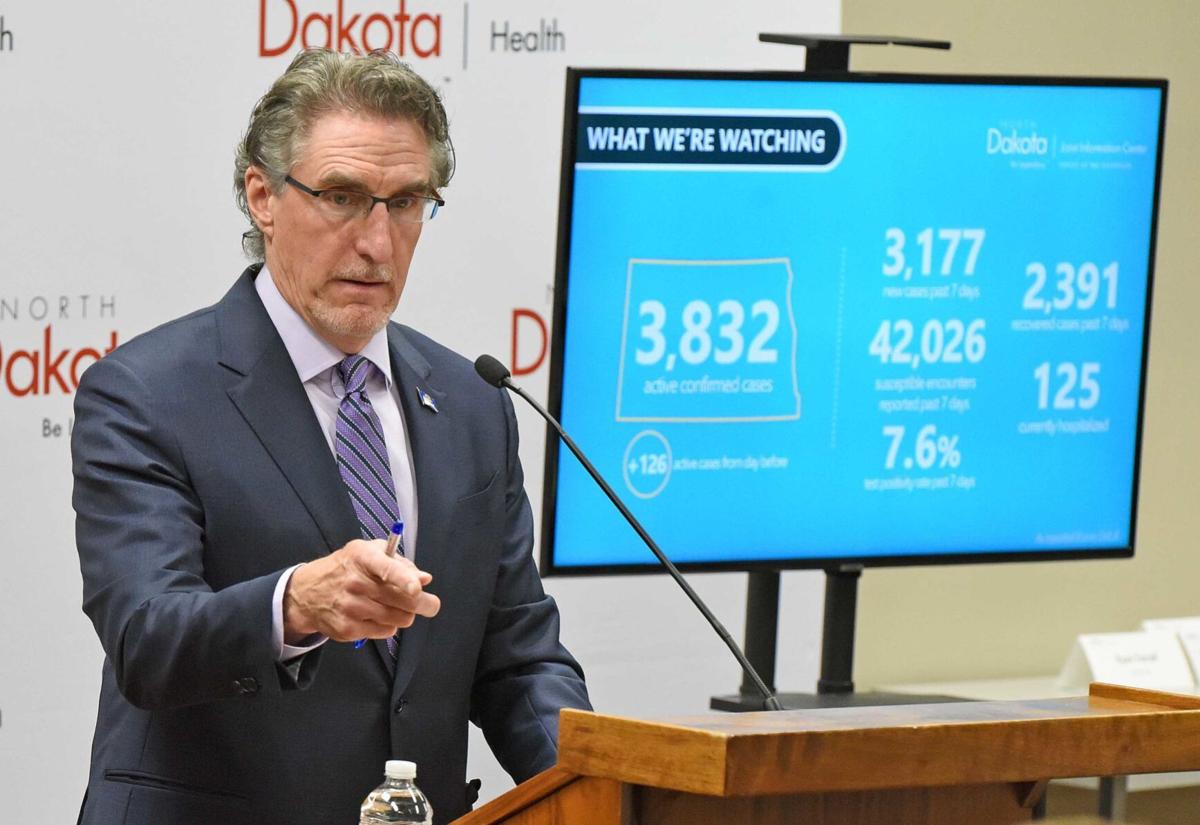 North Dakota health officials on Wednesday reported new highs for active cases of COVID-19, newly confirmed cases and coronavirus-related hospitalizations, along with six more deaths.
There were 531 new cases confirmed out of 6,898 total tests handled on Wednesday. Active cases rose to 3,832, and hospitalizations jumped by nine, to 125. All were records.
"We've got some numbers that are still going in the wrong direction," Gov. Doug Burgum said during a public coronavirus briefing.
The Department of Health also reported the deaths of a Burleigh County woman in her 80s, a Stark County woman in her 80s, Ward County men in their 50s and 80s and a woman in her 90s, and a female Mountrail County resident in the age rage of 10-19. She was the youngest coronavirus-related death reported in the state so far, according to Burgum.
All of the victims had underlying health conditions, according to the department. They brought the state's pandemic death total to 310.
The six death reports came a day after the state reported 24 new deaths -- the highest for a daily report. There were 54 deaths reported in the past week, "which is tragedy in the sense that that's more than we had in some of the months earlier on during this pandemic," Burgum said.
The new cases that health officials reported Thursday included 90 in Burleigh County and 20 in Morton County. Burleigh County dropped to second in active cases, with 660, behind Cass County's 687. Morton had 232. 
The number of state residents tested for coronavirus at least once is at 253,407 and total tests number 686,464. Since mid-March, 25,384 cases of COVID-19 have been confirmed in North Dakota. There have been 21,242 total recoveries statewide, and 1,016 hospitalizations.
Hospital capacity 
Hospital capacity has become a concern around the state and in Bismarck. There were 231 available staffed inpatient beds plus 30 intensive care unit beds in North Dakota on Thursday afternoon, according to state data. There were 12 available staffed beds plus four ICU beds in Bismarck: 10 beds plus three ICU at CHI St. Alexius Health and two beds plus one ICU at Sanford Health.
Sanford Health Bismarck President Michael LeBeau during Burgum's briefing acknowledged the "high capacity" in hospitals around the state.
"This is a significant challenge for health care," he said. "For anybody not to say that (is) fooling themselves or at least trying to fool you."
Less than 20% of hospitalizations are coronavirus-related, he said, but hospitals are still dealing with a backlog of other medical procedures that were put off for two months at the beginning of the pandemic.
LeBeau noted that hospitals around the state have had six months to prepare for a spike and said "I can stand up here and feel comfortable looking anybody in the eye and saying, 'We are prepared.'"
However, he added that state residents who have become accustomed to convenient access to health care will need to adapt. 
"You may wait longer in an emergency department. You may have a hallway bed. You might be in a waiting area to be admitted into a hospital, or you may be transferred to another facility," he said.
At least one North Dakota resident with COVID-19 has been transferred to a hospital in another state, but officials indicated Thursday that such a situation is rare. One resident recently was sent to a facility in South Dakota that was closer to the person's home than if the person had gone to where there was an available bed elsewhere in North Dakota, said Chris Jones, executive director of the North Dakota Department of Human Services.
LeBeau did not say how many Sanford coronavirus patients have been transferred from Bismarck to other hospitals. 
He added that hospitals are working on "surge" planning, and that they can ramp up the number of beds available if needed. Sanford Medical Center has added 14 beds and is working on a plan to add 10-30 more, he said.
Officials indicated Thursday that they do not have any imminent plans to establish a field hospital, as is happening near Milwaukee, Wis., due to strained hospitals. Two field hospitals were partially set up this spring at the University of Mary and the Fargodome as a precaution during the early days of the pandemic.
The health department has beefed up the hospitalization data available online on its COVID-19 dashboard to include more statewide data on hospital bed usage.
Risk levels
The state is adjusting risk levels for counties on a weekly basis. The risk level determines what sort of coronavirus-related protocols are in place under the ND Smart Restart Plan for everything from businesses to family gatherings. The protocols are not enforced.
Burleigh and Morton counties this week remain in the yellow "moderate" risk level, which is in the middle of the state's five-level color-coded system.
The state has moved 10 counties including Grant, Sioux and Logan from green, or low risk, to yellow. McIntosh County and six others have moved from the blue "new normal" risk to green low risk. One county moved from green to blue.
Overall, 24 counties are considered moderate risk, 23 are low risk and six are at new normal. No counties are at the orange "high" or red "critical" risk levels. Burgum said that even though some raw data might suggest some counties belong in those categories, "we look at things holistically, not just numerically."
Under the state guidelines, bumping counties up to high risk could prompt restrictions on some businesses and shutdowns of others, which Burgum indicated might not make sense if such things as large gatherings are still occurring. He also said that state officials have learned more since the restrictions and shutdowns that were imposed earlier in the pandemic, and that it's likely OK for personal care businesses such as hair salons to operate with masking in place.
Concerned about COVID-19?
Sign up now to get the most recent coronavirus headlines and other important local and national news sent to your email inbox daily.