The North Dakota Department of Health today raised the level of flu activity in the state to widespread.
There were 234 cases of influenza reported during the week that ended Dec. 16, according to the Health Department's weekly influenza summary.
Since August, there have there have been 709 cases of the flu reported.
Public health officials are reporting an unusually high number of influenza cases for this time of the year, and they are expected to continue to increase for the next several weeks at least.
The flu season has started early. In comparison, there were 87 cases of the flu reported at this time last year. Also, last season, widespread flu activity wasn't announced until mid-January.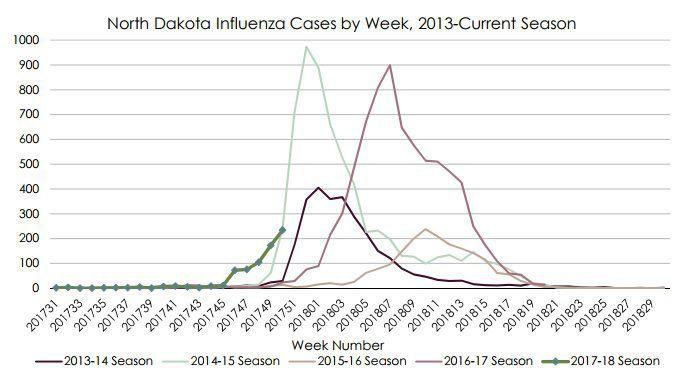 The number of cases has risen sharply in the past month, according to Health Department data. 
You have free articles remaining.
There have been 44 influenza-related hospitalizations so far this season, and two reported deaths caused by the flu.
There have been six reported outbreaks of "influenza-like illnesses" in long-term and basic care settings. Outbreaks in schools, assisted living facilities and workplaces are common during the influenza season, according to public health officials.
The flu is a contagious respiratory illness caused by influenza viruses that infect the nose, throat and lungs, according to the Health Department. Symptoms include fever, cough, sore throat, runny or stuffy nose, muscle or body aches, headaches and fatigue. The flu virus can spread a day before symptoms develop, and five to seven days after becoming sick.
Public health officials recommend getting the flu vaccine to prevent the flu. The vaccine is recommended for everyone 6 months and older.
Other tips include washing your hands frequently, staying home when you are sick and avoiding touching your hands to your face.
For updates on flu activity in North Dakota, visit www.ndflu.com.