North Dakota students will need an extra dose of the meningococcal vaccine as the state Health Department is changing its immunization requirements.
The Health Department announced Thursday several changes to immunization requirements, including an additional dose of the meningococcal conjugate vaccine, or MCV4, in grades 11 and 12, starting in the 2018-19 school year.
The new state immunization requirements align with the Centers for Disease Control and Prevention's immunization practices. The CDC currently recommends a booster dose of the MCV4 vaccine at age 16.
Lexie Barber, immunization surveillance coordinator with the Health Department, said the rates of that second dose for 16- and 17-year-olds in North Dakota were very low — only about 30 percent.
"So we decided to make that second dose a requirement to get those rates up," Barber said. 
The North Dakota University System also requires a second dose of MCV4, but Barber said public health officials want to make sure students are "up-to-date as soon as they can be."
Other changes to immunization requirements include, starting Jan. 1, all children attending child care in North Dakota to be vaccinated for hepatitis B. Previously, only children entering schools were required to be vaccinated for hepatitis B, Barber said.
Vaccine rates for students in kindergarten have increased in recent years after the Health Department teamed up with North Dakota State University's Center for Immunization Research and Education to increase rates.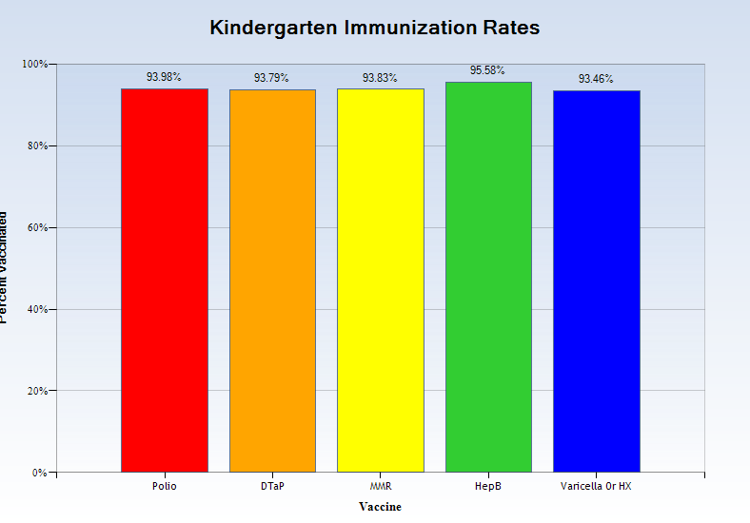 The Health Department is also expanding the requirement for the whooping cough vaccine, or Tdap. It previously was required in seventh grade, but, starting next school year, it will be required for grades 7-12.
"It was just an oversight leaving out the rest of the grades, so if a kid missed it in seventh grade or transferred to a different state after that, they weren't included," Barber said.
For the 2016-17 school year, Barber said, 91.19 percent of seventh-graders had the Tdap vaccine, and 90.2 percent had MCV4.
"We'd like to see all of our rates at about 95 percent, so (there's) still room for improvement there," Barber said.
The exclusion date for students not in compliance with immunization requirements also has been modified. The rule previously stated children must be excluded from school if they are not compliant with these requirements within 30 days of enrollment. Now, the deadline is Oct. 1.