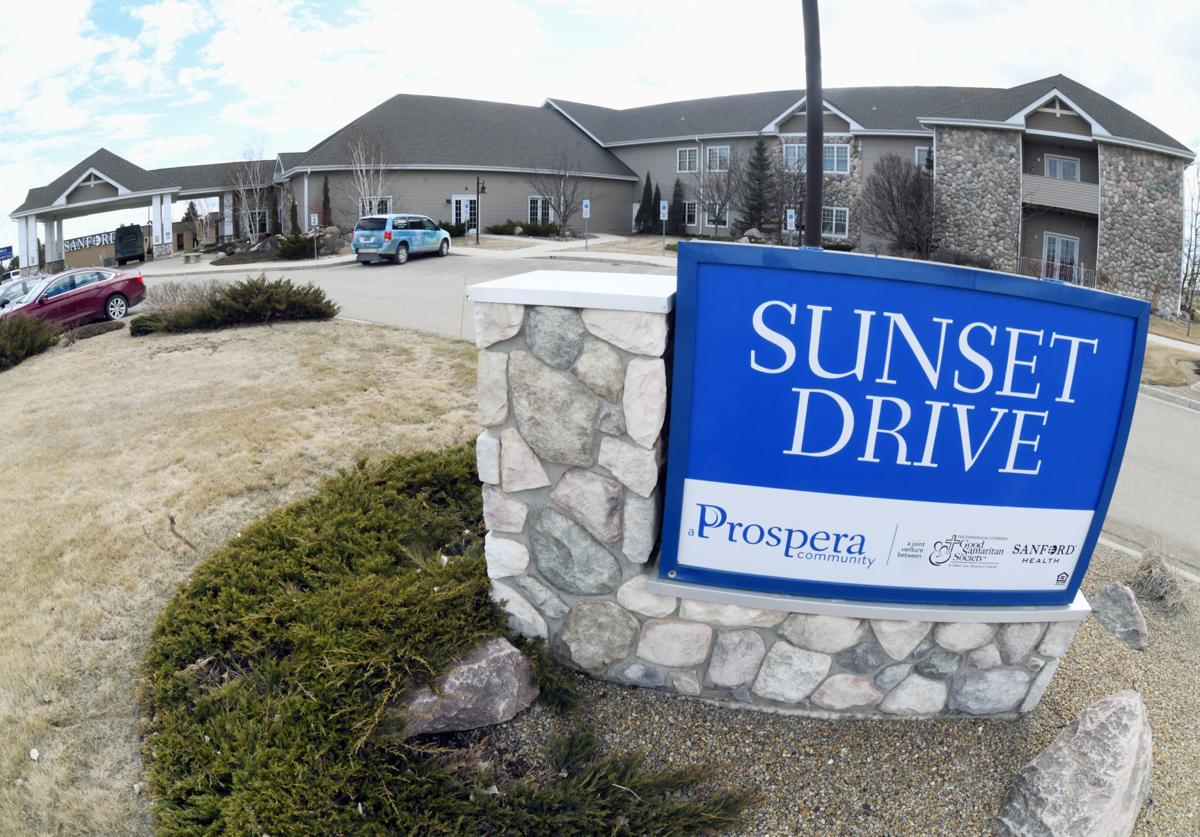 A resident of a Mandan nursing home is one of 94 people in North Dakota who have tested positive for the new coronavirus.
The case at Good Samaritan Society Sunset Drive is one of several significant coronavirus-related developments in North Dakota on Saturday. State officials announced plans in the works to add hospital "surge capacity," if needed, to convert part of Bismarck State College to care for patients, as well as new requirements for residents who have recently traveled.
Sanford Health, a partner of Sunset Drive, confirmed that the resident was recently transferred to the nursing facility from a local hospital. The resident was immediately isolated due to a fever, then transferred back to the hospital after testing positive for COVID-19, the disease caused by the virus, Sanford said in a statement.
Sanford said Sunset Drive has notified families of residents and is taking extra precautions to monitor the health of residents and staff who may have been exposed. Sanford added that the facility is "working closely" with state and federal officials and will continue to follow their guidance.
"The health, safety and well-being of our residents, staff and the community we serve remains our top priority," Sanford said.
Sunset Drive provides long-term skilled nursing care, as well as rehabilitation therapies, according to its website. It is made up of four 32-bed neighborhoods.
According to its website, the facility, like all long-term care homes in North Dakota, has had visitor restrictions in place to help prevent the spread of the virus.
Bismarck State College
Military officials are looking at Bismarck State College and North Dakota State University in Fargo as potential sites to convert into makeshift hospitals if virus cases spike.
"We are planning against the worst case scenario," said Maj. Gen. Alan Dohrmann of the North Dakota National Guard, who spoke Saturday at Gov. Doug Burgum's daily coronavirus press briefing.
Dohrmann said the U.S. Army Corps of Engineers will send teams out over the next week to assess the sites in Bismarck and Fargo.
BSC President Larry Skogen said in an interview that the school "just wants to support the community in any way we can."
"We're just providing space," he said. "We're dependent on everybody else to tell us what they need."
Skogen said he believes officials are eyeing the school's Armory building as a potential site. It includes a basketball court, showers and restrooms, as well as office and classroom space.
Although the spread of the virus prompted the school to switch to remote learning earlier this month, some students who work in Bismarck are still living in the dorms, Skogen said. It's unclear whether any would still be on campus if part of the school were to be used as a hospital, given that it's not known when or if that transition would happen. Regardless, the residence halls are "some distance" from the Armory, and the school is communicating with students about social distancing and other measures to ensure their safety, Skogen said.
North Dakota's 55 hospitals have the staffing and equipment necessary to provide care for patients filling up to 2,098 beds, Dohrmann said.
Officials have plans to ramp up to as many as 4,759 beds at the hospitals.
If those beds get filled, the state would then look to convert facilities such as Bismarck State College to provide another 4,000 beds statewide, Dohrmann said.
Universities are ideal locations for such a site because they have existing facilities for food service and maintenance staff, as well as dormitories, he said.
Residents who travel
North Dakotans who travel to other states where the coronavirus is widespread must quarantine for 14 days under an order signed Saturday by State Health Officer Mylynn Tufte. The order also applies to anyone traveling internationally.
The order applies to anyone who travels in the future or who has returned over the past 14 days, Tufte said.
The states included are those classified by the U.S. Centers for Disease Control and Prevention as having "widespread disease." As of Saturday, the list includes: Arizona, California, Colorado, Connecticut, Florida, Georgia, Illinois, Iowa, Louisiana, Maryland, Massachusetts, Michigan, New Jersey, New York, North Carolina, Ohio, Oklahoma, Oregon, Pennsylvania, Rhode Island, Texas, Utah and Washington.
Minnesota, South Dakota and Montana are not included.
Latest case numbers
North Dakota reported 26 new cases of the virus on Saturday, the largest single-day jump since the first case was identified in the state on March 11.
The state now has a total of 94 confirmed cases of COVID-19 as of Saturday afternoon: 28 in Burleigh County, 13 in Morton County, 18 in Cass County, nine in Stark County, seven in Ward County, three in Ramsey County, two apiece in Barnes, McLean, Mountrail and Pierce counties, and one each in Divide, Dunn, Foster, McHenry, McIntosh, Mercer, Sioux and Walsh counties.
Burgum said Saturday that models show the state could hit 600 to 1,300 positive cases in three weeks. He stressed that he has "very low confidence" in that range, as there is a lot of uncertainty in predicting the spread of the virus across the state.
The health department on Friday reported the state's first death due to COVID-19, a man in his 90s from Cass County who had underlying health conditions.
State and private labs have conducted 3,107 total tests, with 3,013 coming back negative. There have been 16 hospitalizations and 18 recoveries.
Concerned about COVID-19?
Sign up now to get the most recent coronavirus headlines and other important local and national news sent to your email inbox daily.