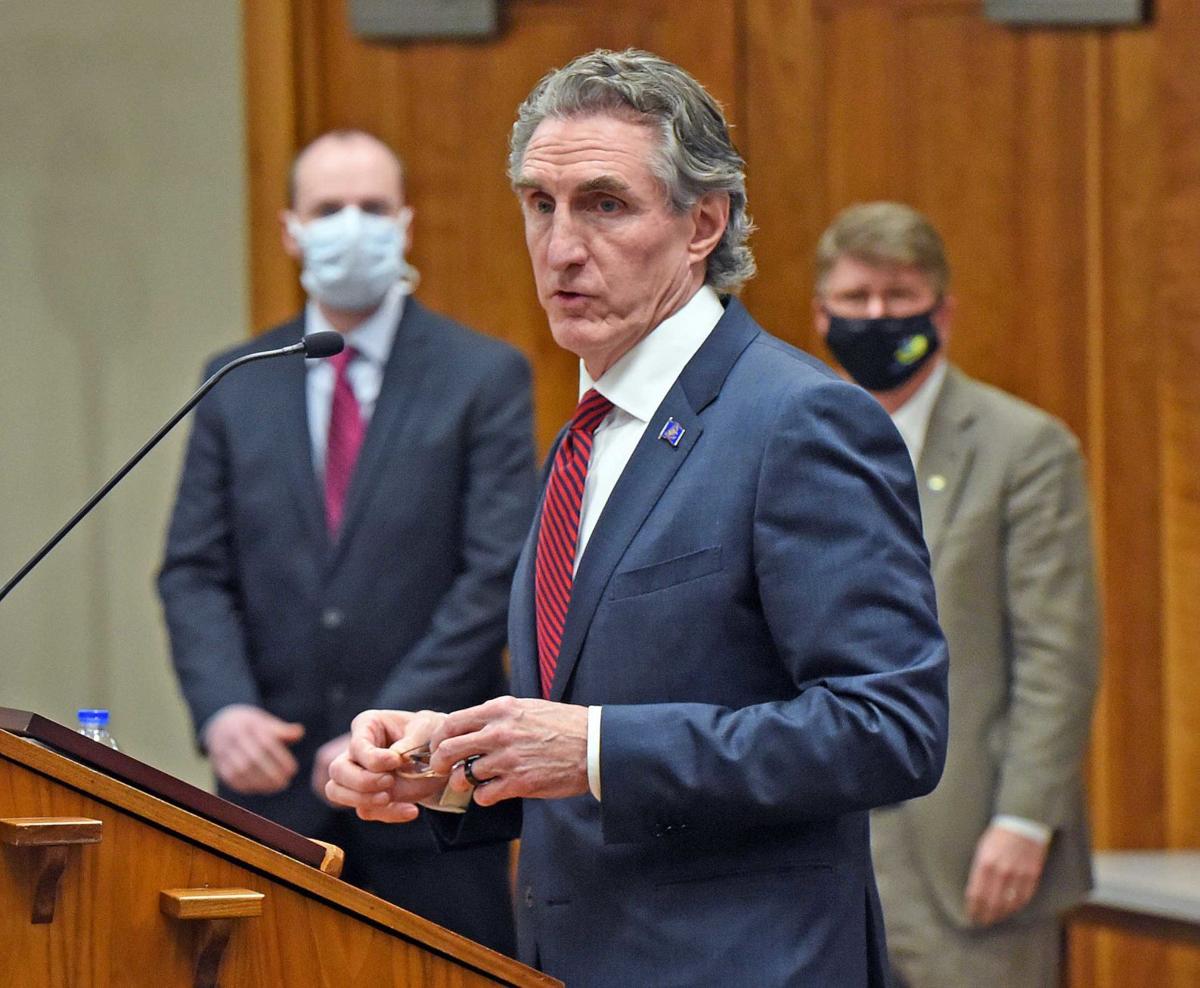 Legislative leaders addressed a change in a recent executive order postponing high school sports practices, and two physicians discussed health care staffing and the holidays at Gov. Doug Burgum's Friday news conference.
Senate Majority Leader Rich Wardner, R-Dickinson, and House Majority Leader Chet Pollert, R-Carrington, explained the push for a change in Burgum's executive order postponing high school winter sports practice and other extracurricular activities. The order initially delayed practice until Dec. 14 but was amended this week to Nov. 30.
Wardner, a former coach and educator, said activities are important to students' academic success, and legislators heard from many community members who wanted practices reinstated.
"When our students and citizens and coaches and teachers reach out, it's our job to listen," Wardner said.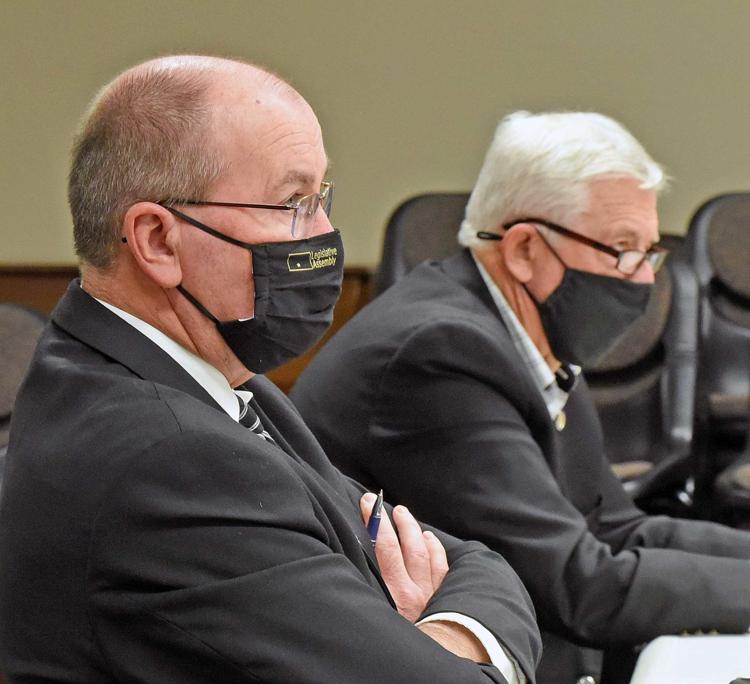 Wardner also said the decision balanced the need to slow the spread of COVID-19 to preserve hospital capacity while also addressing concerns parents and students have.
Phone calls and emails from constituents started rolling in soon after Burgum's decision was announced Friday, Pollert said. The earlier start date addresses the "mental stress" that children are facing during the pandemic.
The Nov. 30 start date comes a few days after Thanksgiving, and students could contract COVID-19 if they travel for the holiday and potentially infect teammates when practices resume. Wardner said practice is an extension of the school day, and if children weren't at practice, they would be grouping up in other ways. He also emphasized the precautions teams are taking to prevent COVID-19 from spreading, including dressing at home instead of in a locker room.
North Dakota Nurses Association leaders Friday criticized the move by Burgum to allow high school sports to resume practice Nov. 30.
"Now is not the time to back down," Nurses Association President Tessa Johnson said. Children at practice can contract COVID-19 from teammates and pass it on to their parents, who may work in health care, therefore bringing the virus into nursing homes or hospitals, she said. 
Association leaders also said nurses have been working under increasingly difficult conditions and some are quitting. Nurses do not have enough personal protective equipment and are reusing masks for days, Johnson said. The shortage is nationwide, however, not just in North Dakota, she said. Executive Director Sherri Miller said nurses are crying at work every day, trying to care for too many patients at one time and exhausted.
Burgum announced Thursday that the state will be receiving 60 nurses from the U.S. Air Force and 60 from a temporary employment agency. Hospitals have been experiencing a staffing shortage as health care workers become infected or labeled close contacts and must isolate or quarantine. Vice President of the North Dakota Medical Association Dr. Josh Ranum said the extra nurses are a start, but he's also concerned about the long-term effects health care workers could face.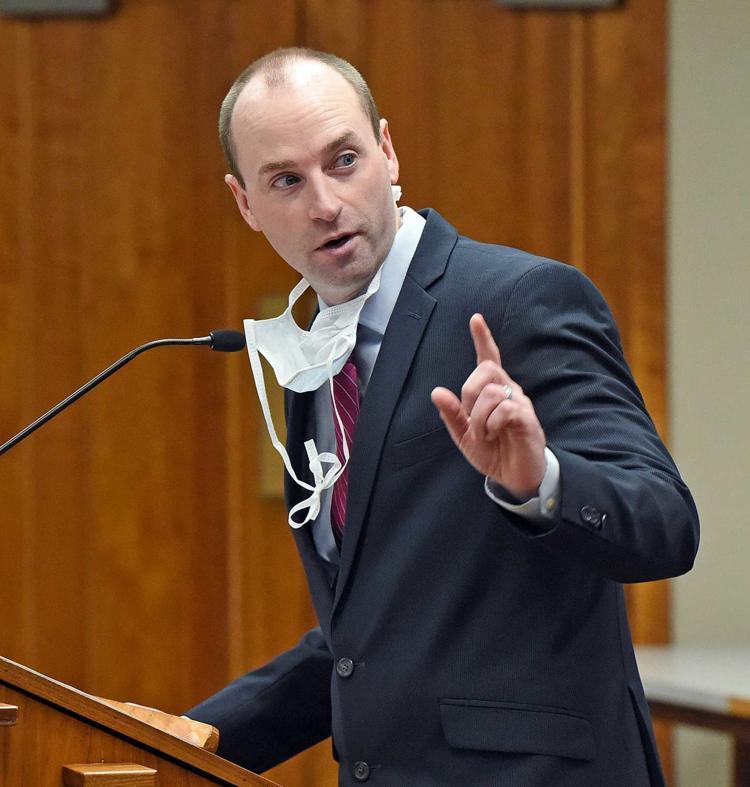 "I do worry about that as a consequence, almost a post-traumatic burn out," said Ranum, who is a doctor at West River Health Services in Hettinger.
Ranum and Essentia Health's West Market President Dr. Bill Heegaard also asked North Dakotans to limit the size of their Thanksgiving gatherings and to wear masks in order to reduce the strain on hospitals.
"We need your help to stop the spread in our community so we aren't losing our doctors and our respiratory therapists to quarantine or COVID so that we can have capacity for the citizens of North Dakota," Heegaard said.
70,000 cases
A total of 70,000 North Dakotans have tested positive for COVID-19 since the start of the pandemic, according to Friday's figures from the state Department of Health that reported 1,408 new cases.
The Department of Health also reported 23 new deaths, bringing the state's total to 818. Six of the deaths reported Friday came from Ward County, where Minot has become a new hot spot for the virus in North Dakota.
The department reported 13 new hospitalizations due to COVID-19 Friday. A total of 289 people are currently hospitalized.
Burleigh County reported 185 new cases Friday, Morton County had 56, Cass County had 291, Grand Forks had 153 and Ward County had 240. There are 9,915 active cases statewide.
The department reported 1,597 new recoveries, making the total number of recoveries now 59,283.
There were 13 staffed intensive care beds and 211 staffed inpatient beds available in North Dakota, according to state data. Sanford Health Bismarck had one staffed intensive care bed and eight staffed inpatient bed available. CHI St. Alexius Medical Center in Bismarck had zero staffed intensive care beds and eight staffed inpatient beds available. 
Risk levels
A statewide mask mandate is in effect, along with enforced capacity restrictions for bars, restaurants, and various event venues. Violations could be punishable by a fine of up to $1,000. Repeat violations could lead to a fine up to $1,500 and 30 days in jail. For more information, go to https://bit.ly/38NiT4r and https://bit.ly/3kDdVtb. 
All North Dakota counties are in the orange "high risk" level on the state's five-level color-coded system. The risk level determines coronavirus-related protocols in place under the ND Smart Restart Plan for everything from businesses to family gatherings. Those protocols are not enforced.