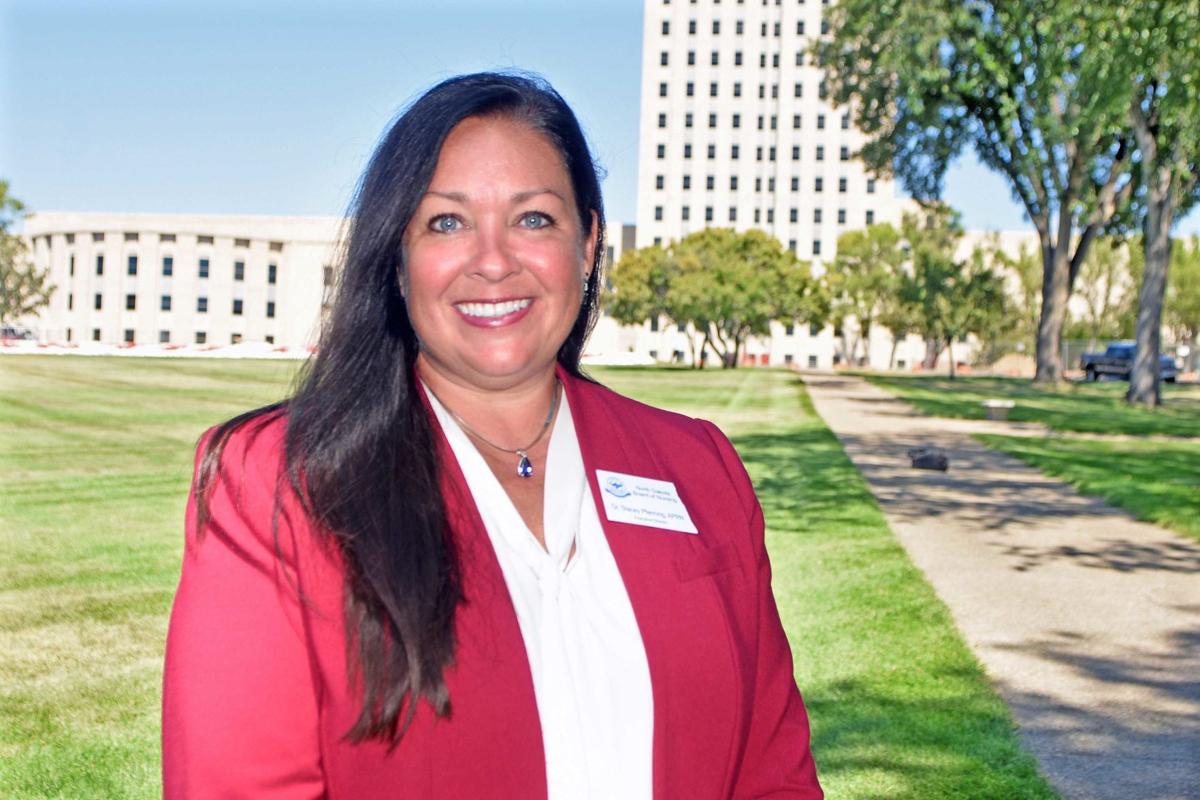 Kathy Binde is happy to be back on the job, despite the coronavirus pandemic being the reason.
"I had hoped my skill set would be beneficial if it was needed," the retired Williston nurse said.
Binde last spring sought and received an emergency limited license from North Dakota's State Board of Nursing so she could help respond to the pandemic. Since March 31, 11 retired and inactive nurses from around the state have been authorized under the 90-day licensing, four of whom have gone on to obtain full licensure.
The effort is one of at least two aimed at boosting health care in the state during the pandemic.
Earlier in March, Gov. Doug Burgum issued an executive order suspending certain licensing requirements to authorize health care professionals licensed in other states who are in good standing to practice in North Dakota.
"If someone is fully licensed and up to speed and able to practice in another state, in faraway places like from Minnesota or South Dakota, they will be able to work in North Dakota," Burgum said.
They do not have to do coronavirus-related work but have been filling gaps in health care, North Dakota Department of Health Chief of Staff Dirk Wilke said. People have responded on their own, and some hospitals have done recruiting, he said.
Nearly 500 people with licenses from 38 other states have been approved, including:
211 physicians
45 registered nurses
43 advanced practice registered nurses
32 counselors
29 social workers 
27 physician assistants
26 respiratory therapists
25 psychologists 
15 licensed marriage and family therapists
10 licensed practical nurses
7 dieticians
3 radiologic technologists
2 pharmacists
"They serve the state in a lot of different ways," Wilke said.
After Burgum's executive order, the Board of Nursing worked with its attorneys to develop the emergency limited licensing for retired and inactive North Dakota nurses, which includes 120 hours of employer supervision for refreshing nurses out of practice.
"It was a really creative way to make sure we're getting people in safely and make sure that they're comfortable," Board Executive Director Stacey Pfenning said of the licensing. "I just know that being out of practice at the bedside for a couple years, you really want to make sure your skills are where they should be before you enter the patient's room."
Binde in May began helping North Dakota's Department of Health with COVID-19 testing. She intends to do the work as long as she can, if the department needs her.
"I get to work with lots of younger nurses, and I'm so amazed every day by some of the skills I see," said Binde, who was a nurse from 1978 to 2017, working for health care facilities and human service agencies in Williston.
Fargo nurse Jami Streyle worked as a nurse in intensive care, emergency room and pediatrics settings. She left the hospital setting 15 years ago to raise her family and didn't think she'd return to nursing, though she did keep up her license as a parish nurse until four years ago.
When the pandemic hit North Dakota, she asked the board about temporary licensing and applied when the board's new program became available.
Beginning in mid-May, Streyle has worked at an assisted living facility and a nursing home in Fargo, helping with medication administration and wound care, and working as a charge nurse amid short staffing. She adjusted quickly, working 50-60 hours a week and as many as 16 hours a day. In mid-July the board extended her license beyond the 90 days.
"Once you're a nurse, you never forget," Streyle said. "I've been a nurse 24/7 since I went through school. I never really stopped. You nurse your family. Your mind never really stops thinking like a nurse."
Women's Care Center Executive Director Angela Wambach, of Fargo, also received an emergency license and plans to reinstate her license, which had been inactive for 16 years after she left to raise her first daughter.
She wanted to step up at the pregnancy center and be able to do more tasks, fill in wherever needed and just expand her administrative role.
"It was something I had been thinking about for years, but just this made it a nice, easy way to make it happen," Wambach said. 
Pfenning said nurses with emergency limited licenses are from Bismarck, Devils Lake, Dickinson, Fargo, Sheyenne, Velva, Watford City and Williston.
North Dakota has had as many as 57 people hospitalized at once with COVID-19. That's less than 2% of the state's current hospital capacity, which could double under emergency plans if needed. Wilke said the executive order allows out-of-state health workers to respond should hospitals see a surge of coronavirus patients.
"If it did happen, it would allow an avenue for them to join our workforce more rapidly than if they have to go through a full licensure process," he said.
Concerned about COVID-19?
Sign up now to get the most recent coronavirus headlines and other important local and national news sent to your email inbox daily.